Architectural Shading Structures for Your Patio or Carport
Are you looking to enhance the outdoor functionality and aesthetic appeal of your home? Architectural shading structures, such as those offered by Texstyleroofs, are a brilliant way to add character, convenience, and value to your patio or carport.
Contact us today
In this comprehensive guide, we'll explore the myriad benefits of these shading solutions, show how these versatile structures contribute to a more enjoyable outdoor experience, and discuss why Texstyleroofs should be your go-to source for architectural shading systems.
Why Opt for Architectural Shading Structures?
Outdoor spaces such as patios and carports are essential components of a home, providing areas to gather with family and friends or protect your vehicle from the elements. However, these spaces can be rendered less functional due to extreme weather conditions, such as intense sunlight, heat, or rain. Architectural shading structures offer:
Protection from the Elements: Shielding your patio or carport from harsh environmental conditions including UV rays, heat, and rain. This creates a more pleasant environment for relaxation and socializing with friends and family.
Energy Efficiency: By providing shade and maintaining cooler temperatures, these shading structures can help you save on energy costs. This is particularly relevant during the hot summer months when air conditioning usage tends to peak.
Increased Property Value: Architectural shading systems not only enhance the visual appeal of your outdoor living spaces but can also add value to your property due to their practical benefits and stylish design.
Customization Options: With a variety of materials, colors, designs, and finishes available, architectural shading structures can be customized to match your home's aesthetic and your personal preferences.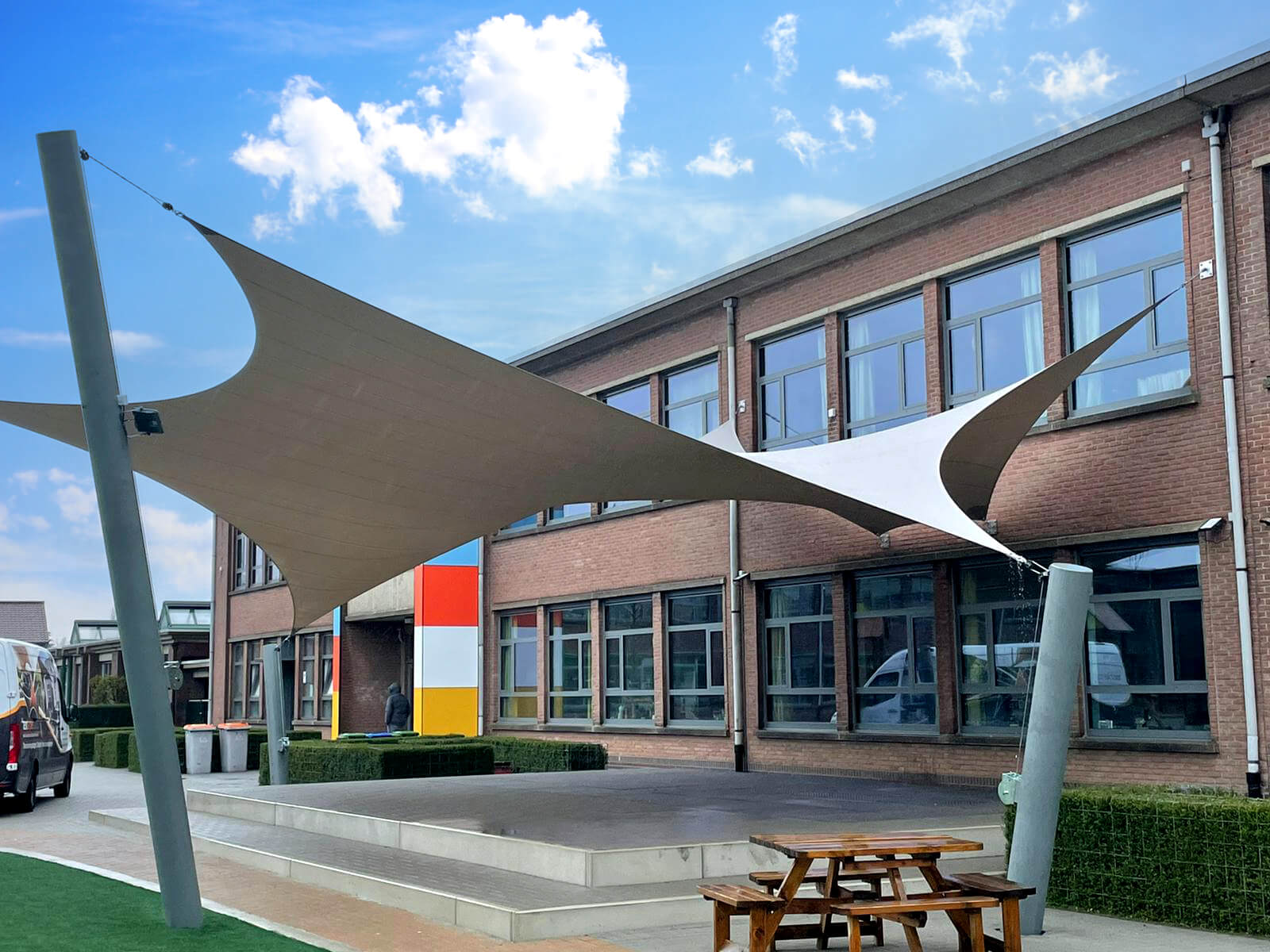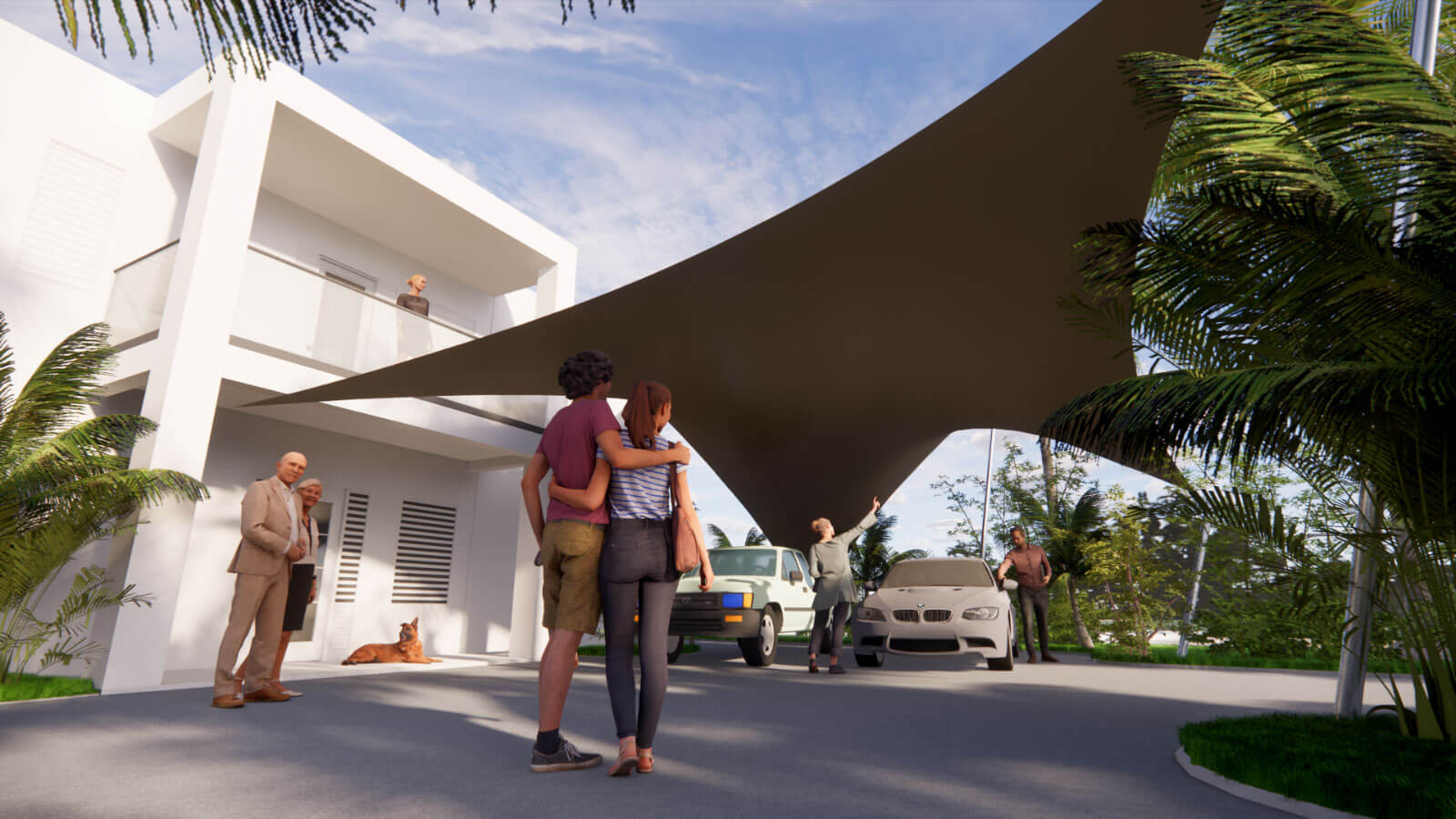 FREE 3D DESIGN
Request a free 3D design for a custom designed hurricane tolerant shade sail roof system at your location
Popular Types of Architectural Shading Structures
There are various types of shading structures available to enhance your outdoor space. Some popular options include:
Pergolas: Open, lattice-roof structures that create dappled shade while allowing some sunlight to filter through. Pergolas can be freestanding or attached to your home and make a beautiful addition to any outdoor area.
Retractable Awnings: Flexible shading solutions that can be extended or retracted as needed, offering versatile sun protection for patios and carports.
Carport Canopies: Durable structures designed specifically to provide shade and protection for cars, boats, or motorcycles. These canopies can be freestanding or attached to your home.
Shade Sails: Modern, sleek, and highly effective in providing sun protection, shade sails are a popular choice for both residential and commercial applications.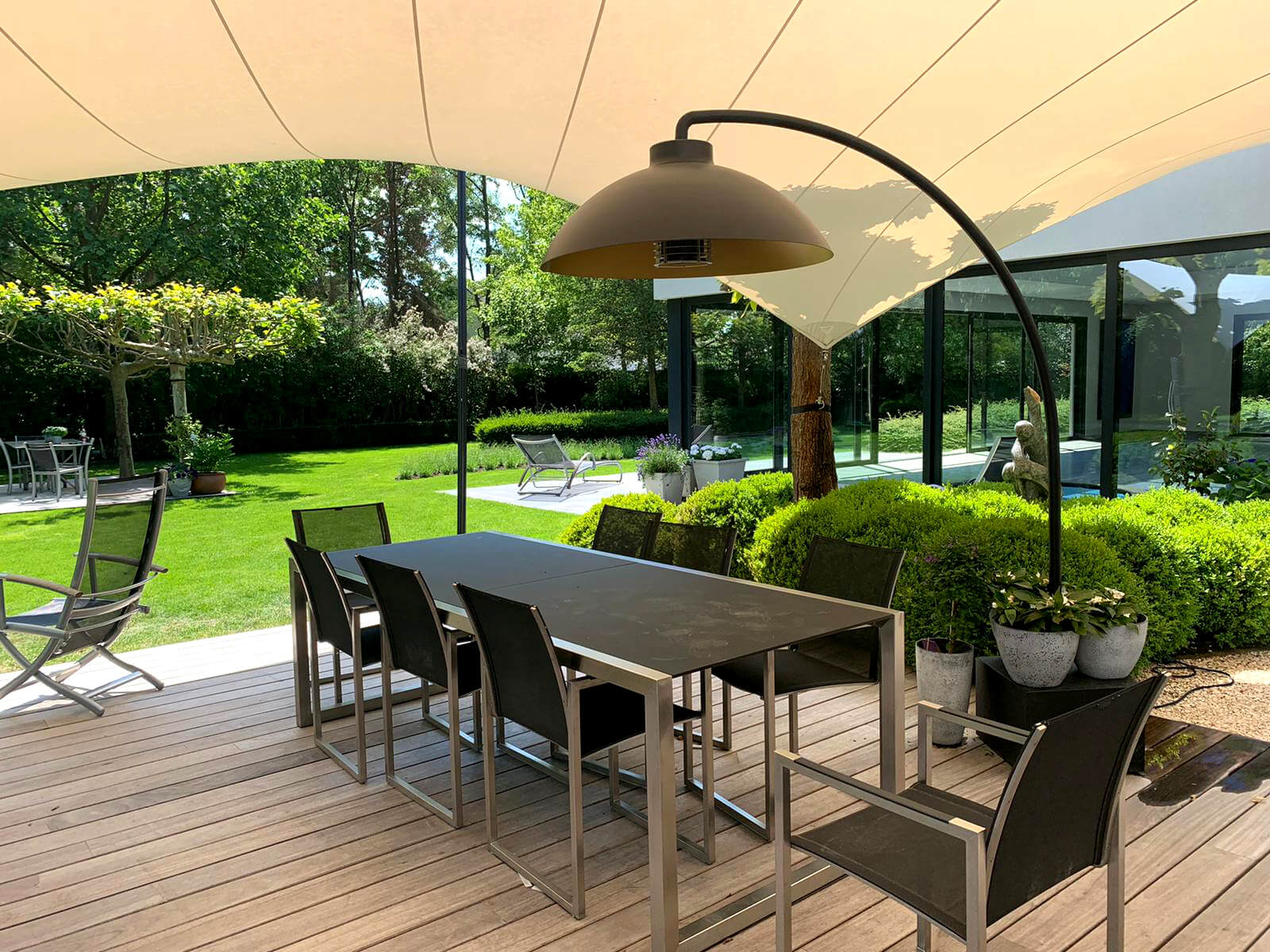 Why Choose Texstyleroofs for Your Architectural Shading Project?
As a leading provider of architectural shading structures, Texstyleroofs stands out from the competition due to the following qualities:
Unparalleled Expertise: With years of experience in the industry, we possess the knowledge and skillset required to design, manufacture, and install custom shading solutions tailored to your specific needs.
Quality Materials: At Texstyleroofs, we use only the highest-quality materials to ensure long-lasting and efficient shading systems.
Innovative Designs: Our talented team of designers are committed to creating beautiful and functional shading structures that elevate your outdoor space.
Professional Installation: Our experienced installation professionals are dedicated to ensuring your architectural shading solutions are installed correctly and efficiently.
Excellent Customer Service: We pride ourselves on our commitment to customer satisfaction. Our friendly and knowledgeable staff are always available to assist with any inquiries or concerns.
How Architectural Shading Structures Improve Your Lifestyle
Adding architectural shading structures to your patio or carport comes with several lifestyle benefits.
Enhanced Outdoor Living:
Architectural shading systems allow you to create a comfortable environment and offer protection from the elements, so you can fully enjoy your patio or carport, regardless of the weather.
Expanded Entertainment Space:
By transforming your outdoor area into a functional and inviting space, you can easily host gatherings, family events, and other social functions.
Privacy Enhancement:
Certain shading structures can obscure the view from prying eyes, adding a sense of privacy to your outdoor area.
Low Maintenance:
Architectural shading structures made from high-quality materials are durable, resistant to the elements, and easier to maintain than traditional patio coverings or umbrella shades.
Sustainability and Architectural Shading Structures
Environmental sustainability is crucial in today's world, and investing in architectural shading structures can contribute to eco-friendly living:
Energy Conservation: By providing shade and maintaining cooler temperatures in your outdoor space, shading structures help reduce the need for air conditioning, thus conserving energy and lowering greenhouse gas emissions.
Recyclable Materials: Many architectural shading structures are manufactured from recyclable materials, reducing waste and promoting sustainable practices.
Compliance with Local Building Codes and Regulations
When installing architectural shading structures, it is essential to comply with local building codes and regulations to ensure safety, functionality, and proper installation. Texstyleroofs takes care of this important aspect by:
Understanding Local Requirements: Our experienced team stays up-to-date with local building codes and regulations, ensuring your shading structures meet the required standards.
Obtaining Necessary Permits: When required, Texstyleroofs will obtain the necessary permits for your shading structure project, saving you time and simplifying the process.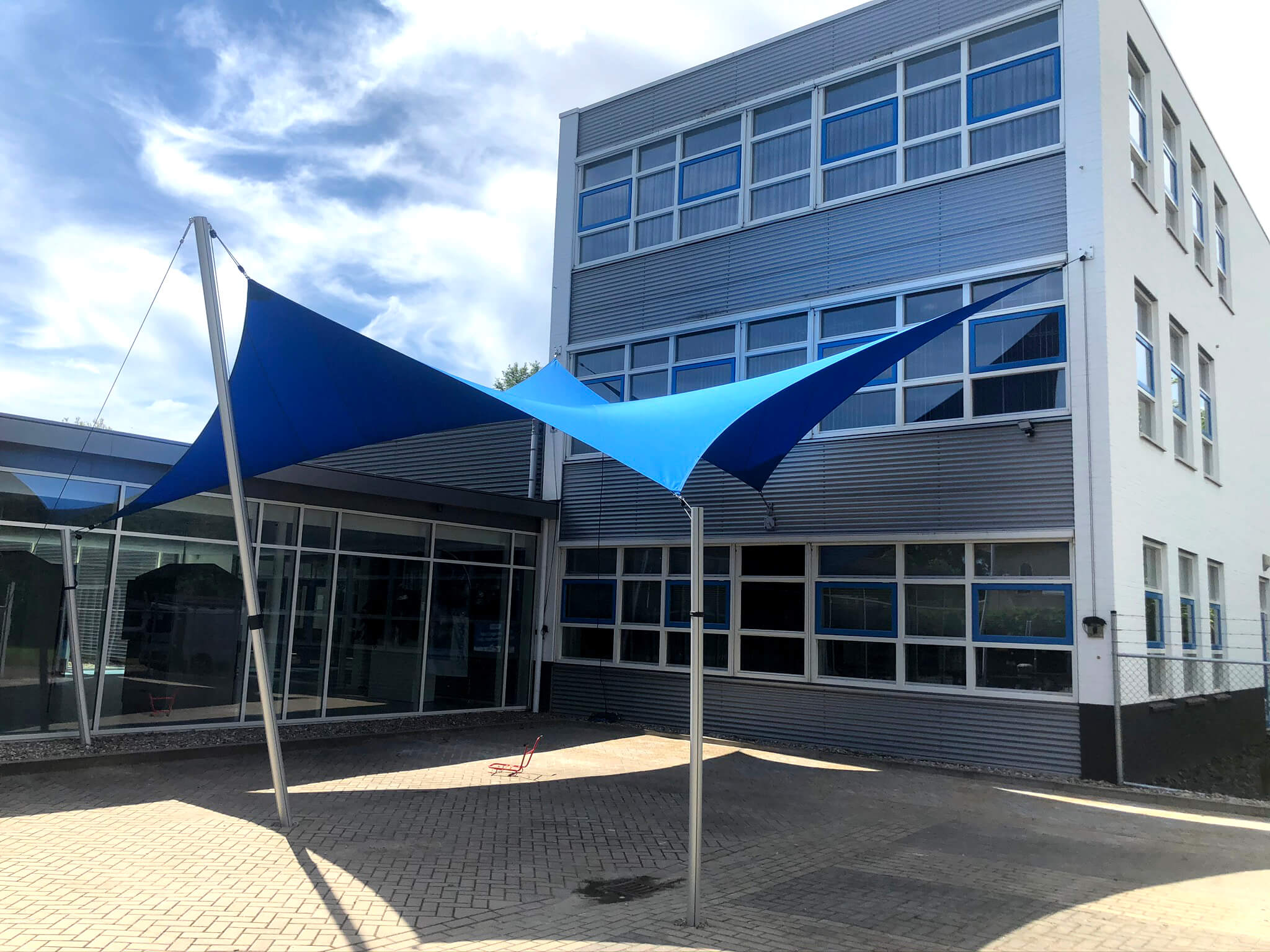 Financing Your Architectural Shading Project
We understand that financing your architectural shading project could be challenging. Texstyleroofs offers flexible financing options:
Competitive Pricing: Our pricing is competitive, providing you with high-quality products and services at fair prices.
Financing Plans: Texstyleroofs offers various financing plans, allowing you to make payments over time and easing the financial burden of your project. 
Investing in architectural shading structures is an excellent way to improve the functionality and appeal of your outdoor living spaces, while also providing additional benefits, such as energy efficiency, increased property value, and a better lifestyle. Texstyleroofs' expertise, innovative designs, and commitment to customer satisfaction make us the ultimate choice for your architectural shading needs. Don't hesitate to contact us to explore how we can help transform your outdoor area into a beautiful, functional, and environmentally responsible space you'll enjoy for years to come.