F.a.q.
Of course, we're happy to answer all of your questions, but first: check the FAQ below! Your question might already be  answered.
1. Are Texstyleroofs waterproof?
Texstyleroofs are 100% waterproof. We know textiles and their absolute limits before the water passes through. Due to the algorithm we developed, we are able to distribute the forces homogeneously over the entire surface. This way the same stiffness can be created in its entirety. The strong connection of the textile is thus retained, so that the water is repelled and discharged to the lowest points of the membrane. We also use Teflon yarn. These ensure that water remains upright on the textile at all times and is guided towards the lowest points of ourtensile fabric architecture.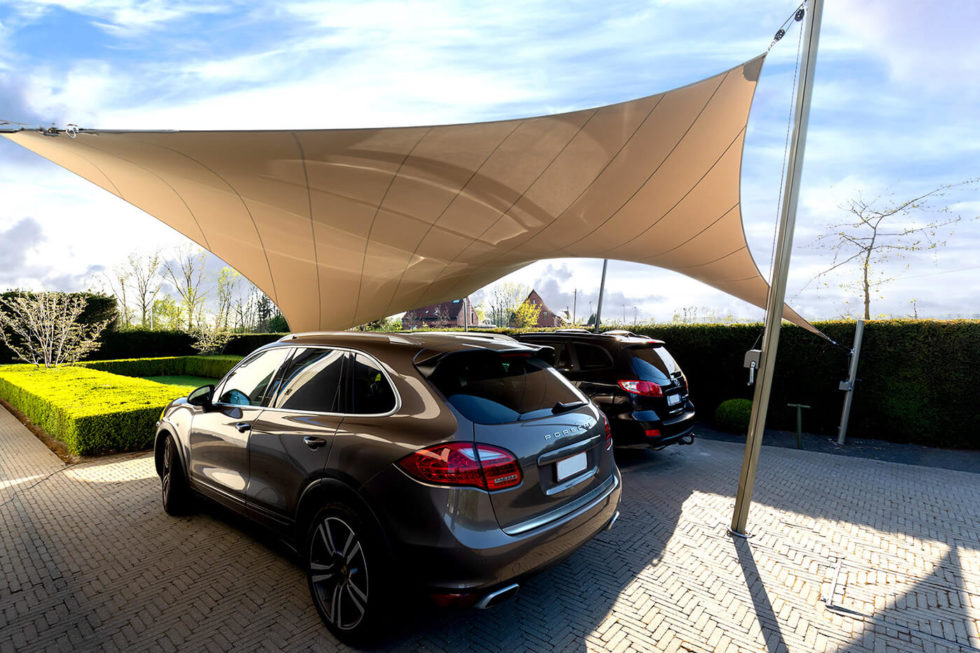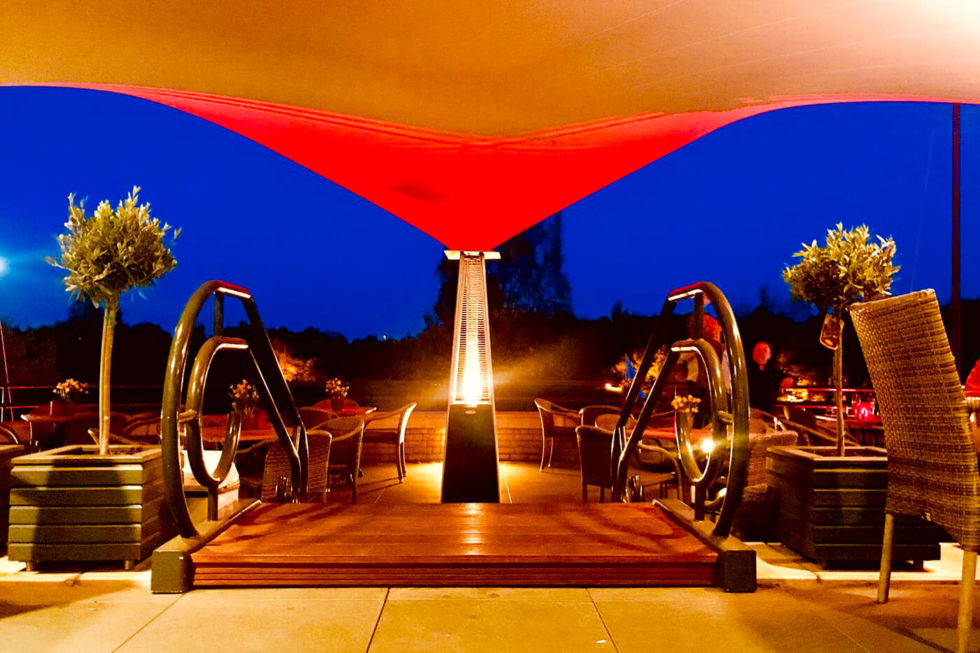 2. Are Texstyleroofs fire resistant?
No textile can withstand fire. Texstyleroofs have a fairly low flammability index, but are not fireproof. Our so called 'performance' textiles can handle both high and low temperatures. Therefore add-ons such as heaters are no problem as long as there is a minimal distance of at least 8 inches.
3. How much it costs?
Our textile roofs compete with regular fixed roofs and are in a similar price range. Each of our design is unique, which makes it difficult to set a fixed price since it varies per tensile fabric architecture project. If you would like to know more about how our prices are determined, contact us at sales@texstyleroofs.com.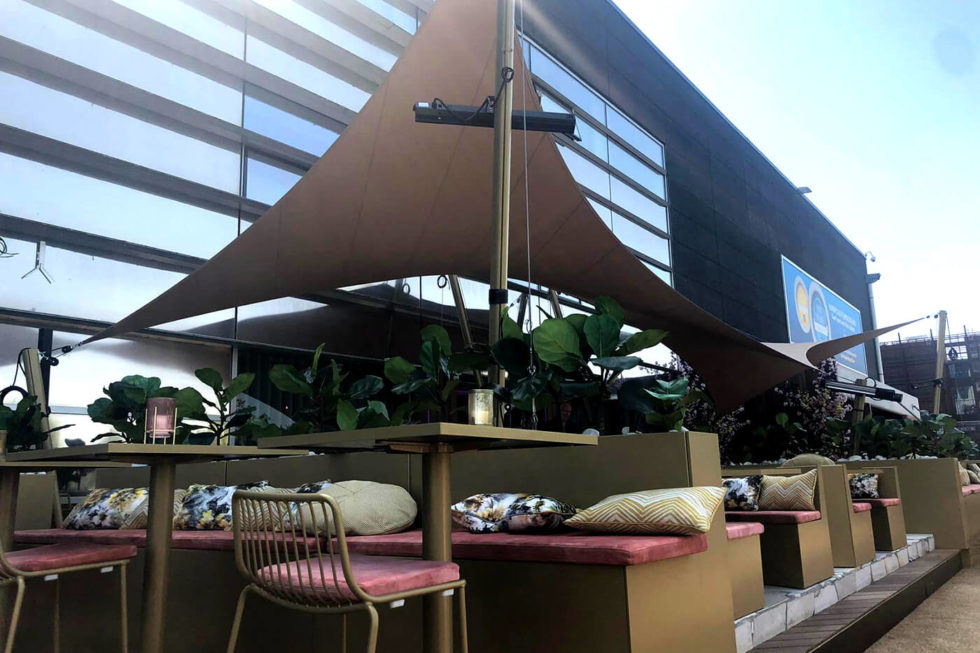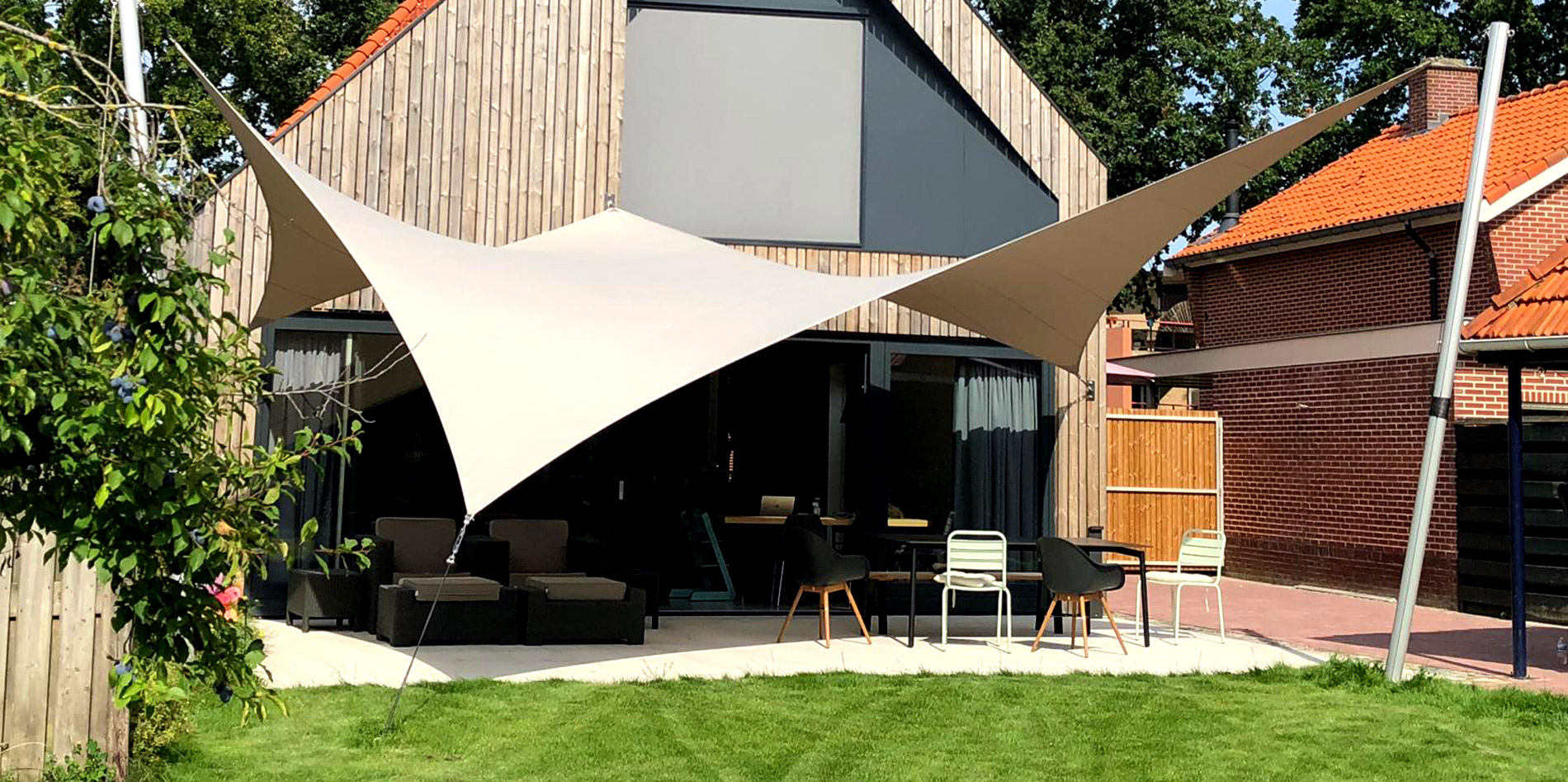 4. How long does a Texstyleroof last?
Our roofings are designed and manufactured to last for many years when installed properly and well maintained. Among ideal circumstances and depending on the application, our textiles have a lifespan of over ten years. Tensile Fabric Architecture will last longer if it is brought down every once in a while.
5. Does a Texstyleroof protect against UV and IR radiation?
All our membranes offer protection against both Infrared (IR) and Ultraviolet (UV-A and UV-B) radiation. Depending on the color, the textiles can block up to 99% of the UV radiation. As a result, you can take a cool and safe place under your Texstyleroof and not have to worry about this. Excessive ultraviolet radiation (UV-B) can cause a red skin or sunburn. Severe exposure might even cause skin cancer. UV-A radiation increases the risk of melanoma, the deadliest form of skin cancer. All of these risks are prevented with a Texstyleroof.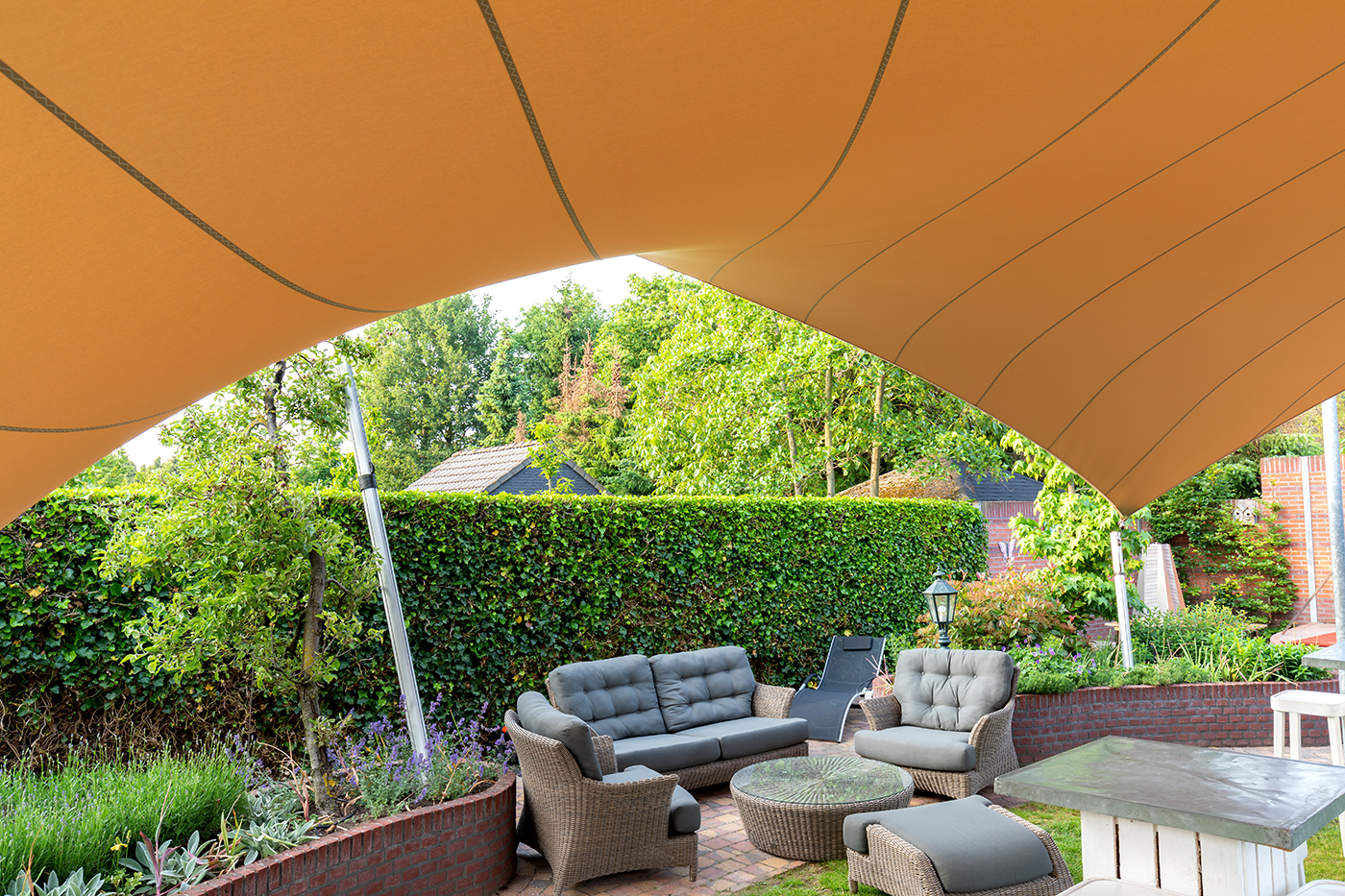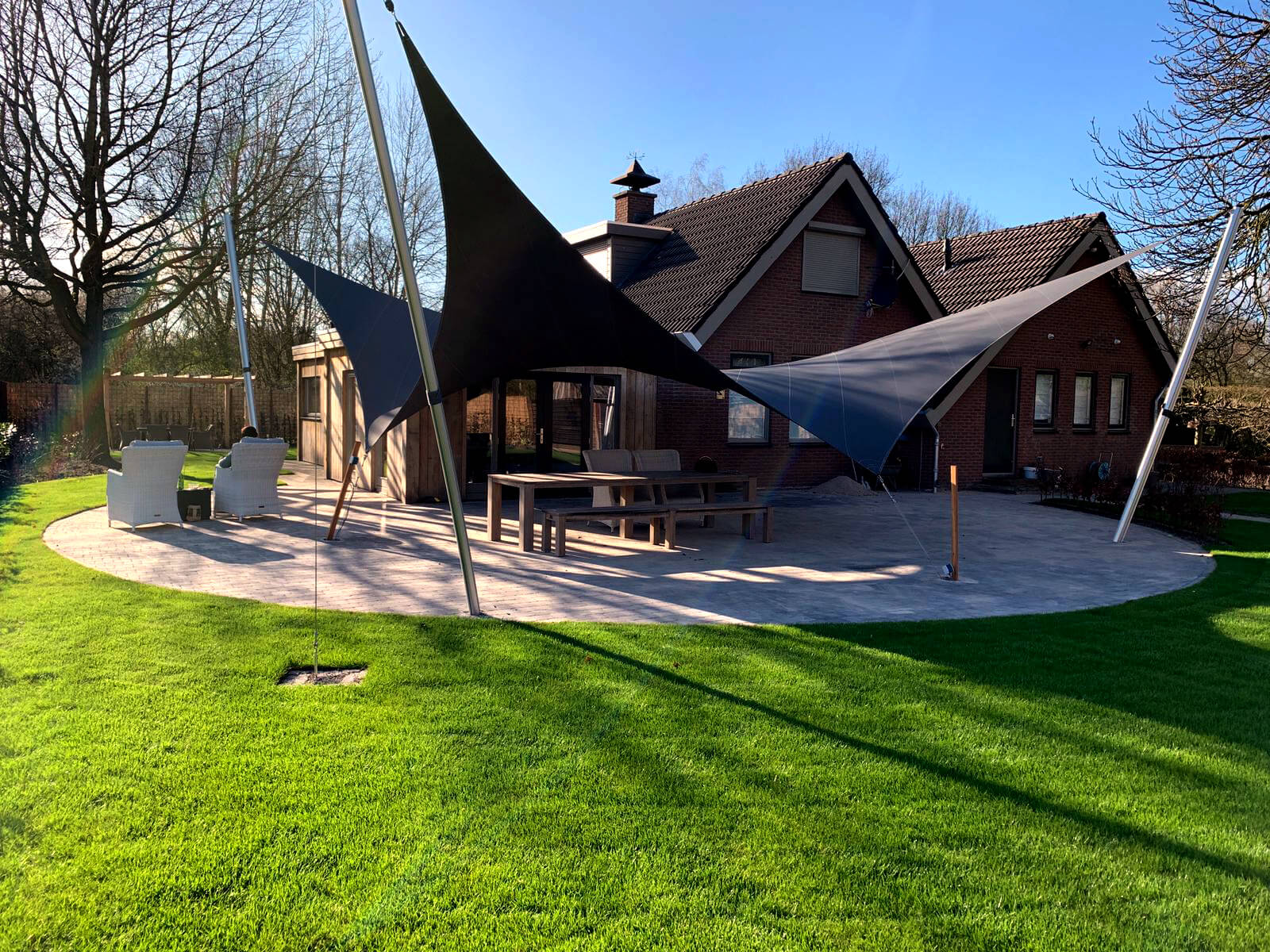 6. Are Texstyleroofs storm-resistant?
Texstyleroofs are not only UV resistant, but also to wind, rain and even snow. By making clever use of double curvature, we successfully designed systems that integrate with the various forces (rainfall and snow) and below (wind). This allows for Texstyleroofs to endure heavy wind forces. Due to easy and quick disassembly you don't have to worry whenever a hurricane comes up
7. What colors are available?
Our membranes are available in 24 different colors. Our employees will therefore always appear on site with a sample card to show how the different colors react when exposed to daylight. Due to the wide range of colors, we always successfully integrate the canopy into the environment.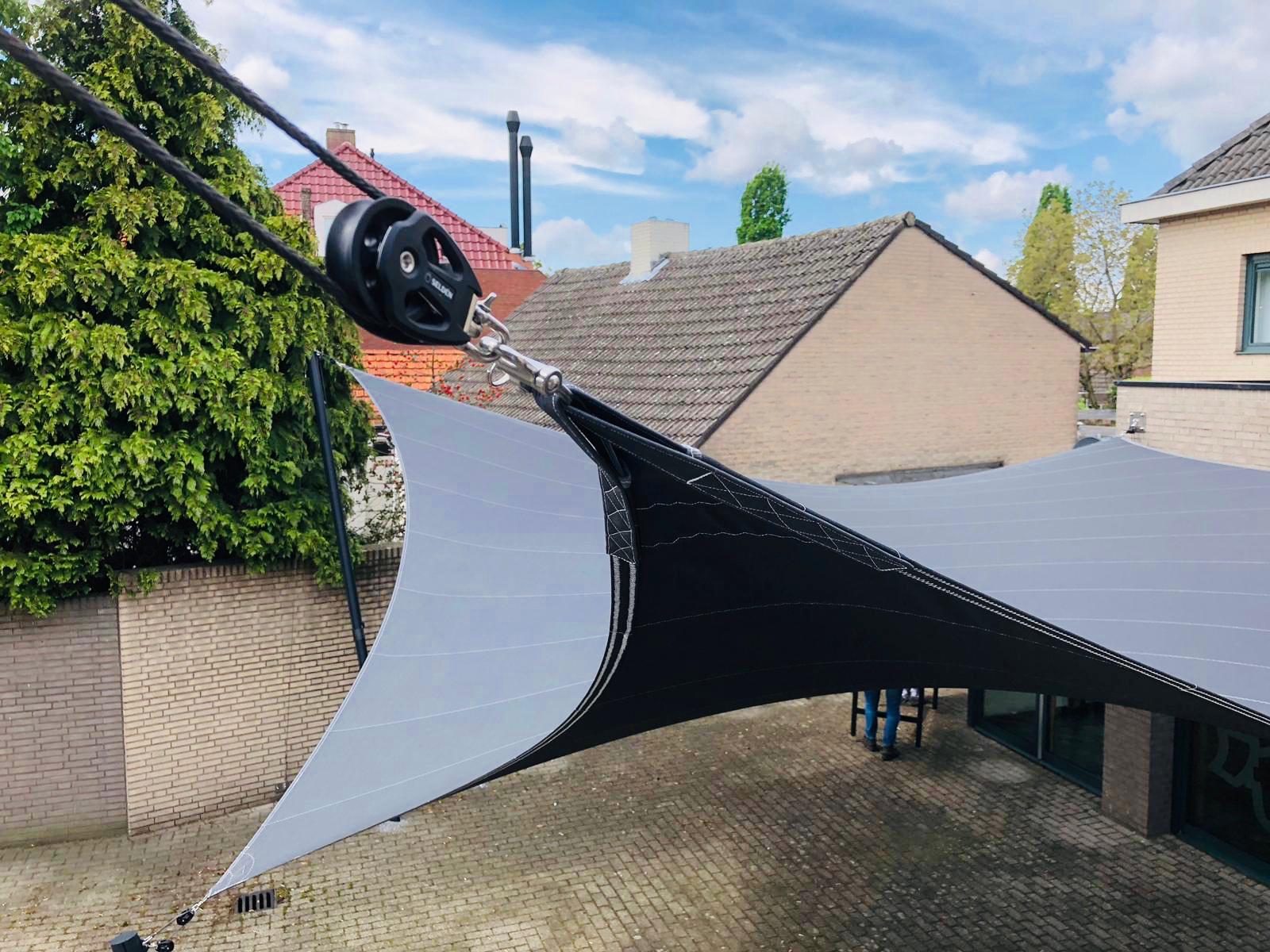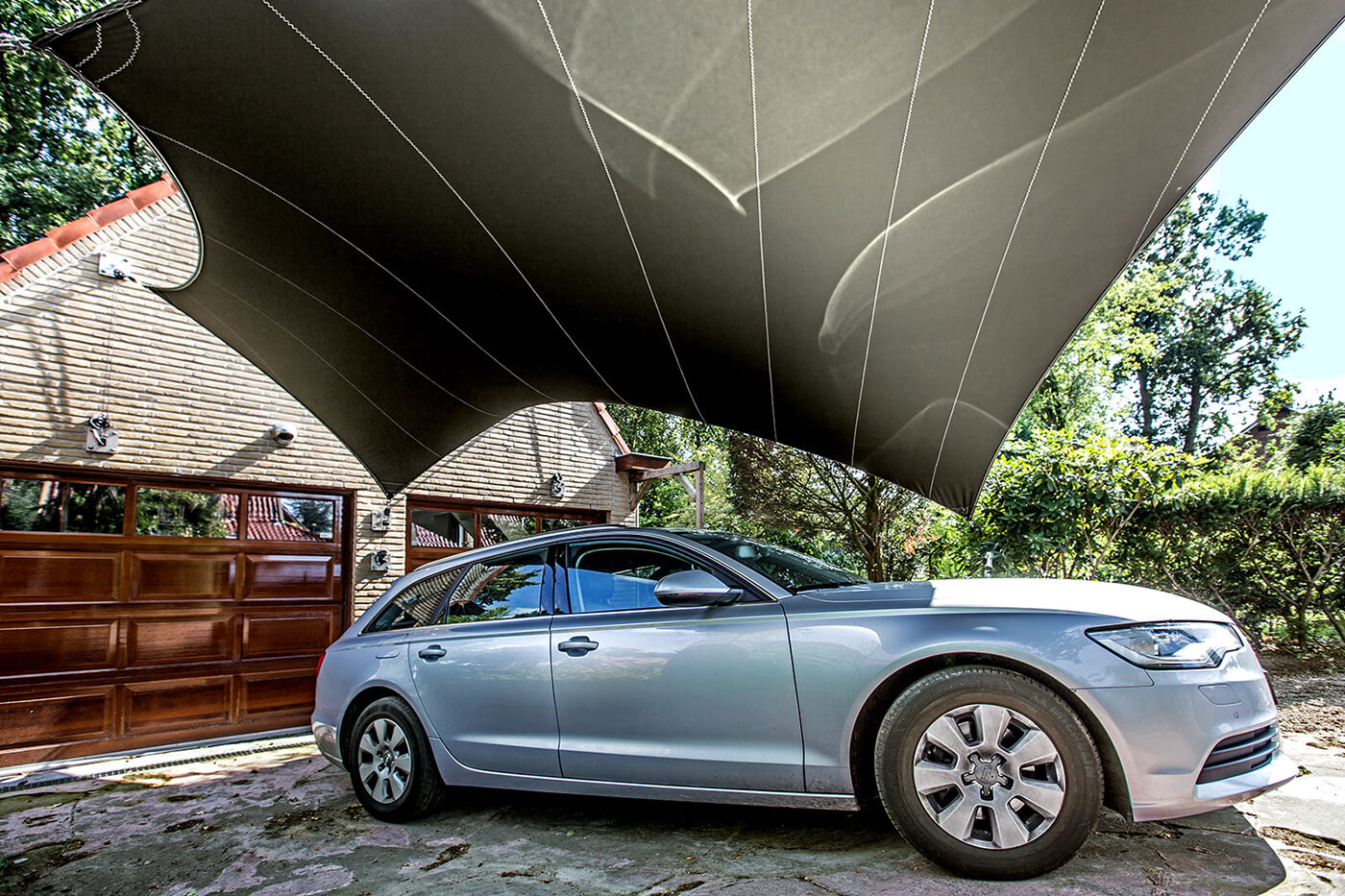 8. Is a permit needed to place a Texstyleroof?
Textyleroofs are completely removable up until the foundation, which makes our roofs permit-free for both at home and at your restaurant.  This while we can offer the same advantages as regular types of roofings such as wood and concrete. Furthermore, this ensures that the placement of the membrane can be done within  five to six weeks after the written agreement. This permit-free status also applies to the terrace, lounge, restaurant roofings and carports. Furthermore, this ensures that the placement of the membrane can be done within five to six weeks after the agreement has been signed. This permit-free status generally also applies to the patio, lounge, restaurant roofs and carports.
9. How do I maintain my Tensile Fabric Architecture?
The panels of a Textileroof are constructed in such a way that they are sloping down to the lowest points. They are stitched from top to bottom so that a decline occurs and the water gains speed when flowing down.  During this downward flow, the membrane cleans itself of dirt and guides it to the lowest fixing points. Due to the use of Teflon yarn, a garden hose often suffices due to the created minimum frictional resistance.
When you are no longer satisfied with the condition of the membrane by for example pollution, Texstyleroofs offers you an additional wash and cleaning service. We pick up the membrane at your place and return it brand new on short notice.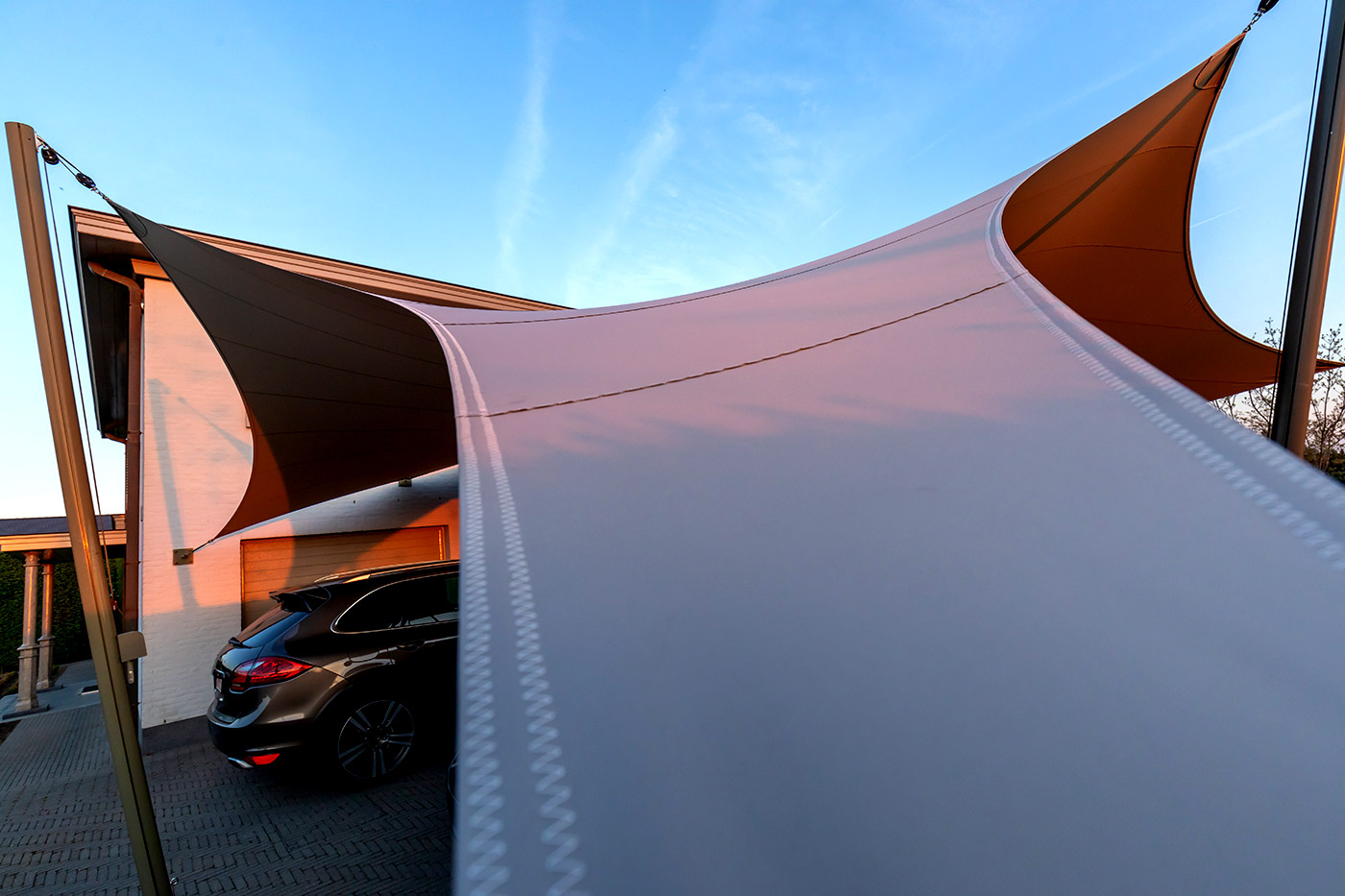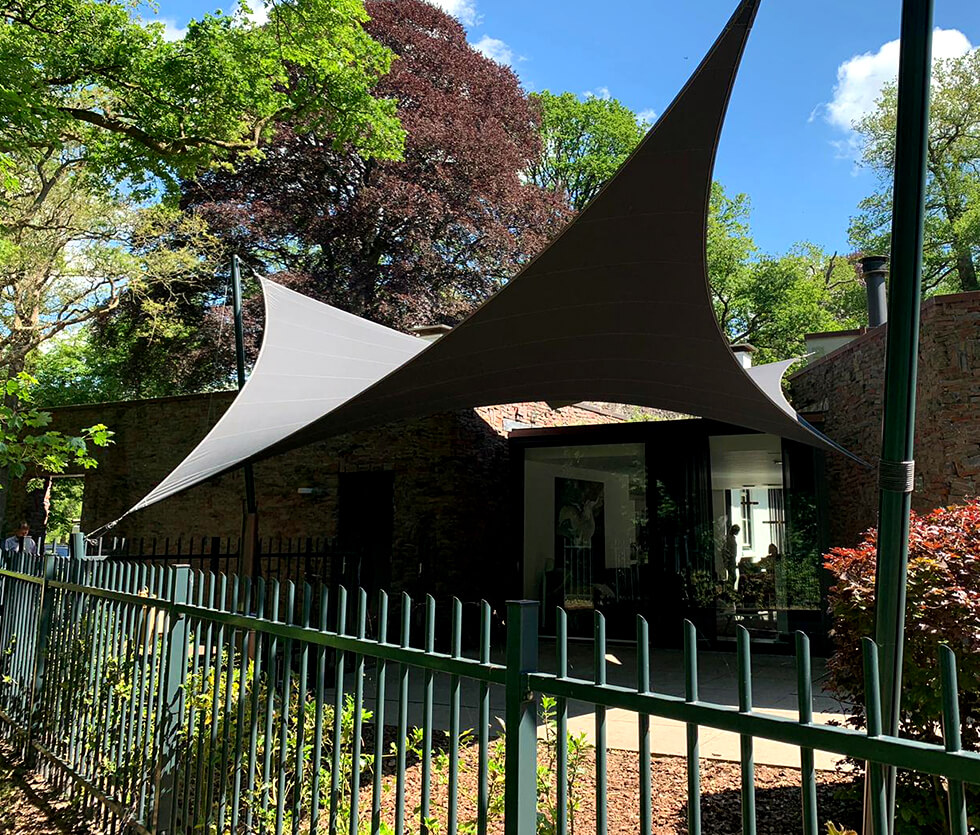 10. Why do we use a double curvature?
By double curvature we mean that there are always at least two high and two low fixing points. This way, the textile is used to its utmost capacity to create the strongest construction possible. Because we pre-shape our textile, you obtain aerodynamics that are aided by pre-tension. This translates into homogeneous stiffness across the entire membrane.
During the engineering process, we ensure that this stiffness is created not only in every single lane of textile but also in the bias of the edges of the belt. This stiffness is maintained at all times, which makes our product unique in comparison to the competition in the market of flexible roofs.
11. I'm getting tired of the colour of my Texstyleroof
We will solve that as soon as possible. If you get tired of the colour of your Texstyleroof, it is possible to purchase a new membrane. As the correct calculations for the various panels are already known in our system, this can be done at a relatively low price. We will pick up the membrane ourselves and then create the new design together. Furthermore, the required fixation points have already been placed, which saves both time and effort.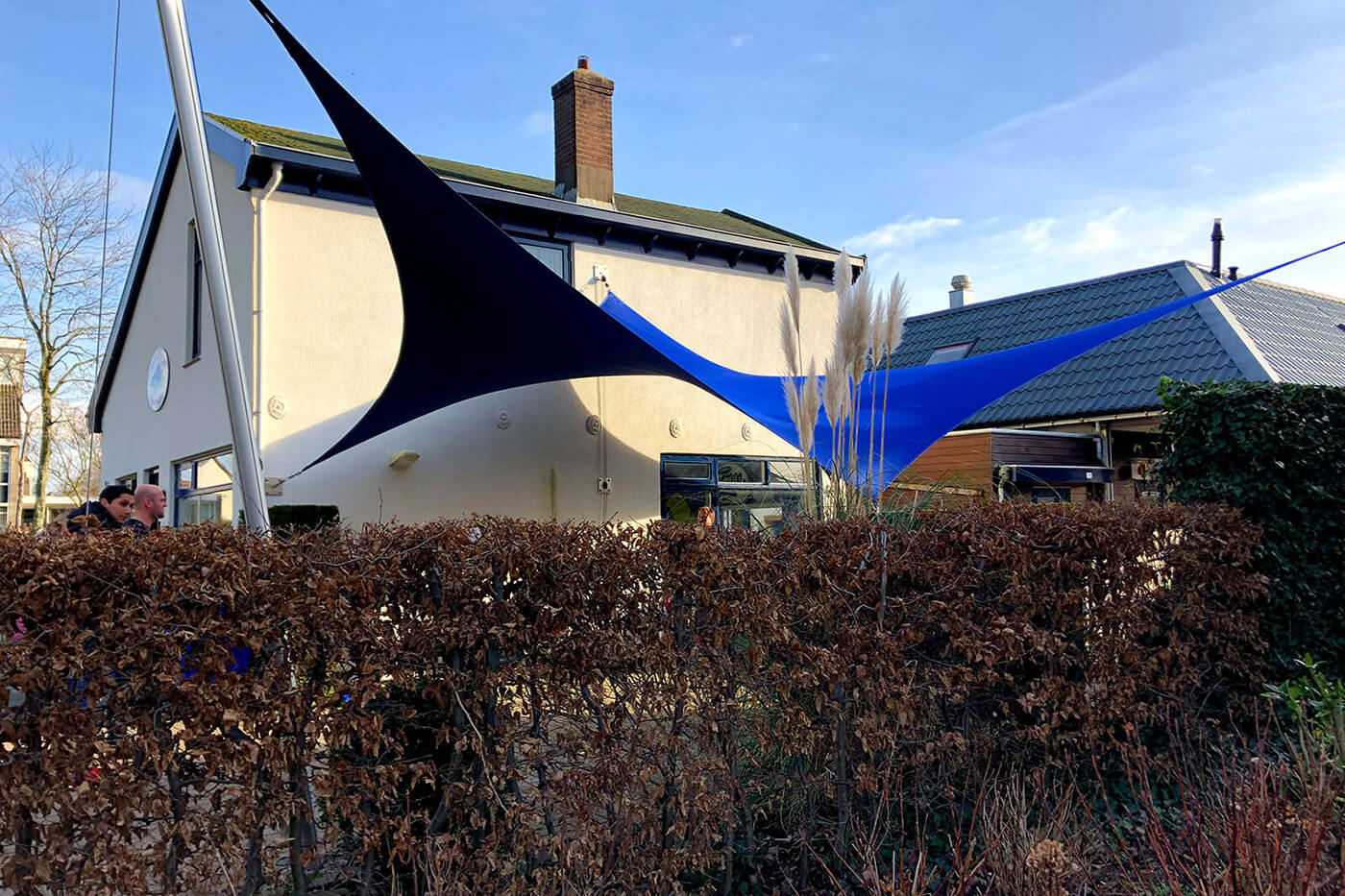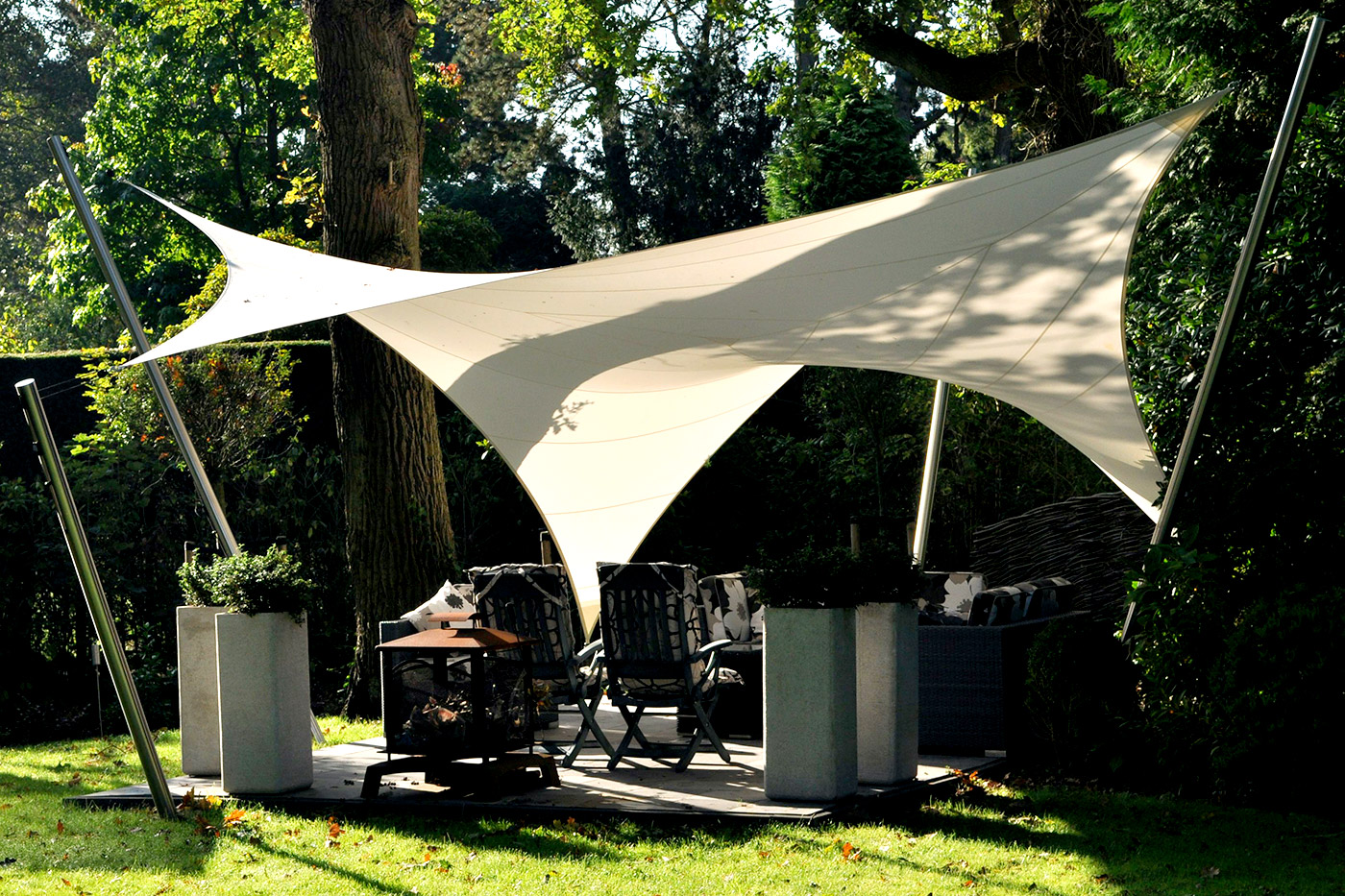 12. What is the difference between a Texstyleroof and a sunsail?
Sunsails only protect against the sun. With a Textile Roof you are also protected against more extreme weather conditions. With a sunsail you are forced to remove the cloth when there is a storm approaches. On top of that a Texstyleroof always has at least four attachment points to create the double curvature. Which is needed to guarantee its safety.
13. Can I operate the system on my own?
Our designs make it possible to lift and remove the entire membrane easily by yourself. Inspired by sailing races where simple systems allow sailors to easily lower the sails by themselves, it is also possible to lower a Texstyleroof membrane quick and simple without any effort at the anchoring points.
During the installation, we attach the membrane step by step and while watching this process you will learn to know the exact ins and outs yourself. We also offer additionally options to equip our systems with hand slings and electronic controls to ease it even more.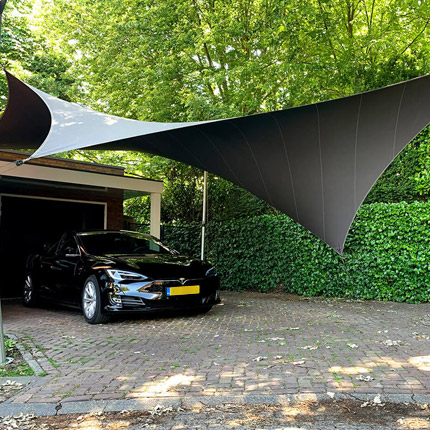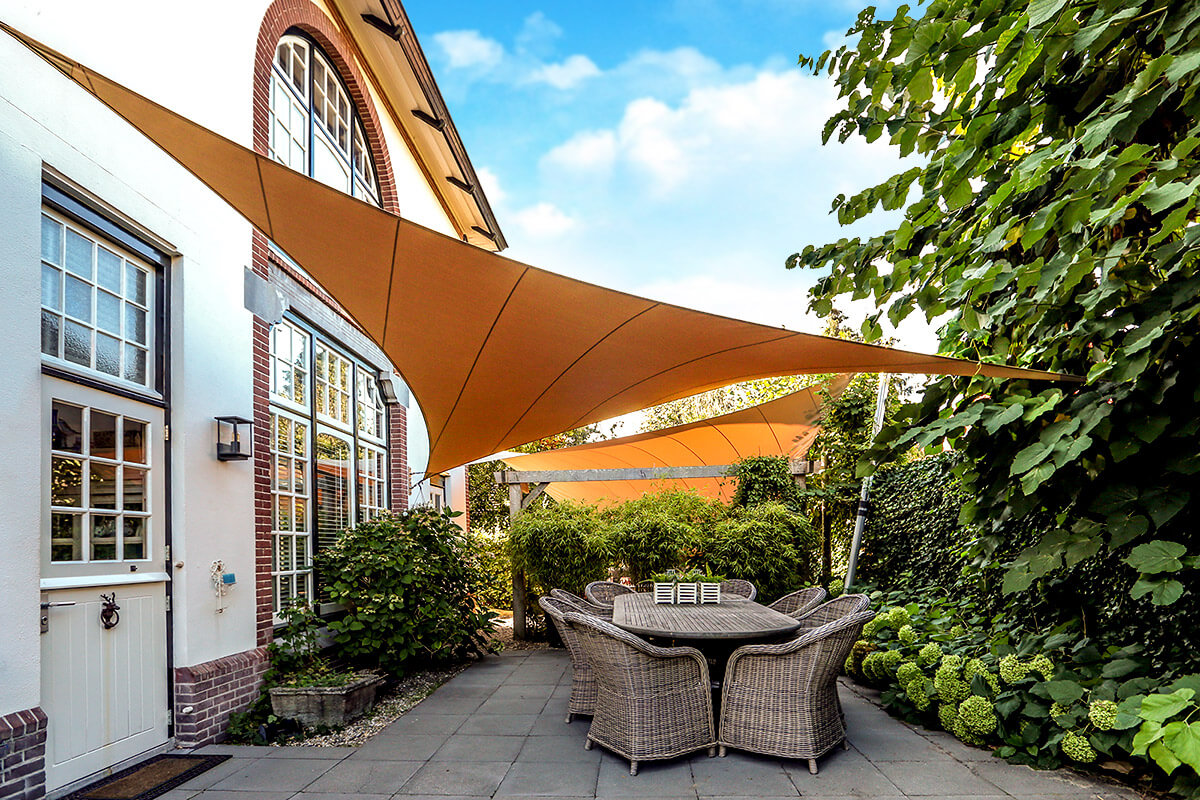 14. Can I easily store the membrane?
A complete membrane, of any size, can be put away in a bag of 1.64 by 3.28 feet. Our construction makes it possible to do all this by yourself, no external help needed. It is therefore possible to store the membrane at all times, whenever you want to. When you re-attach the membrane, you simply pull the whole canvas back in pre-tension and its original form in no time.
15. What does a Texstyleroof weigh?
The membrane as a whole only weighs between 22 and 33 lbs. These weights apply to membranes of 430 to 645 square feet. This is because we only use lightweight materials. Not a single steel element is used.
Worldwide we are the only company who has developed membrane technology thus far that steel is no longer required to build strong and all weather proof textile roofs. We create a homogeneous stiffness throughout the membrane allowing the fabric always to be at its maximum capacity.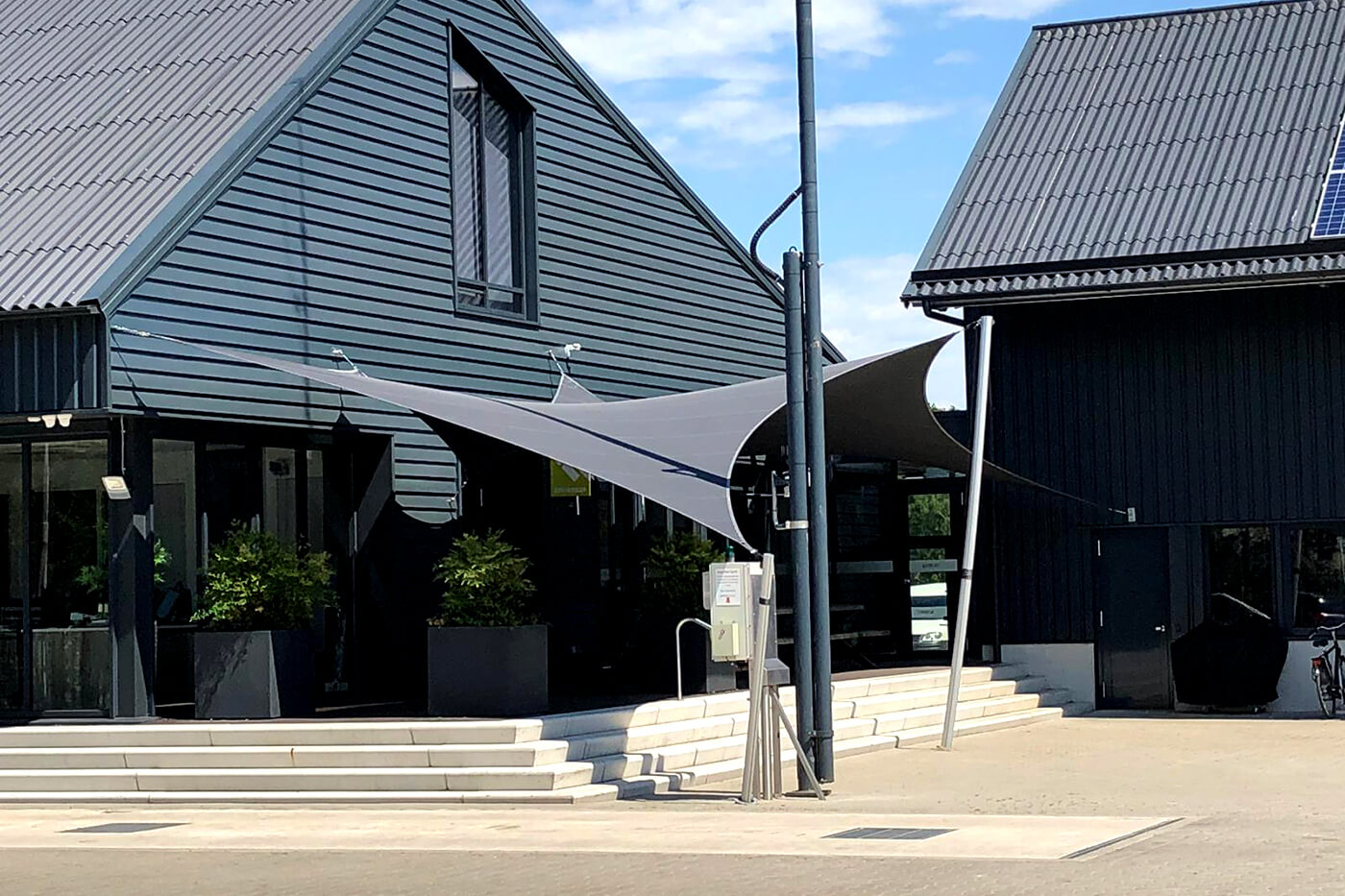 Uniquely

designed

textile patio roofs

,

carports

,

Business solutions

or

freestanding lounge

roofing custom designed.
Direct an answer to your questions?
"I have only one dream. It is the oldest of humanity, of man in time. It is paradise. I would like to give paradise to everyone."