Crane Point Hammock – Museum and Nature Trails – Stand alone coverage outdoor seating area for open stage
Introducing the newly installed custom-designed Textyleroofs Stand-Alone Shading System at the Crane Point Museum and Nature Center, Marathon, Florida!
In its continuous effort to enhance visitor experiences, Crane Point Museum, Nature Center, and Historic Site have taken a significant step towards improving the outdoor seating area by incorporating a stylish, tailored, and highly functional stand-alone textile cover. This innovative shading system aims to provide both shade and protection for visitors, making their time at the center more enjoyable and comfortable.
Nestled in the heart of the Florida Keys on Key Vaca, in Monroe County, Florida, the Crane Point Museum and Nature Center holds a special place as a non-profit natural history museum and nature center. Established in 1976, this remarkable establishment owes its existence to the Florida Keys Land & Sea Trust, which admirably acquired the land, preventing it from being developed into private homes and shopping malls. Today, it stands as a testament to conservation efforts and was deservedly listed on the National Register of Historic Places in 2021, acknowledging its historical and cultural significance.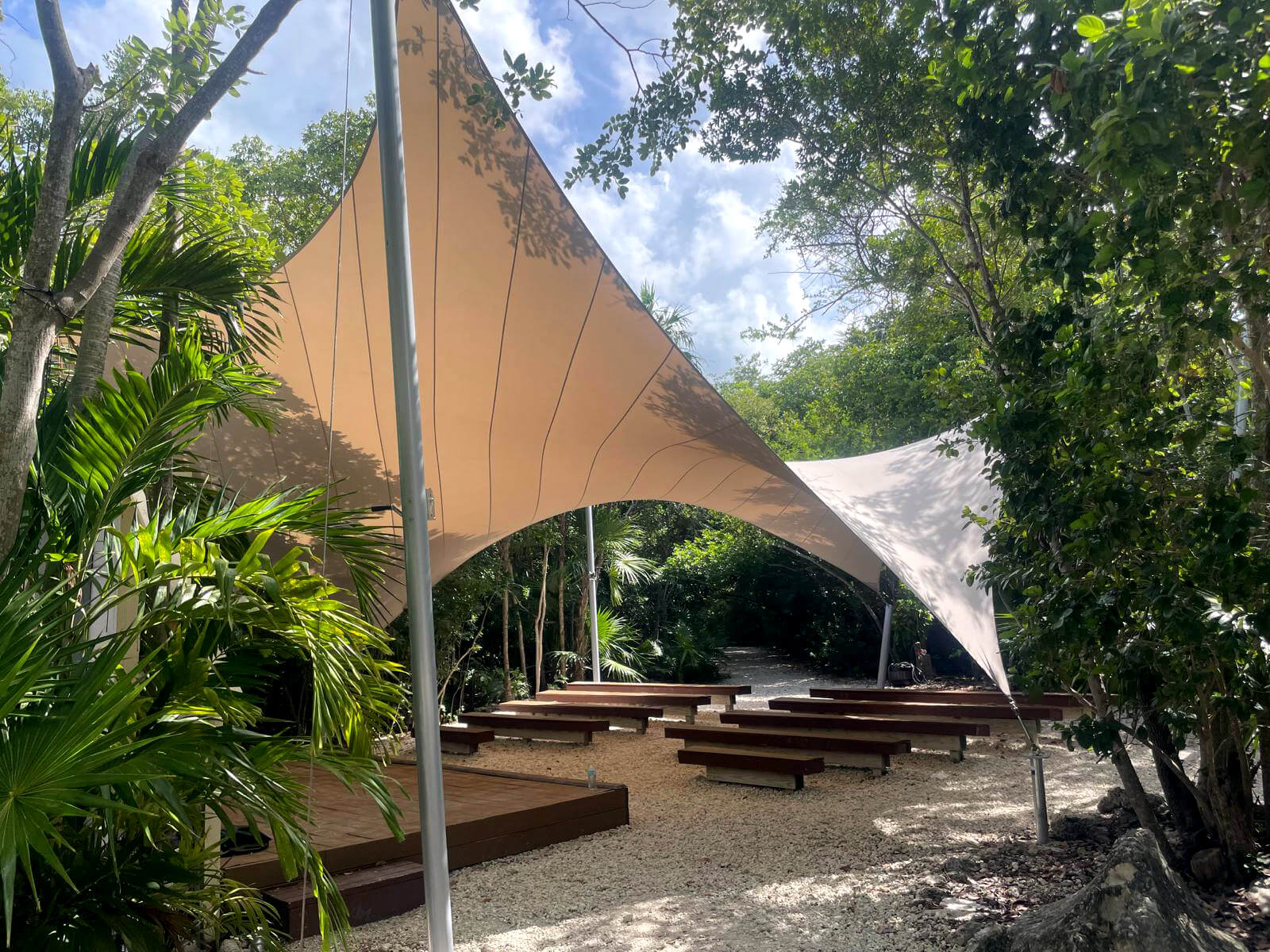 With a strong commitment to the well-being of its visitors, the installation of the custom-designed Textyleroofs shading system brings numerous advantages to protect and enhance the overall experience for guests. Firstly, the shading system ensures a sheltered outdoor seating area, shielding visitors from the harsh rays of the Florida sun, reducing the risk of sunburns and heat-related discomfort. This allows guests to indulge in the beauty of nature without worrying about the weather.
Furthermore, the Textyleroofs system is uniquely crafted to blend harmoniously with the museum's surroundings, adding to the site's aesthetic appeal. The careful consideration of design elements ensures that the shading system not only provides practical benefits but also enhances the visual allure of the outdoor area, creating an inviting atmosphere for all who visit.
A non-permit stormproof roofing solution for your restaurant, hotel, bar or outdoor dining patio area.

Our textile design shading systems allow you to cover more area as the used materials protect against UV rays, while allowing cool breezes to permeate the sail. Proper installation is vital to allow proper drainage of water and optimal performance, as well as a flawless aesthetic and functionality.
Additionally, the stand-alone feature of the Textyleroofs shading system adds versatility to its application. It offers the freedom to install the cover in strategic locations without requiring support from existing structures. This flexibility allows the Crane Point Museum and Nature Center to optimize the shading system's placement to cater to specific areas, ensuring maximum coverage and usability for their valued guests.
By investing in this cutting-edge shading solution, Crane Point Museum and Nature Center reaffirm their dedication to providing an exceptional and comfortable experience for their visitors. The sheltered outdoor seating area, seamlessly integrated into the museum's natural environment, serves as a perfect spot for guests to relax, learn, and appreciate the beauty of Florida's unique ecosystem.
In conclusion, the newly installed custom-designed Textyleroofs Stand-Alone Shading System at Crane Point Museum and Nature Center is a remarkable addition that exemplifies the institution's commitment to preserving nature, history, and visitor well-being. As it continues to protect and enhance the outdoor seating area, it invites visitors to immerse themselves in the wonders of the Florida Keys, leaving them with lasting memories of a truly enriching experience.
Recent commercial projects installed by Texstyleroofs