Ocean Villas Condominiums – Daytona Beach, Florida – Standalone Pool Area Cover
Transforming Ocean Villas Condominiums Pool Area in Daytona Beach, Florida
 If you are looking for luxury condominiums in Daytona Beach Shores, Florida then look no further than Ocean Villas. Enjoy the breathtaking views of the Atlantic Ocean and intracoastal waterway from your lavish condo drenched in amenities.
Texstyleroofs redefines outdoor comfort and elegance. Our recent installation at Ocean Villas Condominiums in the picturesque Daytona Beach, Florida showcases the remarkable versatility and storm-proof quality of our tailored shading systems, perfectly suited for beachfront residences.
Unmatched Shade and Storm Protection
Texstyleroofs stands proudly as the ultimate solution for providing shade and protection in coastal areas, making it the go-to choice for beachfront properties. The Texstyleroofs installation at Ocean Villas Condominiums exemplifies this, offering residents a tailored and stylish cover for their pool area. Our robust design and advanced materials ensure the ultimate protection against the elements, including intense sun and unpredictable coastal storms.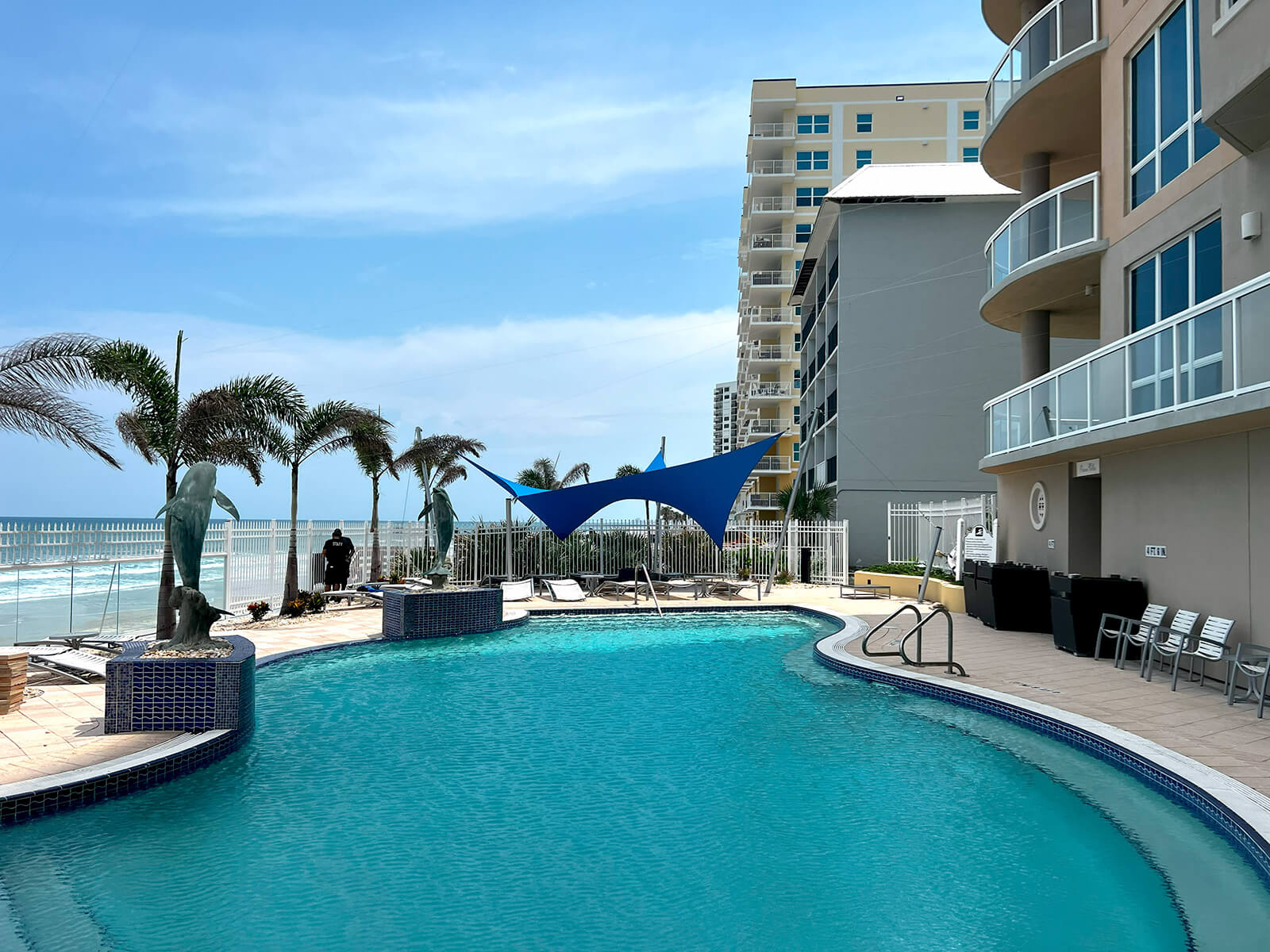 Customized Comfort
At Texstyleroofs, customization is key. Our shading systems are meticulously designed to meet your specific requirements. The Ocean Villas project is a testament to this approach, where each Texstyleroof is tailored to the condominium's pool area, providing an inviting space for residents and guests to relax in comfort.
Living by the beach can be beautiful, but it also means facing the unpredictability of coastal weather.
Texstyleroofs is engineered to withstand the harshest conditions, including hurricane-prone areas. Our storm-proof quality gives peace of mind to residents, as our shading system can be relied upon to protect against wind, rain, and sun, ensuring a longer lifespan compared to conventional solutions.
Lightweight and Stylish
Texstyleroofs offers a lightweight alternative to traditional roof structures. Our membranes, weighing between 22 and 33 lbs, provide the durability you need without the need for heavy steel elements. The result? A stylish, modern cover that seamlessly blends with your outdoor space.
Aesthetic Appeal
Texstyleroofs does more than provide protection; it enhances the beauty of your outdoor area. With an array of colors and a sleek design, our shading systems not only provide the practicality of shade but also elevate the aesthetics of the space. The installation at Ocean Villas exemplifies how Texstyleroofs can transform an outdoor area into a luxurious retreat.
Invest in Excellence
Elevate your outdoor experience with Texstyleroofs. Our shading systems are a wise investment for coastal properties, offering a unique blend of style and storm-proof durability. Discover the perfect solution for your beachfront residence and experience outdoor living at its finest.
Choose Texstyleroofs – where elegance, innovation, and protection come together. Transform your space today and experience the ultimate in outdoor living.
Realised Stand-alone Textile roof solutions Projects