A Texstyleroofs tailored Shade sail roof
Waterproof, translucent, storm-proof and no permit required!
Tailored shade sail |  Custom made shade sail cover | Hurricane tolerant cover | Luxury design sun sail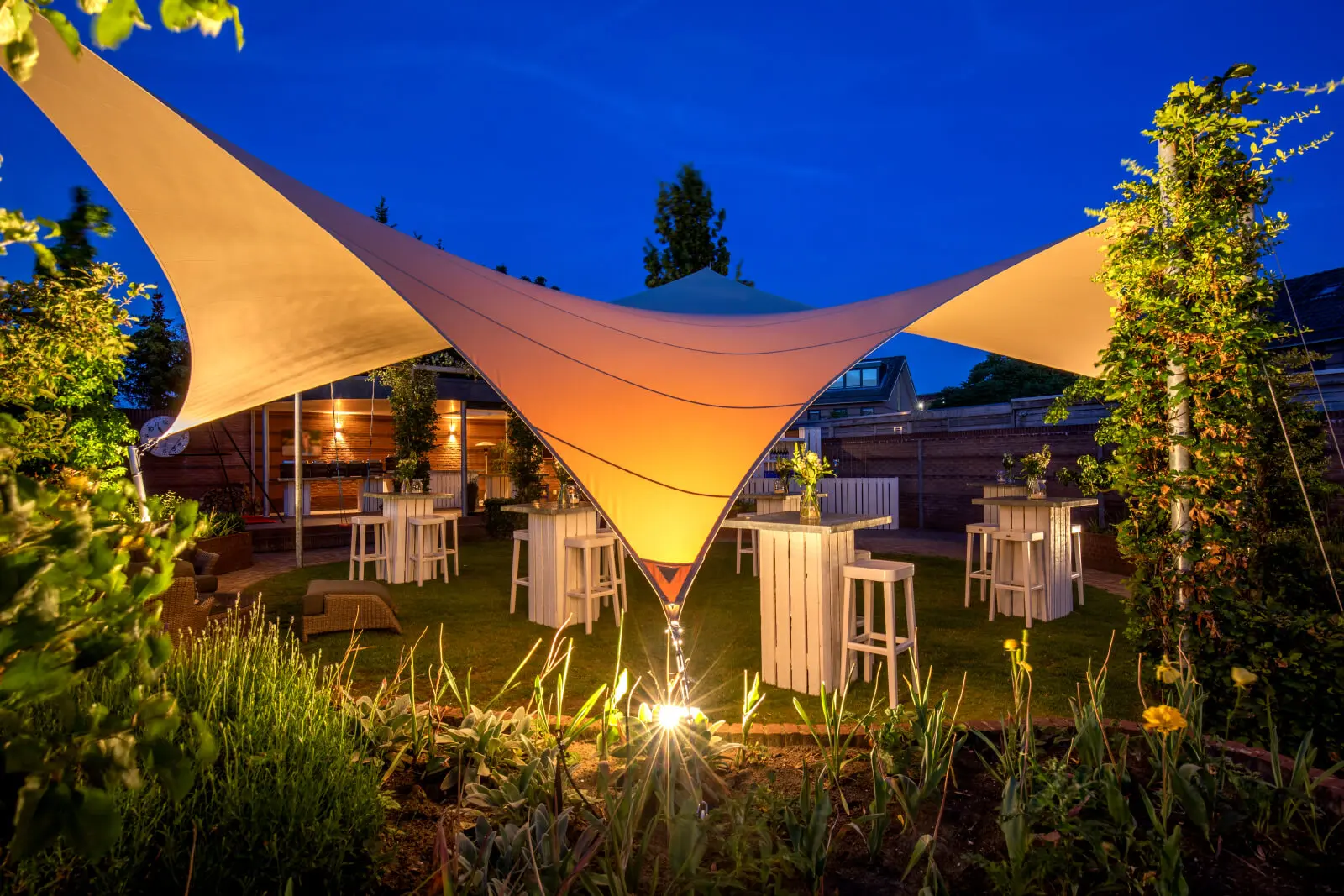 Tailor-made textile roof from Texstyleroofs® enhance your outdoors atmosphere and comfort while providing a waterproof extension to your home. Do you want the nature light in your home, and still have the coverage of a roof? The comfort of a roof without the local hassle of permit requirement to construct a roof for your patio, terrace are carport? Are you looking for a custom design that meets your functional and aesthetic needs? Then immerse yourself in the power of our tailored shade sail solutions.
Permeable to light and architecturally sound
The Texstyleroofs® membrane covers are highly translucent. Thanks to its distinctive design with double curvature, the membrane gains strength, and at the same time, we create an engineered designed solution for all your roofing problems. Our designs always take into account sun and shadow effects, the incidence of light in your home, sightlines from inside to outside, water drainage and most important your aesthetic and functional requirements.
Read more below and let us inform you more you about our terrace, carport, and standalone roofs as well as solutions for the commercial market.
Interested in our textile roofing solutions?
Contact us and revolutionize your outdoor living
It isn't easy to visualize in advance what a luxury design sun sail would look like on your patio. You want shad from the overbearing sun and shelter from the rain, do you still have doubts about the design? We will take these uncertainties away by engineering a full 3D presentation of your situation. Our engineers will create multiple views of what your custom made shade sail cover would look like at your location.
Our design process will enable you to view your hurricane tolerant roof solution in consultation with our qualified consultant and provide you the ability to make design changes on the spot. As a result, a roof will be created that completely meets your expectations. During this appointment, we will discuss the custom tailored shade sail double curvature design concept, light weight and strength, engineering and manufacturing process and the construction and installation procedure. All steps are covered in detailed to insure you will not experience unpleasant surprises later. Even before anything is installed, you will have a clear picture of how your luxury design sun sail roof will aesthetically blend in with its surrounding space and functionally meet your requirements. We will also provide you with a video of your design to share and see your beautiful creation.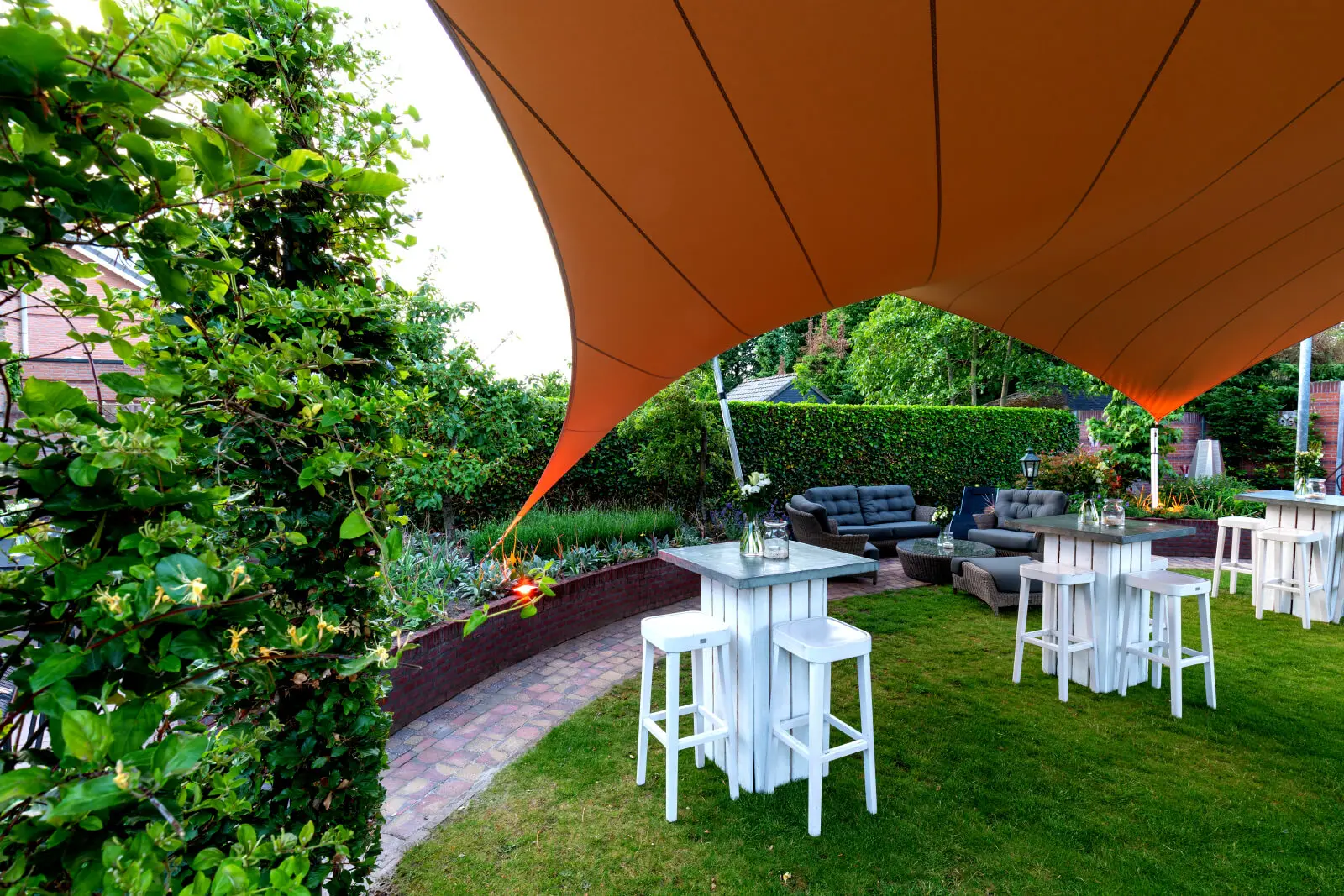 After we reach a mutual agreement on the design, the installation team will contact you to plan the installation of the structure. It is best if you are present to consult with the team on any last minute changes. We will present multiple 3D design possibilities at your home. We can make a custom 3D study for your textile roof without any obligation. For more information and non-binding advice, request a 3D design for your roofing solution.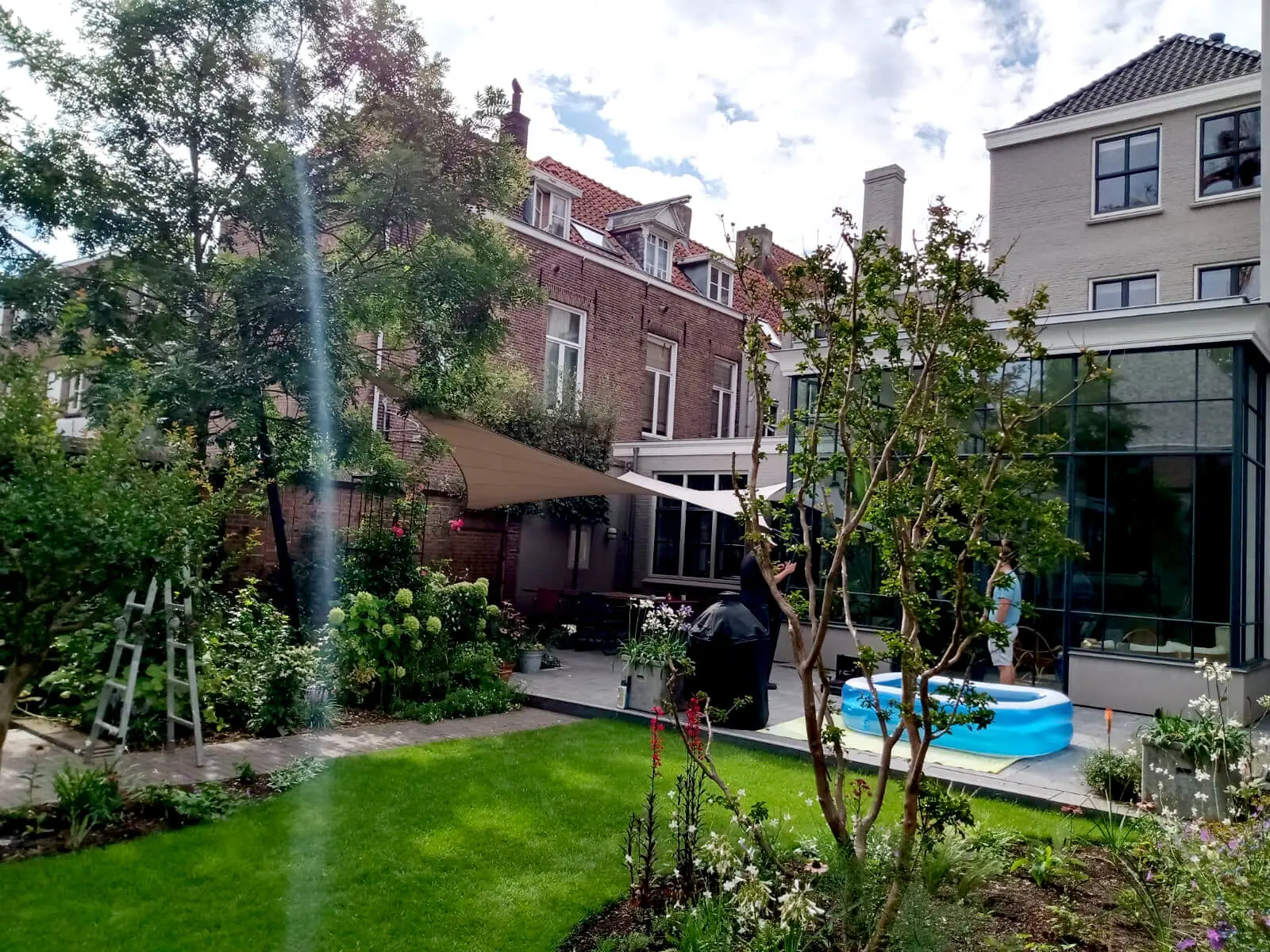 Tailored Patio shade sail
With our Texstyleroofs® custom made shade sail cover with double curvature shapes, you can create a unique look for every setting. We can cover spaces up to 1300 sq. feet. With our textile membrane, we will create an atmosphere that seamlessly matches your personal aesthetic preferences and functional requirements.
Furthermore, by utilizing add-ons, such as heaters and LED lighting, you will create the ultimate outdoor experience which you will enjoy throughout the day regardless of the weather condition.
Custom shade sail roof made to measure. Waterproof, translucent, storm-proof and no permit required! We have tailor-made shade sails. Waterproof, translucent, storm-proof and permit-free!
Revolutionize your outdoor lifestyle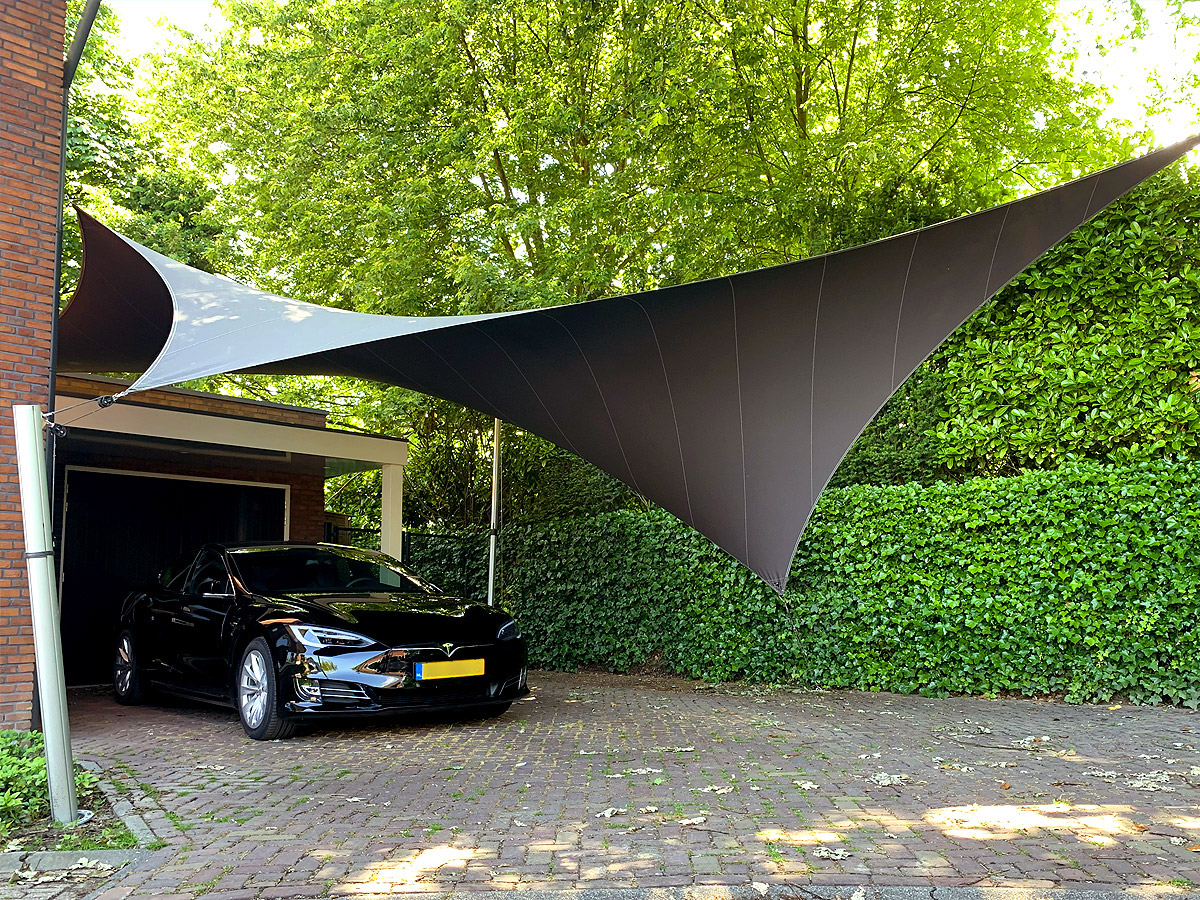 Carport shade sail
ften a garage is part of the house and used for all kinds of purposes except to protect your car.
A custom made shade sail cover carport is a very functional solution to do both. Your car will be protected from all-weather influences. So you will never have to get into an overheated car again, and it reduces the environmental effect on your car exterior paint.
Furthermore, the carport cover membrane is made of textile because of its demountable character. Textile membrane is made to measure. Waterproof, translucent, storm proof and construction permit free!
We have tailor-made textile covers. Waterproof, translucent, storm-proof and permit free!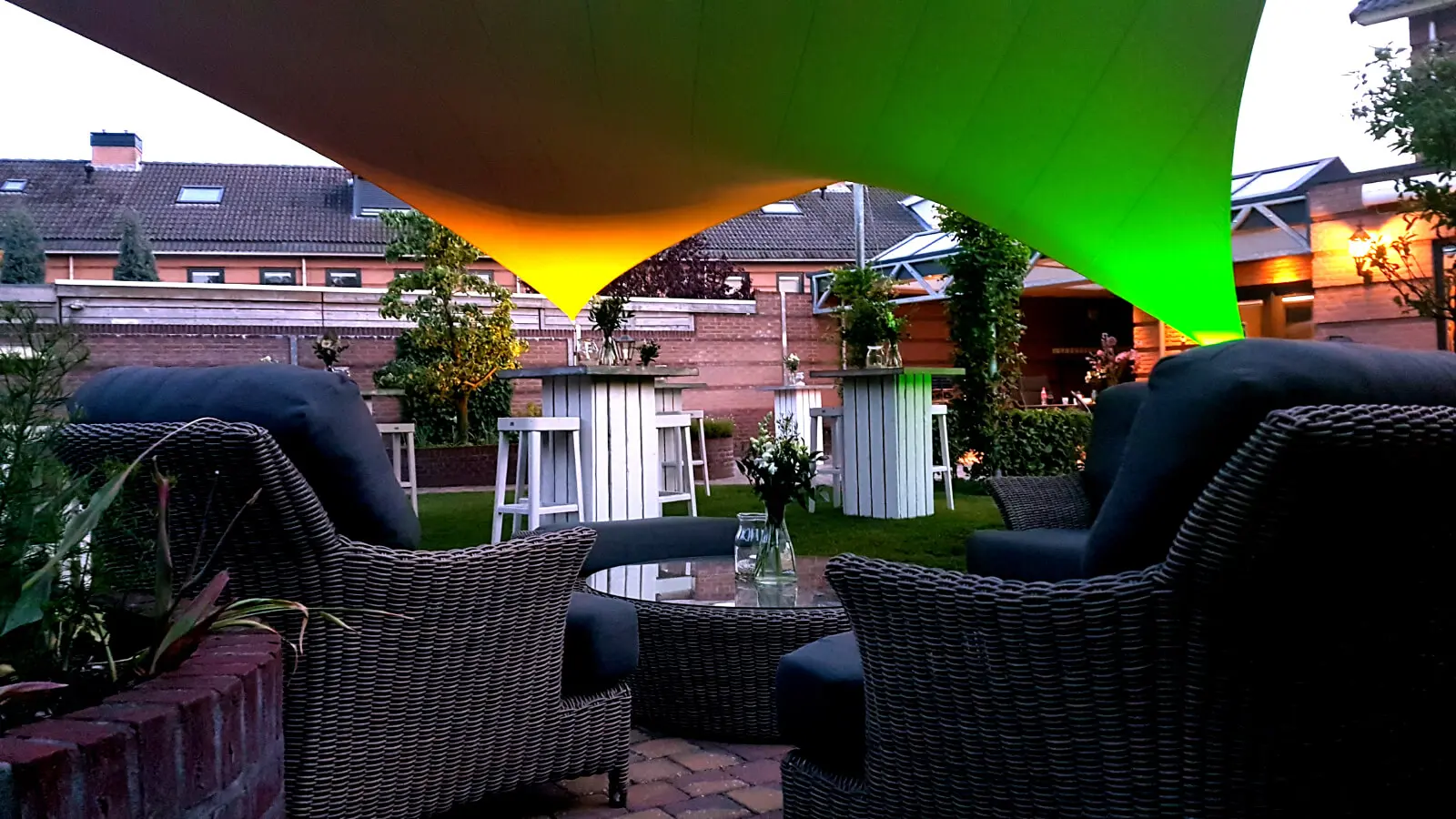 Stand-alone shade sails roofs
This type of roof is perfect for when you want to cover an open space or courtyard. We always check whether there might be walls or solid natural materials in the surrounding area that can be used to attach the membrane. If nothing is available we will place masts at the appropriate locations.
Placement of our textile covers in open area is designed to withstand wind forces up to 60 mph and is there forth storm-proof. If a weather forecast of higher wind speed is predicted then the textile membrane can be removed by one person within 10 minutes.
Commercial tailored shade sails
If you own a hotel, restaurant or café, the following page is for you. We are aware of the many requirements and rules a private are public facilities must meet for constructing a roof.
A significant advantage of our textile roof is that it can be placed without the requirement of a permit. Our roofs can be removed up to and including the foundation quickly, and therefore are semi-permanent. As a result, no permits are usually required for installation.
With the assistance of our software, we are happy to show you in advance how the sun and the accompanying shadows tracks on your location. Using this technique you can determine where and how you want the sun and shade on your patio and herby creating the best and most attractive roofing solution for your guests.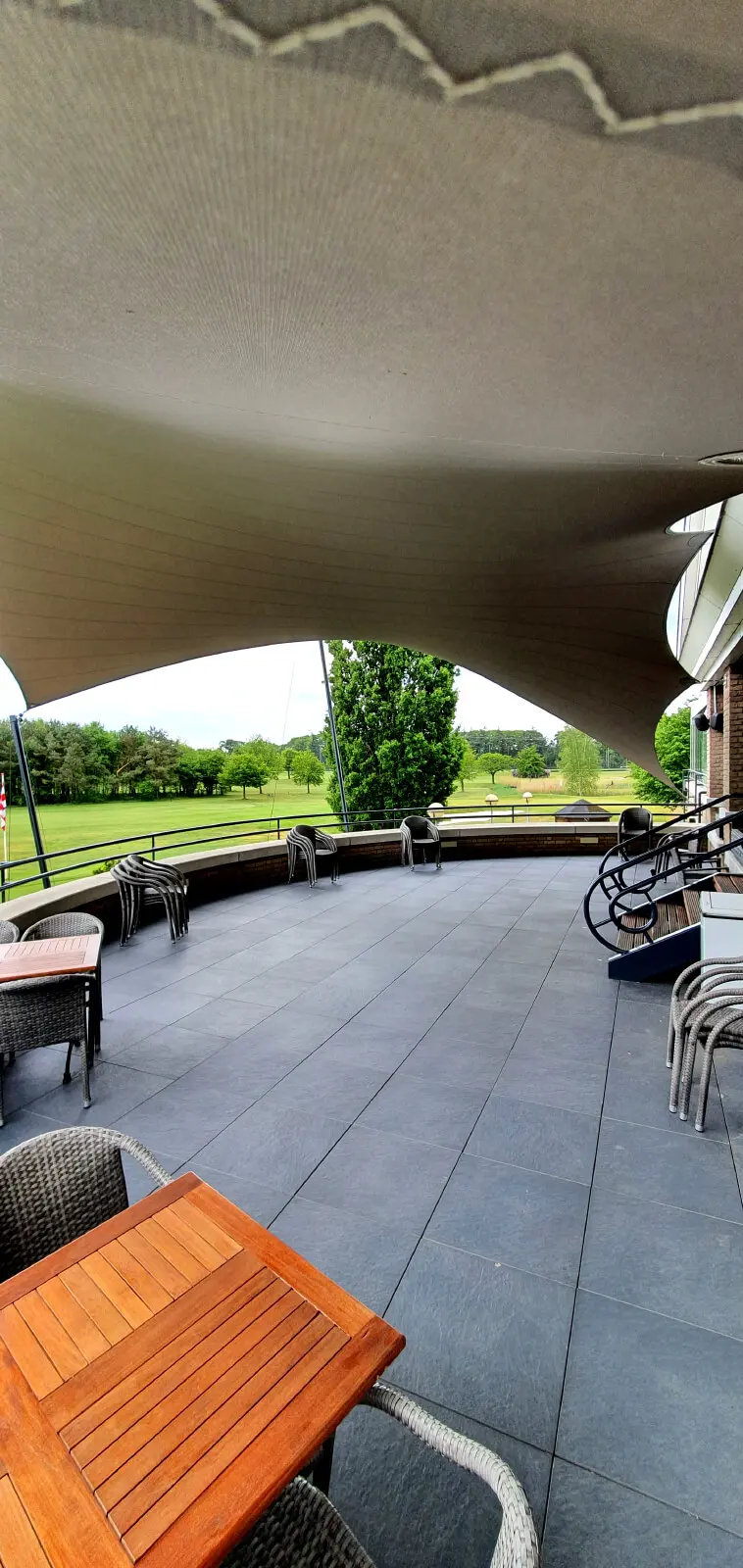 Your own tailored stormproof shadesail? Feel free to contact us
If you have more questions about our textile roof solution, please contact us directly. Fill in the contact form and leave your email address and phone number. One of our membrane specialists will contact you as soon as possible to give you further advice on your situation. This advice is without obligation; in close cooperation with you, we will try to find the right solution for your problem that suits all your desires and requirements.
Sailcloth roofs
A textile roof starts with an idea, need or problem. Due to the endless possibilities of our designs, we almost always find a suitable solution. Texstyleroofs® has been providing textile membrane for homes, restaurants and public places for more than ten years. Every project is different and unique. That's why we always involve our clients directly in the roof design process from start to finish.
At Texstyleroofs®, we are creating a revolution in roofing market in which we strive to provide everyone with the most atmospheric and functional roof for their location.
Our roofs are always fully custom-designed, where, in addition to function, the design also plays an important role. A Texstyleroof membrane is a perfect solution for when you want to cover an outdoor space, but do not want to perform permanent construction.
Our roofs are easy and quick to remove (within ten minutes) without the help of others. This advantage makes a Texstyleroofs® solution a semi-permanent solution with the same functionality and strength as a permanent solution.
Why a tailored Texstyleroofs shade sail roof?
Because you choose exclusivity
We custom design for you
A Texstyleroofs is often permit-free
Providing a shading solution for your patio with minimal loss of nature light
A Texstyleroof is easily put up or removed
It is an awning and canopy in one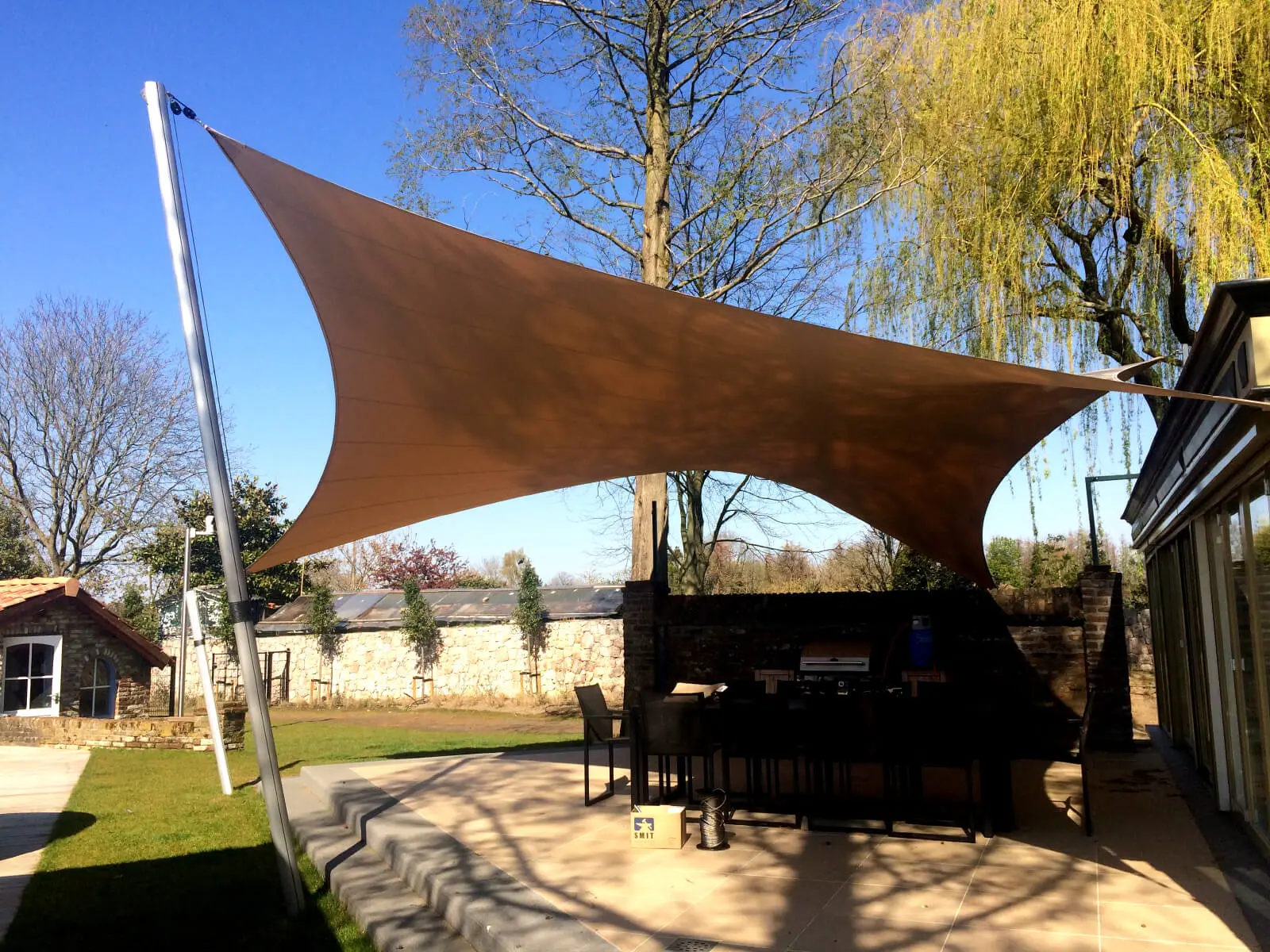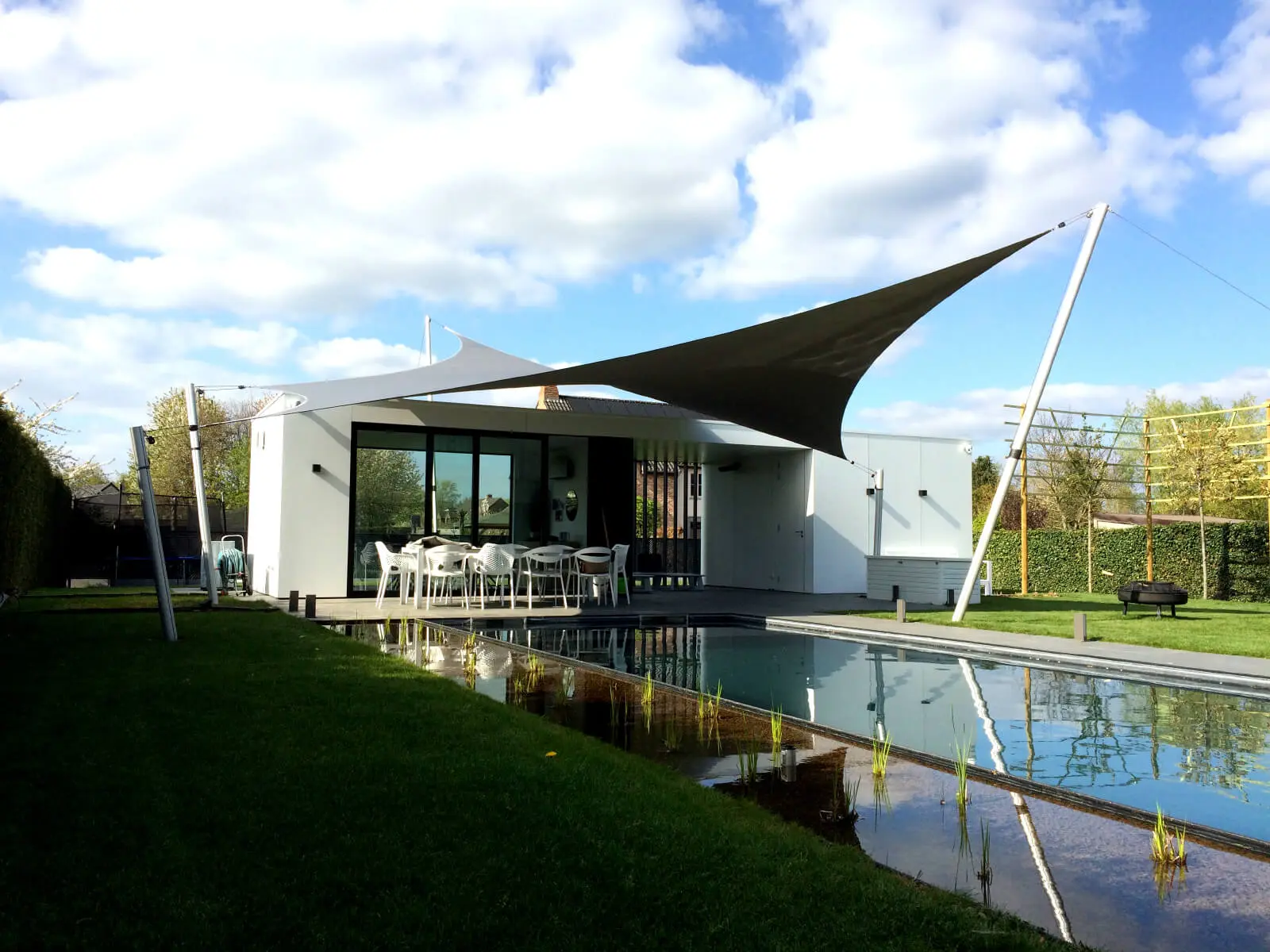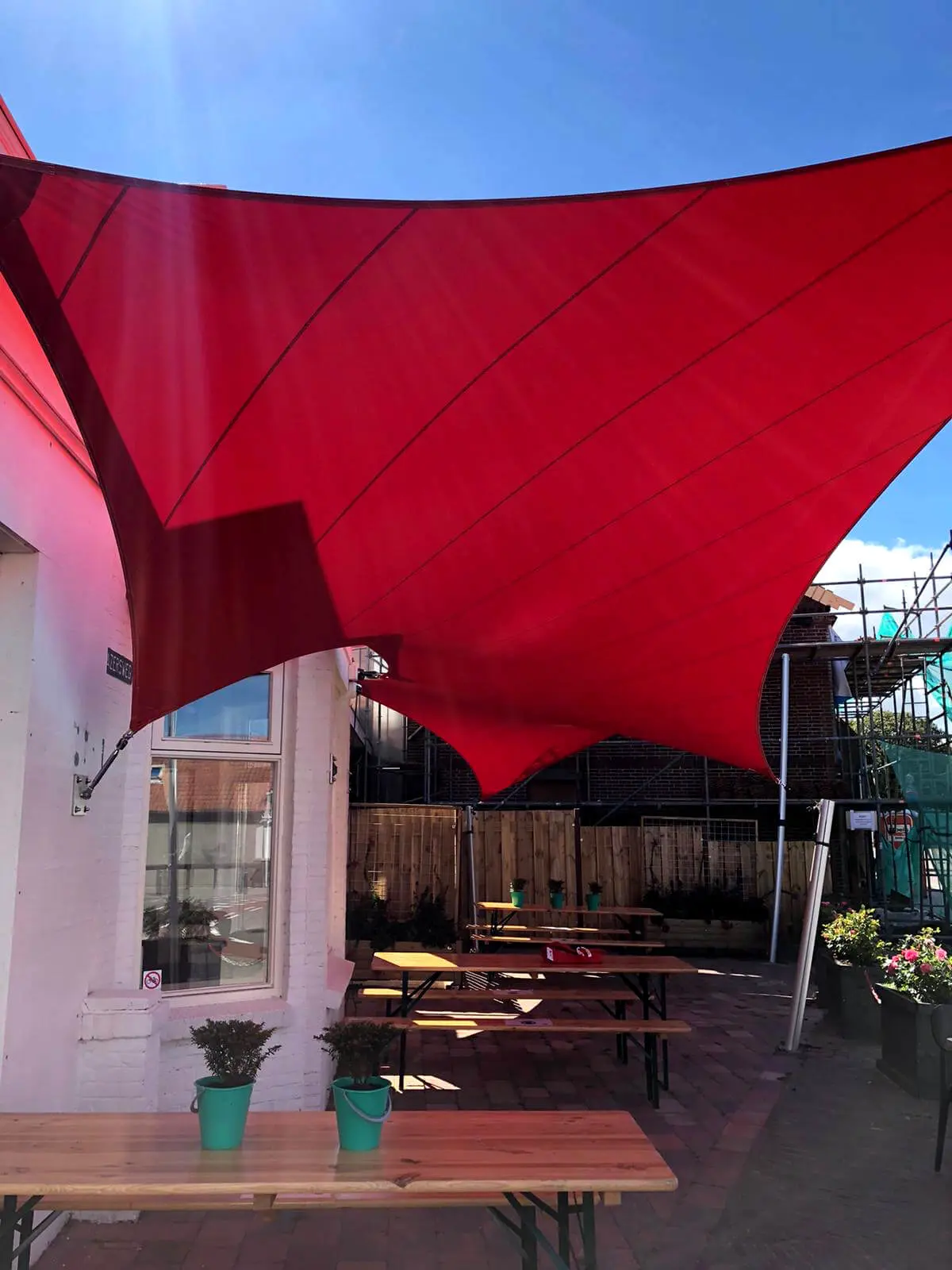 Easily demountable textile covers made to measure, yet storm-proof
The hoisting of the textile roof tailored to your location can easily be installed by one person. We will be happy to teach you how to hoist and remove your textile roof within 10 minutes. The lifting and releasing of the system take place easily by only using and shifting your weight. Due to the 3D form of the roof (membrane), the forces on the construction are very minimal, and you can create a storm proof canopy in no time.
The Texstyleroofs® membrane create a comfortable and covered space with atmosphere and romance underneath. With the addition of atmospheric lighting and energy-efficient heat sources, you are assured of a comfortable roof that fits the architecture of your home and outdoor!
The membrane textile covers are also ideal as a carport.
Are you looking for a permit-free and architecturally designed shelter for one or more cars? Then consider a Texstyleroofs® canopy as a carport.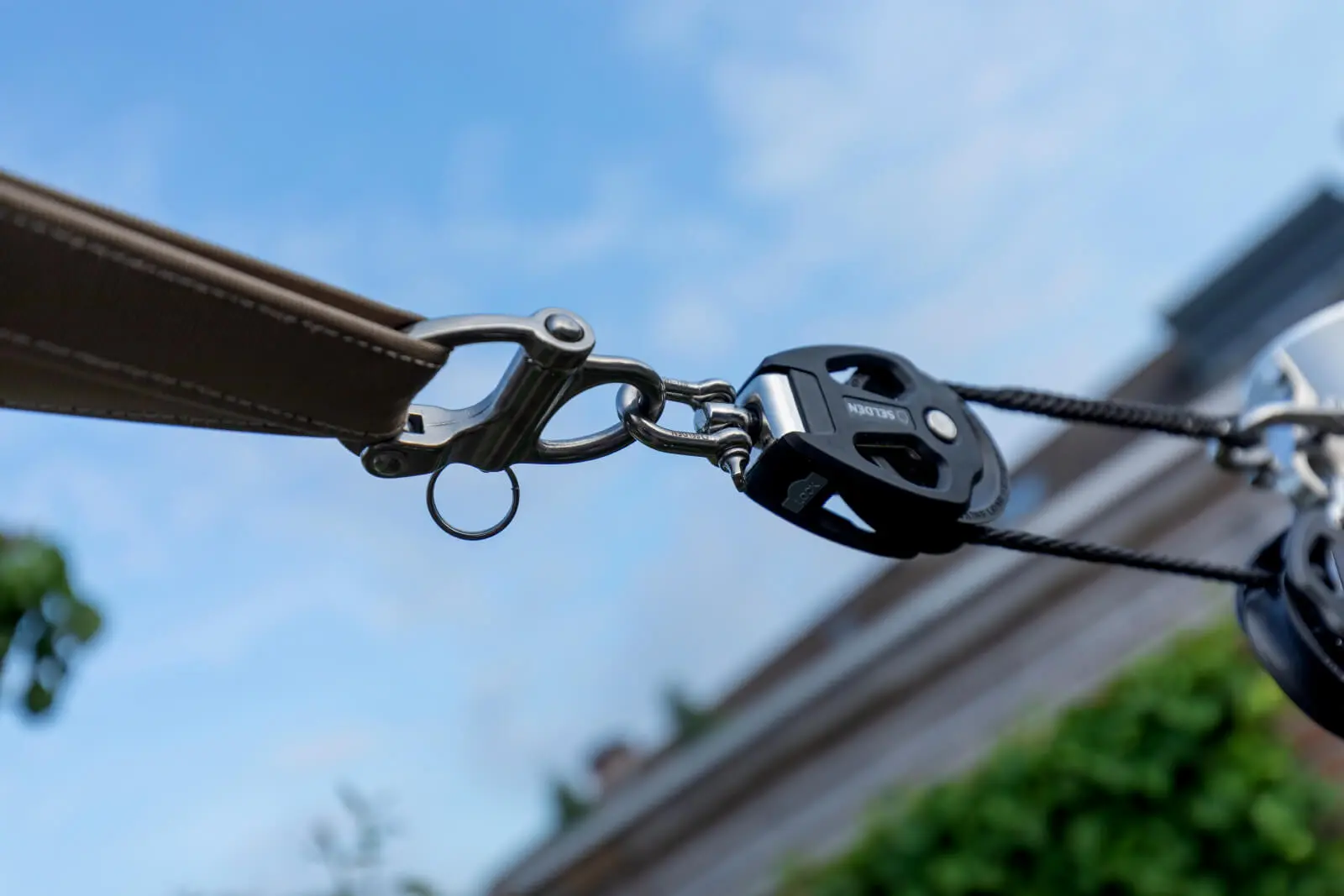 CALL US TODAY AND GET A FREE 3D PRESENTATION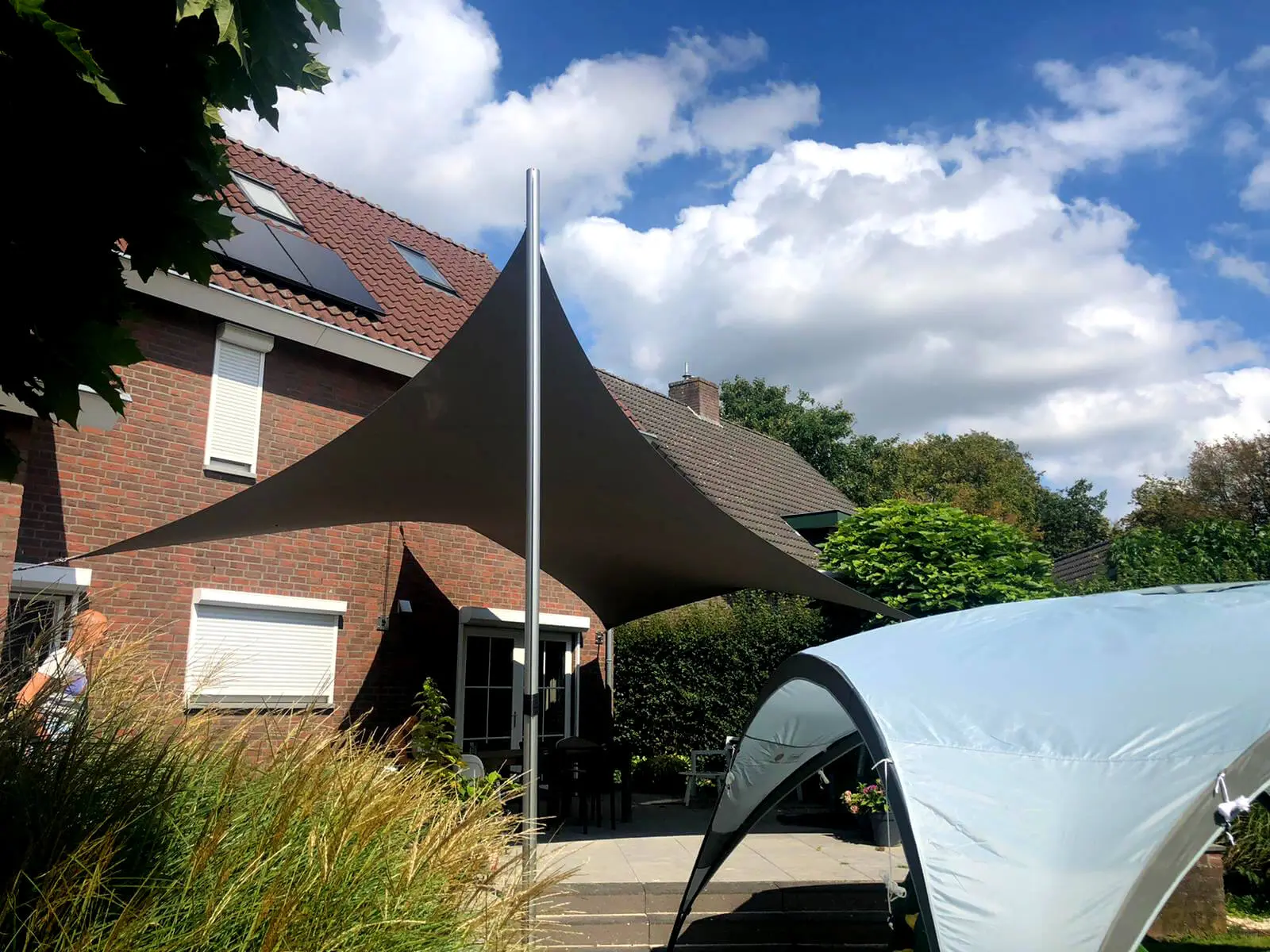 Free consultation:
If you are interested, please contact us. Our advisors will be happy to visit you personally to provide you with a free consultation. During this consultation, we will gather information from you to determine the best solution for your environment and how our product may be custom designed to meet those requirements. Later in consultation with you we will provide a 3D presentation of one or more designs to give you a realistic picture of the various possibilities our custom made shade sail membrane can offer.
Our Texstyleroofs® software enables us to make changes in the design of your personal preference on location immediately. Are you interested but not yet convinced enough to schedule an appointment with us directly? No worries, we are available six days a week from 9:00 a.m. to 8:00 p.m. to speak to you by phone or email. This contact is at all times without obligation.
To make the process as straightforward as possible for you, we have chosen to divide our product into four different product categories. On the following pages, we will describe as accurately as possible what our textile covers have to offer. The categories are 1) the patio roof, 2) the carport, 3) the standalone roof and 4) the hospitality textile roof. 
Texstyleroofs® membrane covers are developed with the highest precision. Thanks to our patented calculation method, the membrane is designed to perfection. If the distribution of tension in the membrane is processed into a cutting plan, it is accurately laser cut in the Texstyleroofs® membrane workshop and stitched by hand with Teflon yarn. Because at Texstyleroofs® designing, producing and installing is done in-house, after you approve the design, you can quickly and comfortably enjoy your own personally designed Texstyleroof!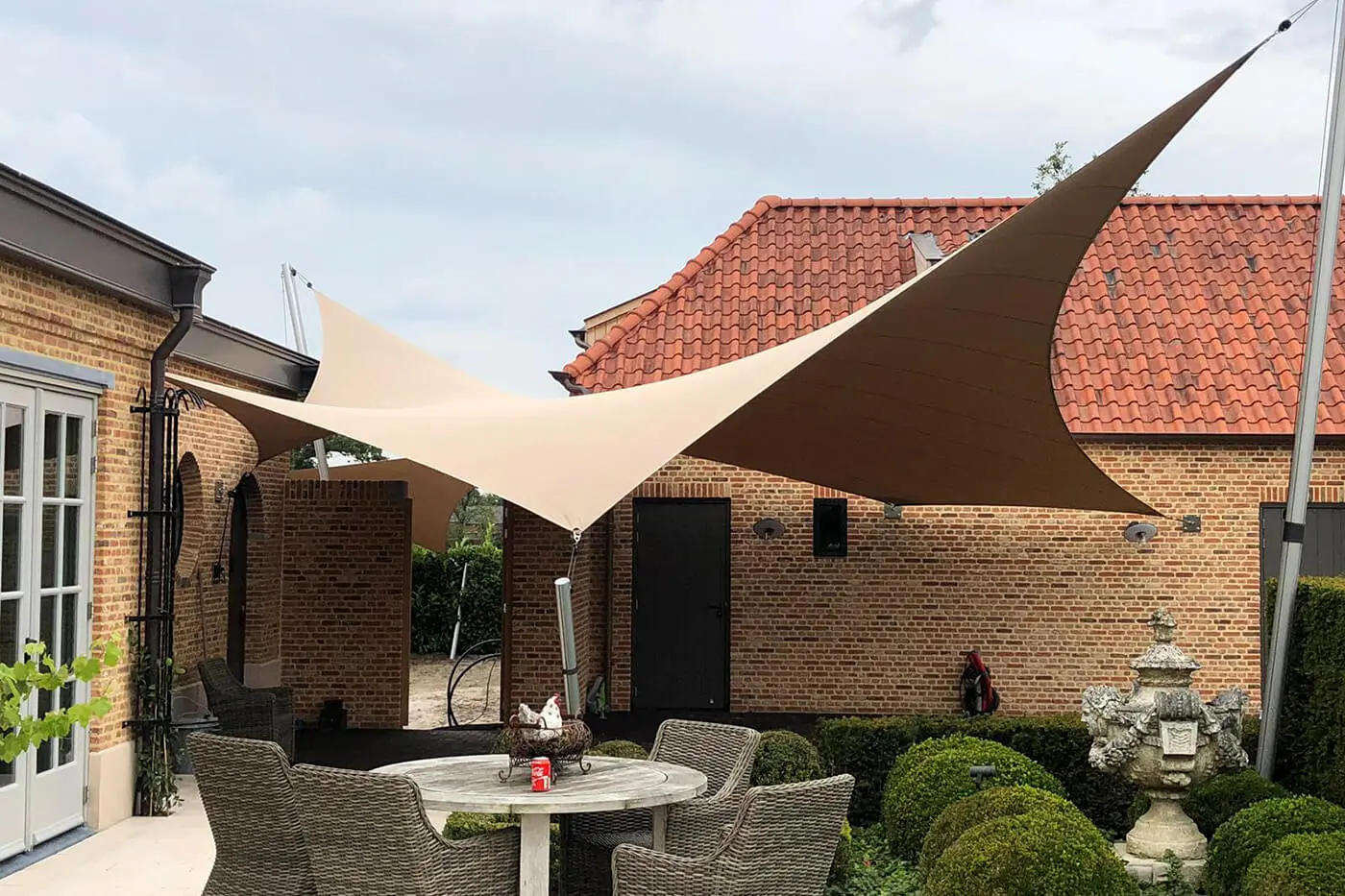 Additional custom solutions
If the solution you are looking for does not fit within one of the above categories, please contact us. By phone or email, we can often provide alternate design possibilities. Our sun roof are custom designed, and therefore we can almost always meet all your functional and aesthetic needs.
We like to involve you directly in the process from the very beginning so together we can come to a suitable solution that meets your needs and requirements.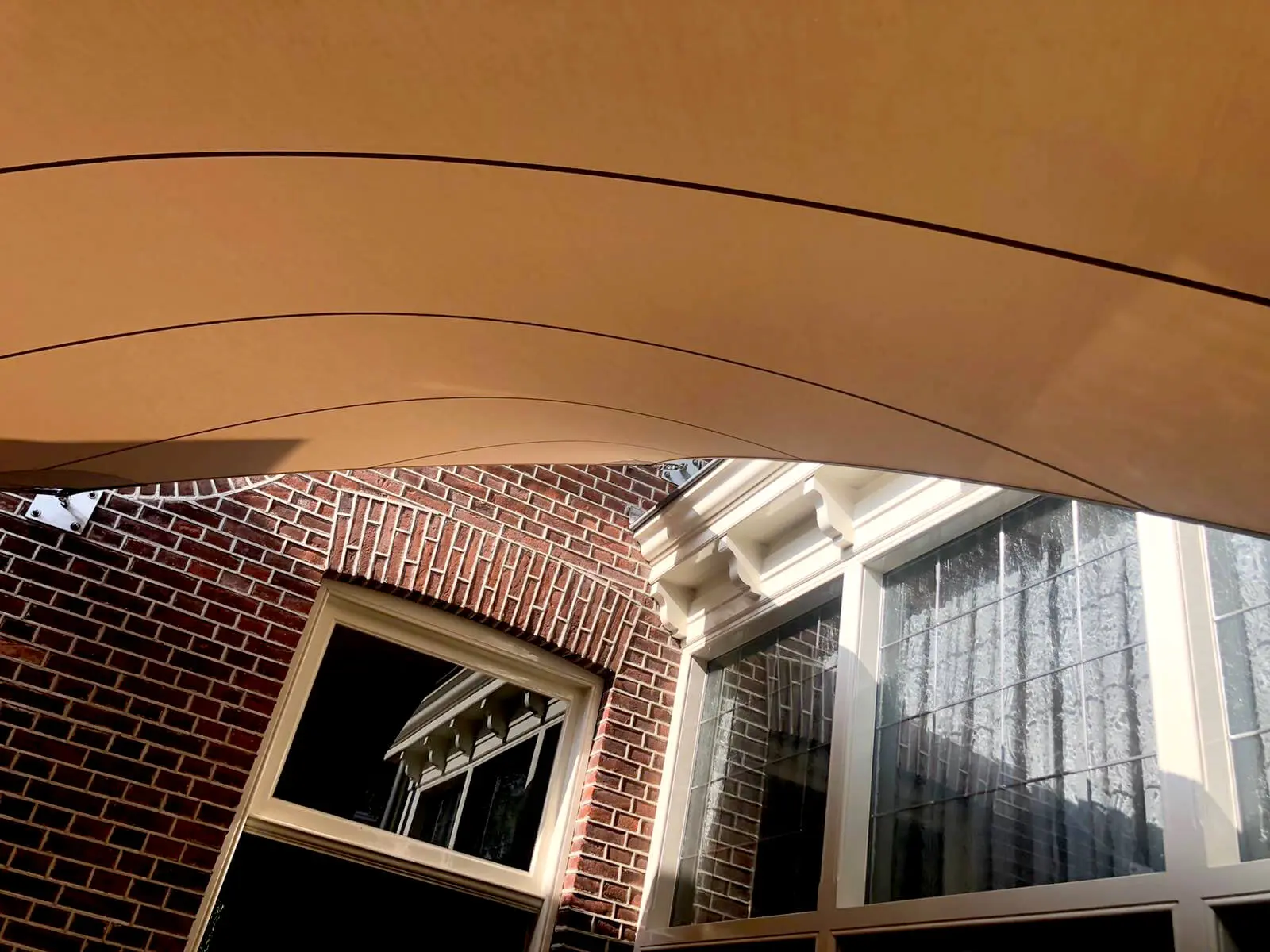 Conclusion
In conclusion, a removable shade sail from Texstyleroofs is in a niche position within the roofing market between the traditional metal/shingle/tile roof and textile roofs. Texstyleroofs offers unique solutions with custom made designs. Each being a roofing system which does not requires a permit for installation.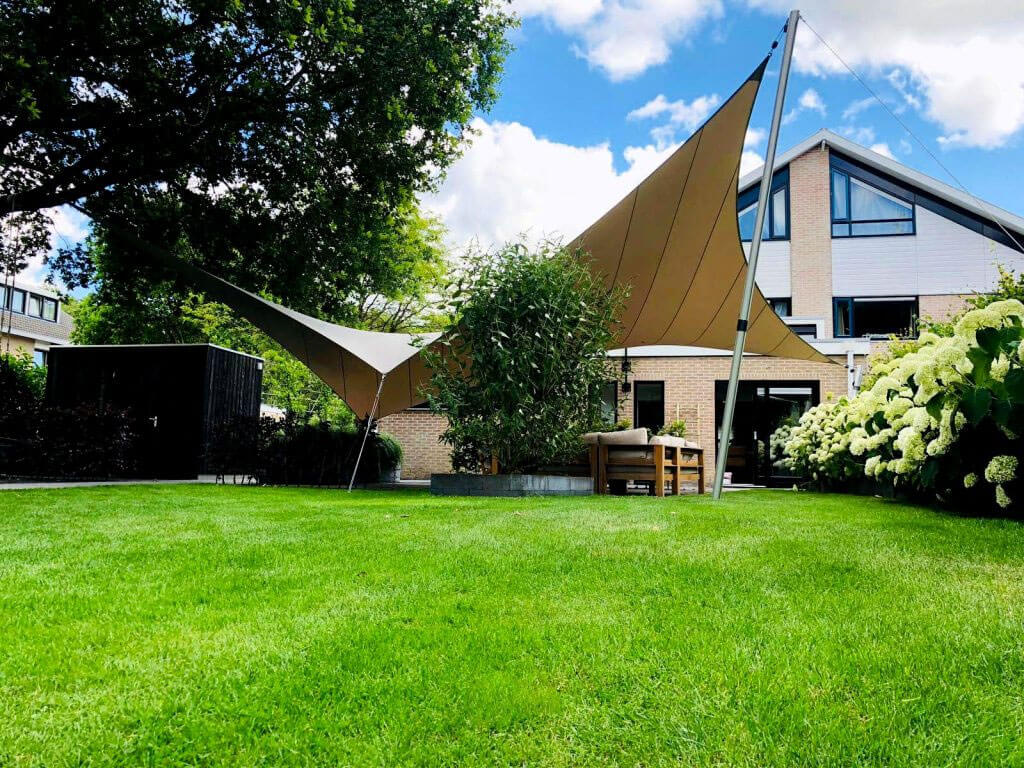 Get more information about shade sail roofing
Design roof made out of tensile shade sail
Benefits of a roof made from Shade sail