Creative Waterproof Shade Sails for Your Restaurant or Hotel
Discover how Texstyleroofs' custom waterproof shade sails can enhance your restaurant or hotel's outdoor spaces with a stunning and functional design solution.
Contact us today
Enhance Your Hotel or Restaurant's Outdoor Space with Creative Waterproof Shade Sails
Find the perfect balance between style and functionality with Texstyleroofs' innovative waterproof shade sails. Offering a unique solution to outdoor design challenges, these durable sails not only provide protection from sun and rain, but also add an eye-catching design element to your restaurant or hotel.
Why Choose Texstyleroofs Waterproof Shade Sails for Your Restaurant or Hotel?
Texstyleroofs is a leading provider of waterproof shade sails, combining cutting-edge technology and high-quality materials to create the ultimate architectural enhancement for restaurants and hotels alike. Here's what makes our creative waterproof shade sails stand out:
All-Weather Protection: Texstyleroofs' shade sails are designed for ultimate durability and crafted using premium waterproof fabric that can withstand rain, wind, and harmful UV rays. Provide your guests with constant protection regardless of the weather conditions.
Custom Designs: Each Texstyleroofs waterproof shade sail is tailor-made to suit the specific needs of your restaurant or hotel. Our design experts will work closely with you to create a unique layout and select the perfect color, ensuring seamless integration with your existing establishment.
Aesthetically Pleasing: With their tension-based, sculptural design, our shade sails provide a modern, artistic flair to your outdoor space. These striking sails will make a memorable impression on your patrons, enhancing your hotel or restaurant's overall image.
Easy Maintenance: Texstyleroofs' waterproof shade sails are not only visually striking but also easy to maintain. The fabric used is mold and mildew resistant, and the sail's design ensures simple cleaning.
Professional Installation: Our experienced installation team guarantees a perfect fit for your environment, ensuring that your waterproof shade sail is both functional and beautiful.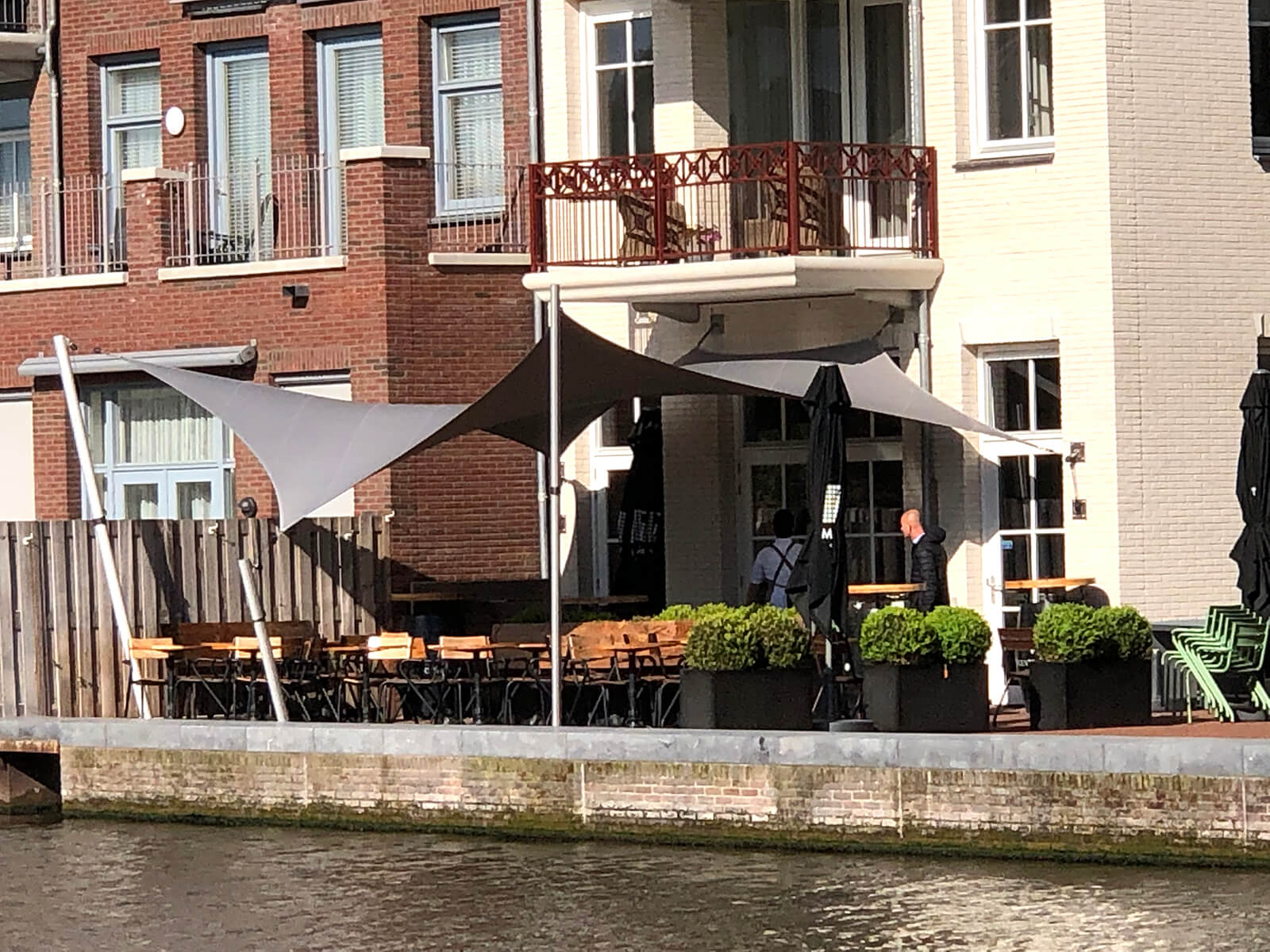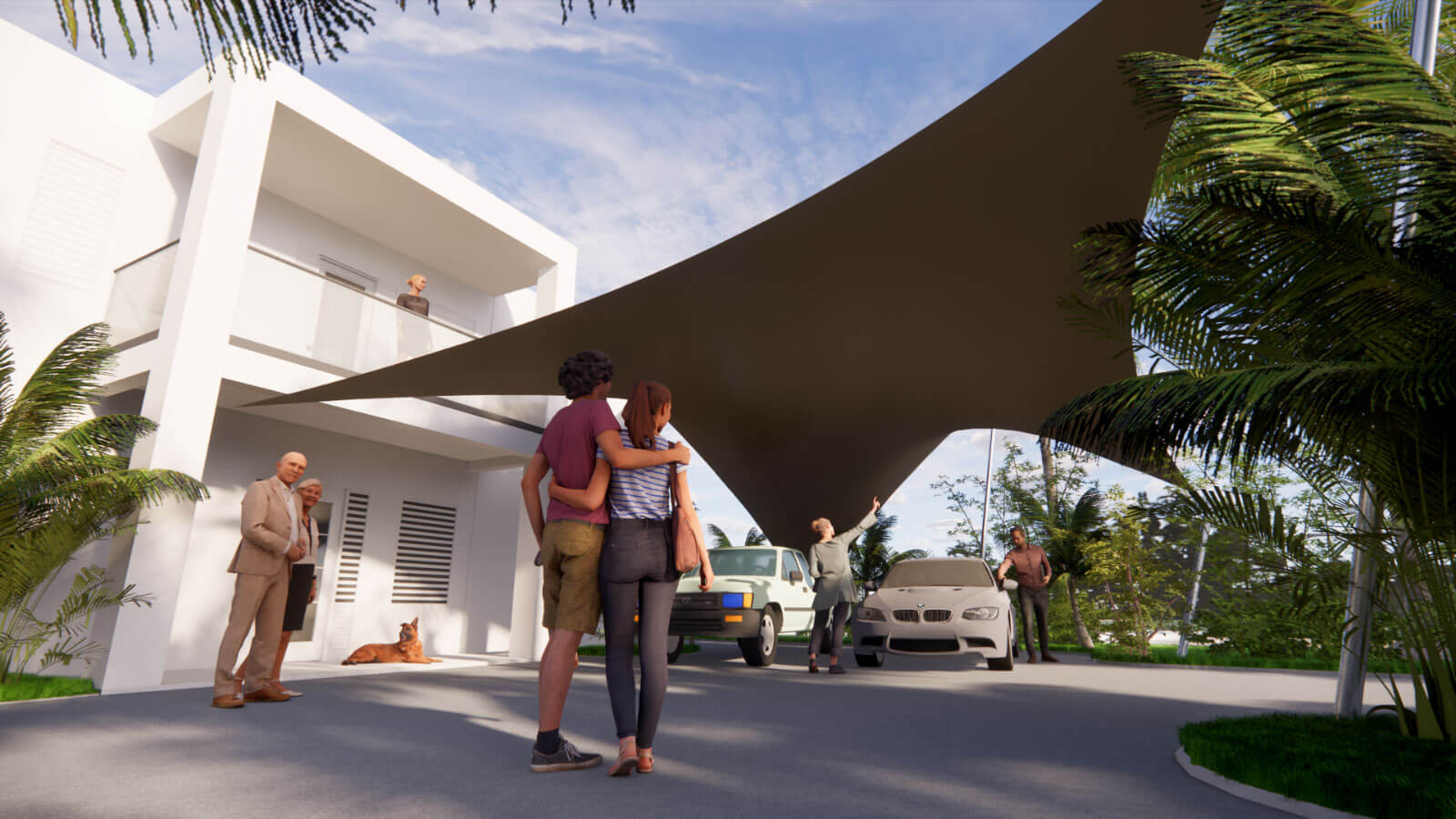 FREE 3D DESIGN
Request a free 3D design for a custom designed hurricane tolerant shade sail roof system at your location
Unleashing the Potential of Your Restaurant or Hotel's Outdoor Area
By partnering with Texstyleroofs, you can create a stunning outdoor area that attracts both local and international guests. Our creative waterproof shade sails set your establishment apart from the competition, leaving a lasting impression, and offering the following benefits:
Expanded Seating Areas
Create comfortable, shaded outdoor spaces to accommodate more guests, boost capacity and increase revenue.
Improved Ambiance
Our striking shade sails enhance your restaurant or hotel's outdoor environment, allowing a customized, luxurious atmosphere for guests to unwind and relax.
Increased Guest Satisfaction
With protection from sun and rain, your guests will be able to enjoy the outdoors at your restaurant or hotel, no matter the weather conditions, ensuring a more enjoyable experience.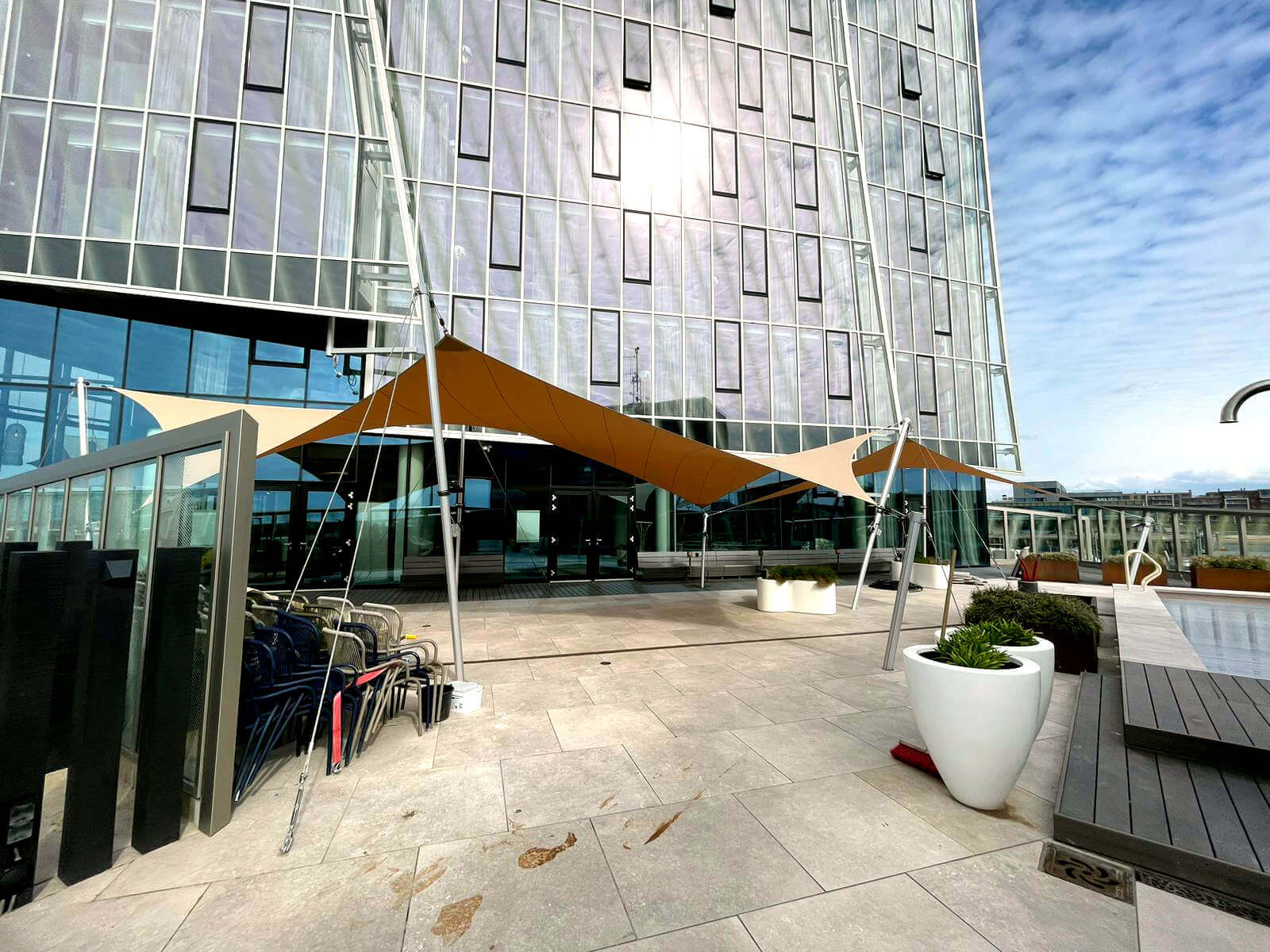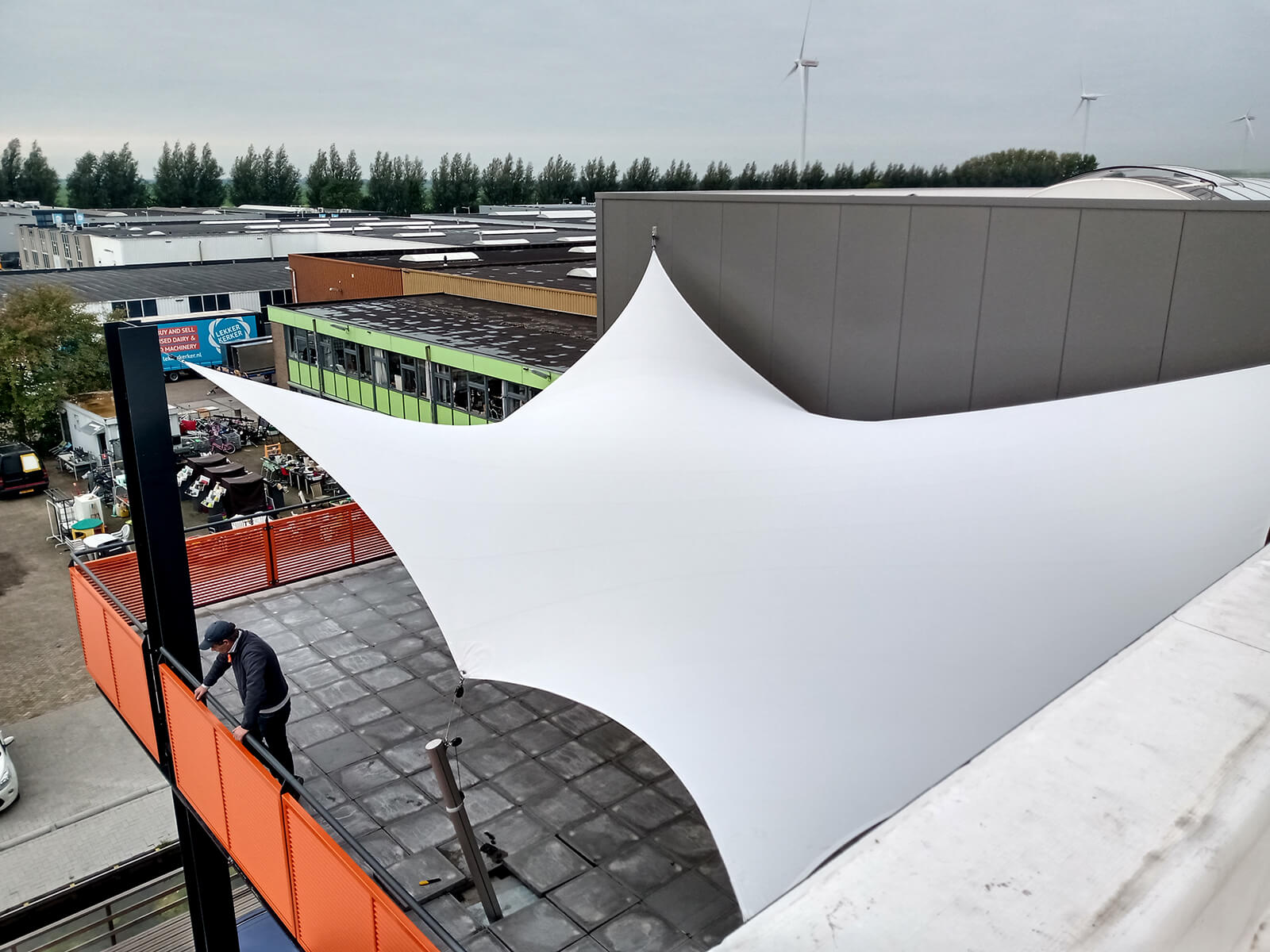 The Remarkable Durability of Texstyleroofs Waterproof Shade Sails
Weather Resistant Materials
Our waterproof shade sails are made from high-quality, heavy-duty polyethylene fabric, ensuring resistance against wear and tear caused by fluctuating weather conditions. Your restaurant or hotel's outdoor space will remain protected season after season.
Strong Anchoring Systems
Texstyleroofs' shade sails incorporate stainless steel connection points and a robust anchoring system for stable and worry-free installations. This ensures that your shade sail continues to maintain its optimal tension, offering reliable protection for your restaurant or hotel.
Longevity
Texstyleroofs' commitment to durability extends to the accessories used for our shade sails, including marine-grade stainless steel hardware and high-strength polyester thread. This dedication to quality materials and meticulous construction results in shade sails that have a longer service life compared to traditional fabric structures.
The Environmental Benefits of Texstyleroofs Waterproof Shade Sails
Energy Efficiency
As our shade sails effectively block out the sun's rays, they help reduce the need for air conditioning in your restaurant or hotel. By providing a comfortable, shaded outdoor environment, you can encourage a more sustainable, energy-efficient experience for your guests.
Sustainable Materials
Texstyleroofs is committed to environmentally friendly practices, using recyclable materials wherever possible in our shade sails. The polyethylene fabric utilized in our sails is not only durable but also recyclable, helping to minimize our products' environmental impact.
Green Space Enhancement
By incorporating our shade sails into your hotel or restaurant's outdoor spaces, you can create a welcoming environment that encourages the growth of greenery. The shade provided by our sails allows plants to thrive without having to endure harsh sun exposure.
Tailored Solutions for Unique Spaces
Flexible Installation Options
We understand that every hotel and restaurant has its own unique layout and design requirements. Our professional installation team can adapt the shade sail's connection points to suit a variety of surfaces, including rooftops, balconies, walls, and dedicated support posts.
Versatile Applications
By working closely with our design experts, you can choose from a wide range of styles, shapes, and colors to match your establishment's theme. From sleek, contemporary looks to more classic designs, our waterproof shade sails can be adapted to any outdoor setting.
Modular Systems
Our shade sails are designed with modularity in mind, allowing for future expansions, reconfigurations, or updates without the need for significant construction work. This flexibility ensures your restaurant or hotel is ready for growth and adapts to changing customer preferences.
Comprehensive Planning and Support
At Texstyleroofs, we take pride in our in-depth consultation process. Our experts will work with you to analyze your hotel or restaurant's specific needs, providing site assessments, concept design proposals, and detailed planning to ensure a seamless installation experience
Texstyleroofs – Setting the Bar in Waterproof Shade Sail Technology
Pioneering Designs
Texstyleroofs constantly seeks to innovate, staying ahead of industry trends and pushing the boundaries of traditional shade solutions. Our engineers and designers collaborate to bring the most advanced and aesthetically pleasing shade solutions to the market.
Commitment to Excellence
Our focus on the customer experience means that we guarantee the finished product lives up to your expectations. Our after-sales support team is always available to address any concerns or queries you may have about your waterproof shade sail installation.
Worldwide Reputation
Texstyleroofs is well-known for its high-quality shade sails, having built its reputation on a foundation of excellence in design, customer service, and installation. We have worked with top-rated hotels, luxury resorts, and renowned restaurants worldwide, making our shade sails the premier choice for discerning establishments.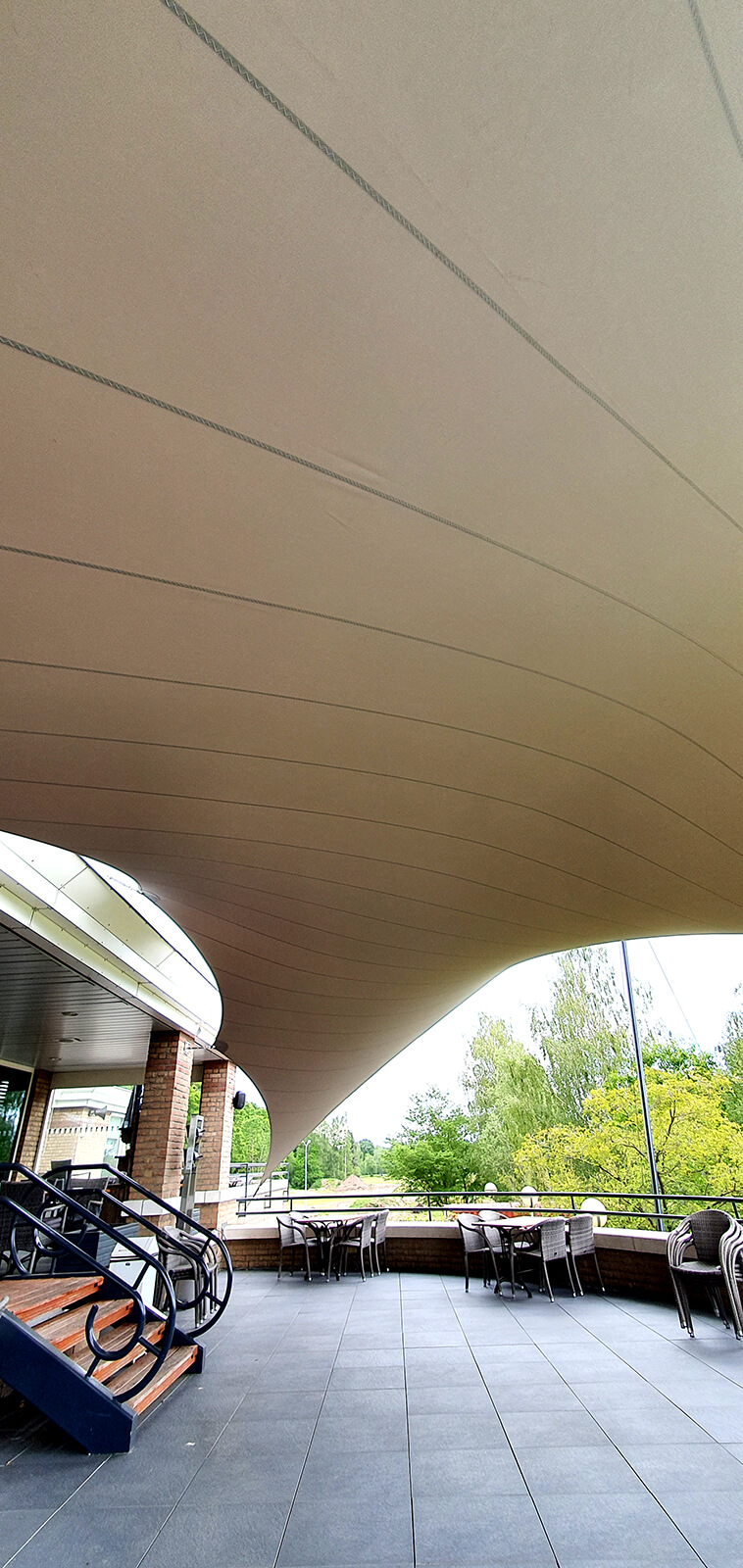 Elevate your restaurant or hotel's outdoor experience with Texstyleroofs' stunning, creative waterproof shade sails. Combining our passion for innovation, commitment to quality, and expertise in designing unforgettable spaces, our shade sails offer the perfect fusion of style and practicality. With over one thousand words highlighting the unique benefits, functionality, and aesthetics of our product, it's evident that Texstyleroofs waterproof shade sails are the ultimate solution for enhancing your establishment's ambiance.
Design your outdoor spaces with Texstyleroofs' creative waterproof shade sails, and elevate your restaurant or hotel in a unique and functional way. Our superior quality, customizable designs, and expert installation will deliver an unforgettable outdoor experience for your guests. Contact us to learn more and start transforming your establishment's ambiance today.