Why choose a textile roof? Advantages of textile roofing
Roof with tarpaulin, sun cloth, shade cloth, tension sheet, sun sail, banner, tent cloth etc. all names that refer to a textile cloth that can be used as a roofing solution.
Textile Roofing | Textile cover structure | Lightweight membrane structure | Custom made roofs
Textile roofing revolution
A Texstyleroofs lightweight roof is characterized in engineering by its geometric shapes and optimally balanced force distribution, creating a homogeneous pretension in the membrane. This creates an aerodynamic effect and thus also the strongest lightweight textile roof in the world. Every Texstyleroofs membrane covering is unique and fully custom designed to your specific needs.
Increasing the attractiveness, a membrane structure is custom designed for a specific area and for a specific purpose. The lightness and appearance of a membrane structure is a modern answer to natural shaping and  adaptability. The membrane roof can be designed as a (semi-)permanent structure with little impact to the surrounding area.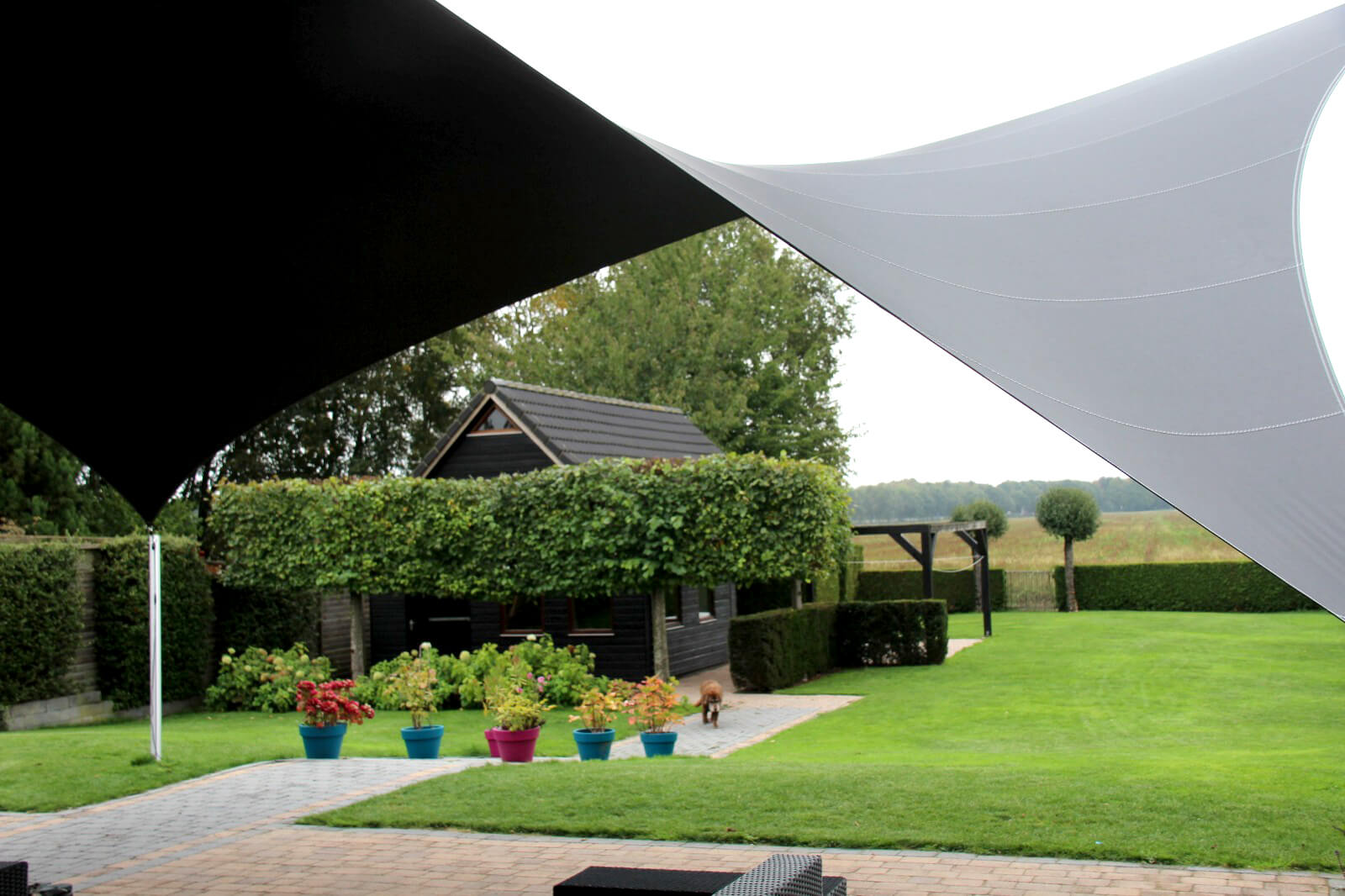 WHY CHOOSE FOR A TEXSTYLEROOF INSTEAD OF A FIXED SHADING SOLUTION
Individual finesse
A Texstyleroof is tailored to your specific needs and will therefor fit in every setting. Before designing the shape of your membrane, we will first do a need-analysis. This will differ for every client. Do you want a cover for shading at the right time of the day? Do you want to create a shelter from rain or wind? Would you like some more privacy, without losing your view? All of these needs can be implemented in the shape and design of our lightweight roofing solution.  
When you opt for a design roof from Texstyleroofs®, you opt for a fully customized design. You have chosen the highest quality lightweight design membrane cover worldwide. A Texstyleroof is a unique and custom made solution. We use the highest quality of materials for our fully functional shading solutions. 
Do you want something better than a standard shade sail and no permanent cover? Do you value the architecture of your home, yard, terrace or environment? Is the aesthetics of your yard, home and patio very important? Then do not hesitate any longer and revolutionize your outdoor lifestyle with a Texstyleroof® . Contact us for an appoinmtment and get in touch with our 3D consultants right away.
Interested in our textile roofing solutions?
Contact us and revolutionize your outdoor living
THE BEST ALTERNATIVE FOR A FIXED SHADING SOLUTION
 Having a patio cover is a pure luxury. Regardless of the weather conditions, a good cover will make sure you can enjoy the outdoors at any time. The right patio cover will enable you to extend your outdoor living. Whether it is windy, raining or too hot. Our textile roofing solutions will make sure you enjoy your living environment outside at all times. 
Why Texstyleroofs®?
Exclusivity and luxury
Tailored to your specific needs
Non permit roofing solution
Minimal loss of natural light in your home
Easy to install and take down (lightweight)
Creates Sun protection and optimal shading pattern
99% UVA and UVB resistance
All weather resistant / waterproof
Unique stylish design that fits every setting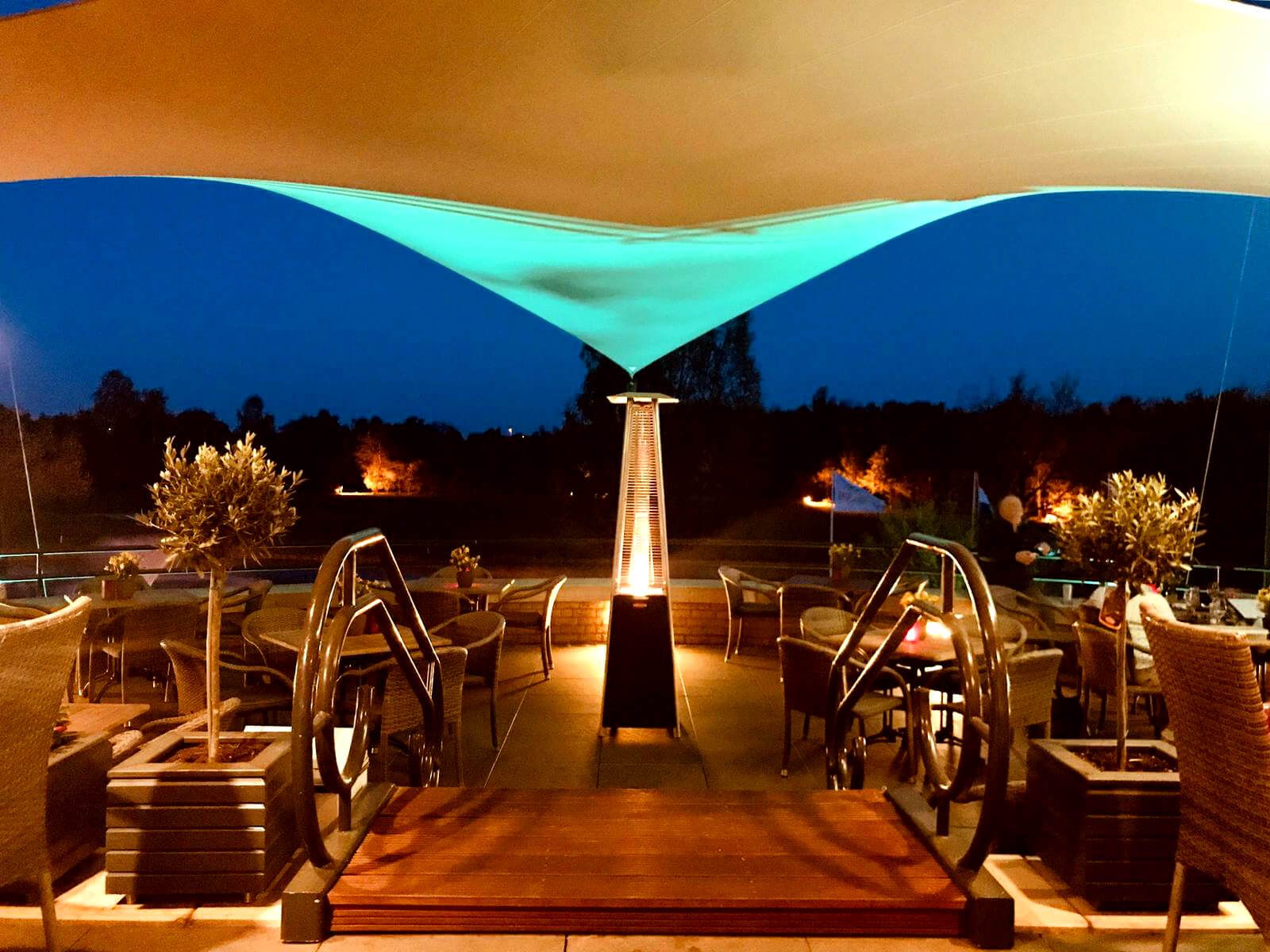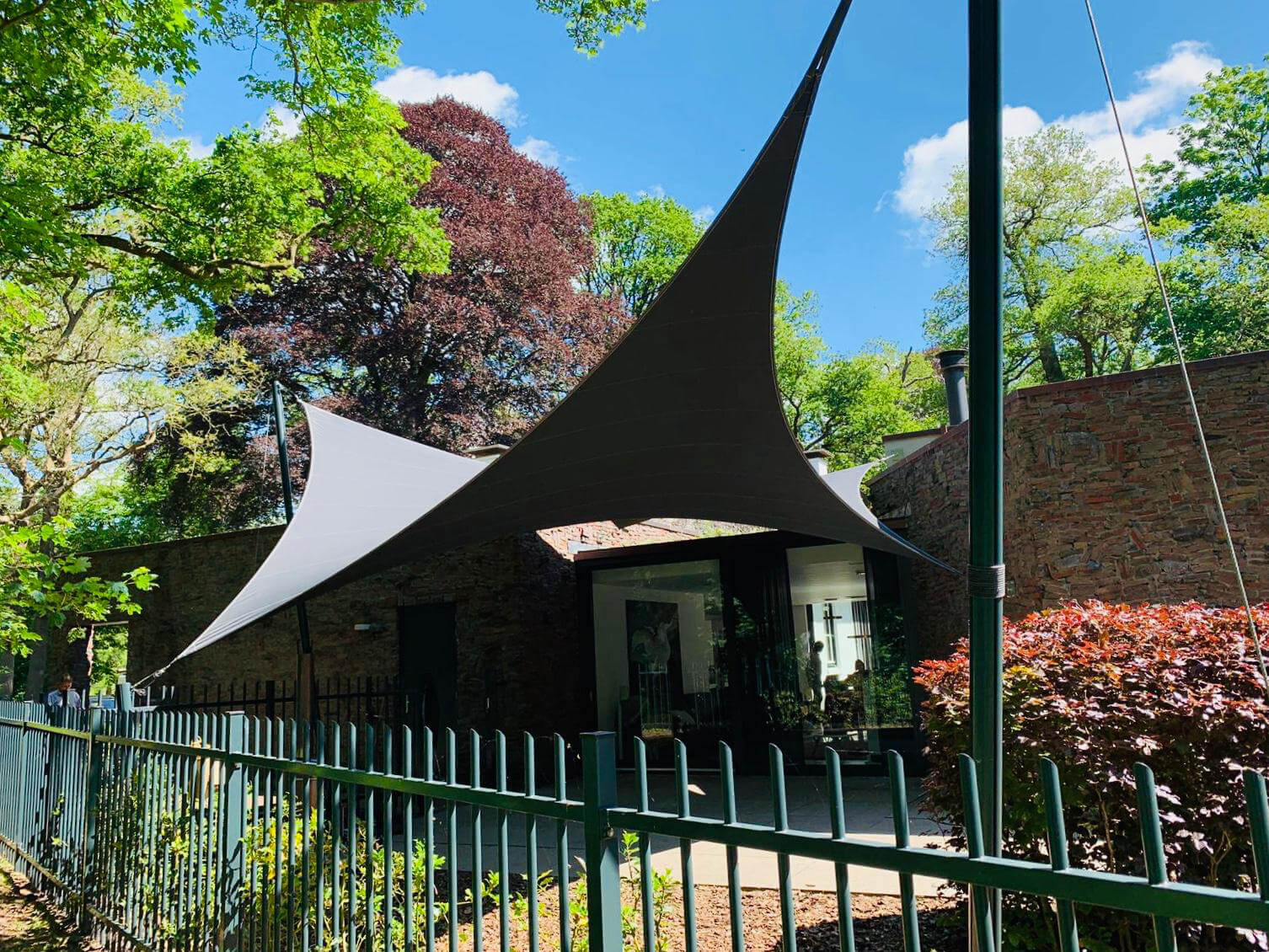 The disadvantages of a fixed roof
Installing a permanent patio cover often entails question marks. What about the loss of natural light in your home? Placing a skylight could help with this, but the light output inside is often minimal. Additionally it still adhear to the strict construction permit regulations.
By using traditional building materials like bricks, stones, metal and wood a fixed construction can often look big and out of proportion. 
After all, you want to enjoy the openness that the outside has to offer! 
Aesthetically pleasing
A fixed roof made of wood or aluminum are generally straight and therefore often an add-on "block" to the house. We are increasingly moving the luxury design and comfort that we enjoy inside to our outdoors. We want to create the aesthetics of the home interior to the outdoors. A custom made, preformed, double-curved membrane from Texstyleroofs, has the aesthetic look and design that many cannot imagine. Together with you we will create the ideal 3D patio covering which will be perfect as a permanent covering for your situation. 
Beautiful shapes and storm resistant
Our unique designs are more than just beautiful shapes and artistic point of view. They are engineered pre-stressed, preformed double curvature with the homogeneous stiffness of the membrane sailcloth has an aerodynamic function, which means that the system not only fits beautifully into the clean lines of your home, but above all is stormproof. This makes a TexstyleRoofs membrane cover the ideal alternative to the traditional fixed roof cover. A traditional roofing system could never match the flair, aesthetics, and the atmosphere you experience under a Texstyleroof. The textile membrane are waterproof, heat and UV resistant and light weight.
Extensive shadow analysis
Moreover, a traditional fixed roof always has straight lines due to its design, which will allow the sun present itself precisely at the moment when you don't want it. Especially when you sit down for dinner or having a cozy barbecue with friends. Thanks to our double curvature with the high to low differences in the Texstyleroofs membrane covering, the shadow effect is precisely tailored to your wishes and requirements. We can show you at any time of the year and any time of the day, what the shadow effect will be on your patio. This analysis creates a compromise between aesthetics and functionality. Shading is only one of the pleasant functionalities of a membrane covering made by Texstyleroofs.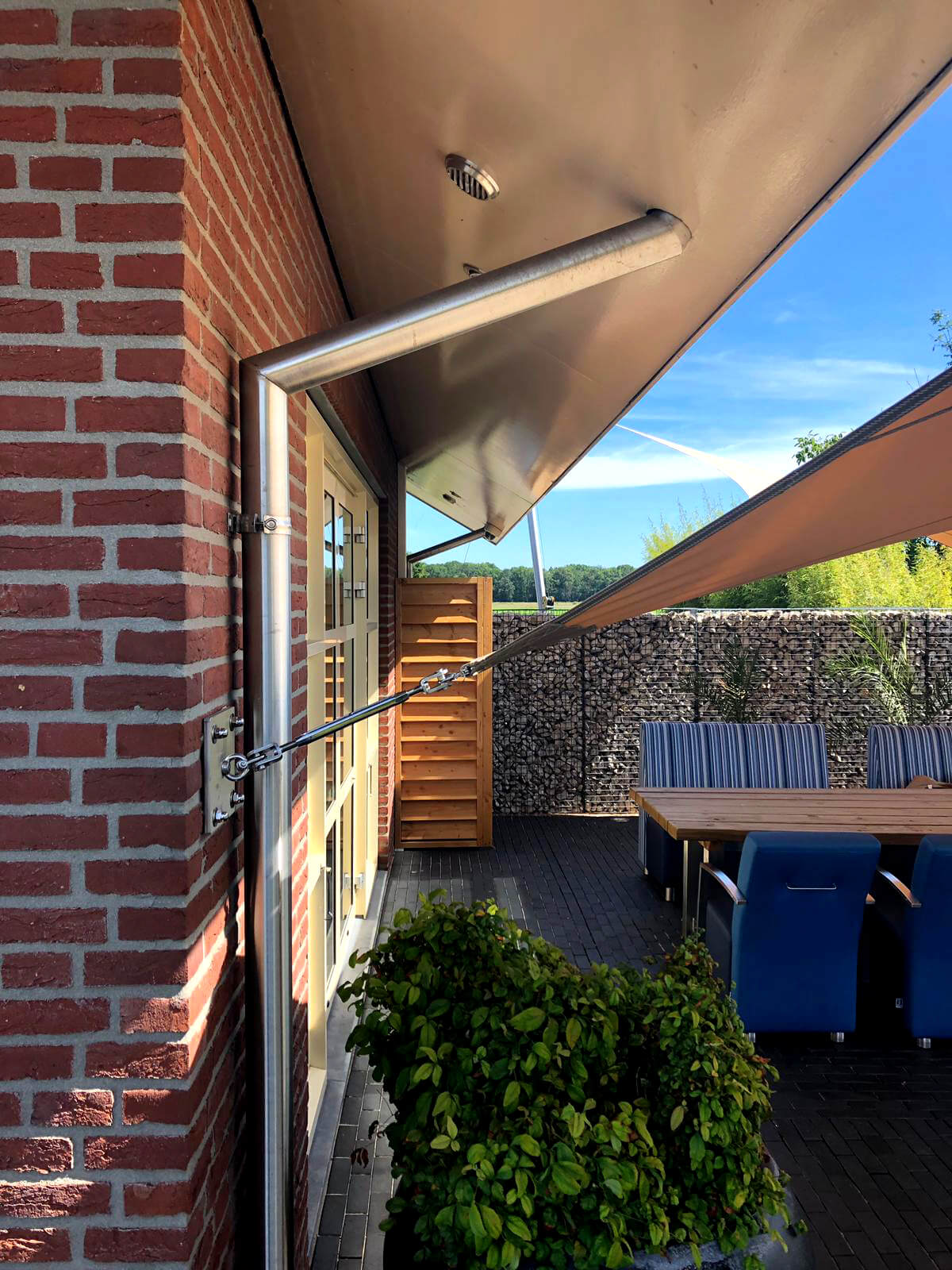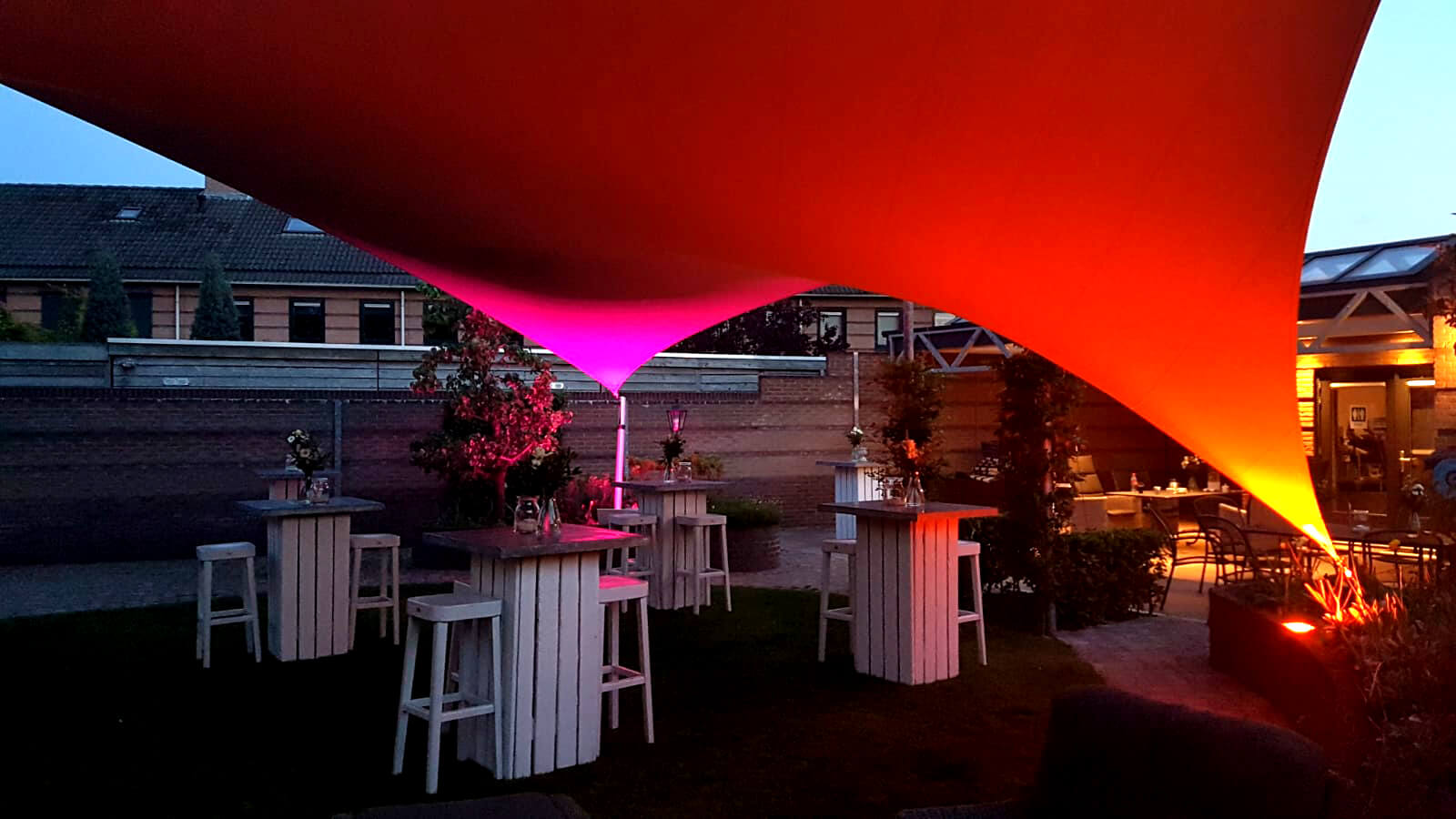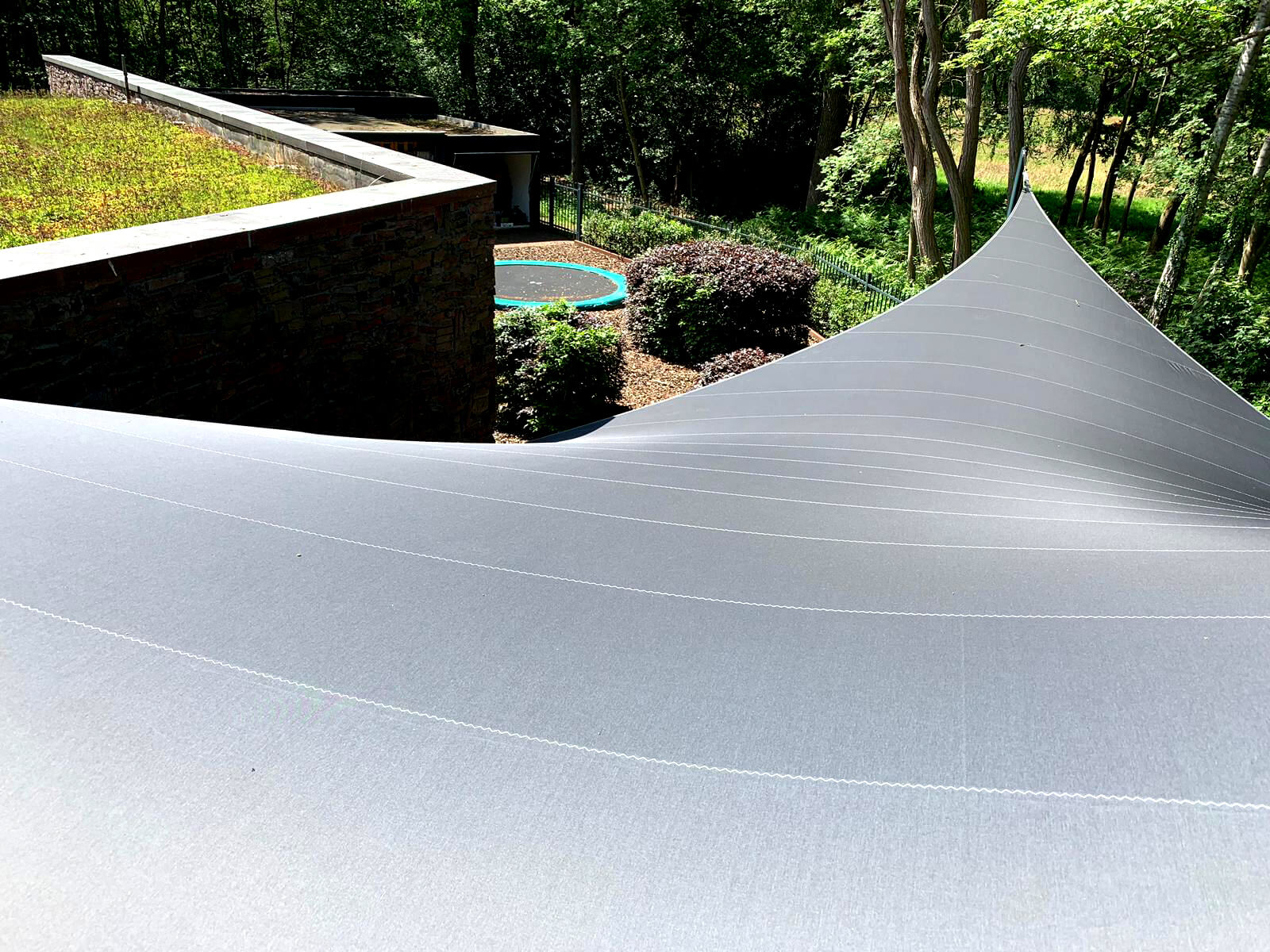 Fixed cover and a textile membrane cover both waterproof
Despite the light that a permanent covering removes from the home, despite the fact that a fixed covering blocks the winter sun, despite the fact that it is another building on the existing buildings, the nice thing about a permanent covering is that it is watertight and you can go outside any time of the day and enjoy the outdoors.
A Texstyleroofs membrane cover offers a waterproof textile cover. Equivalent to a fixed roof. Without losing the winter, spring and autumn sun. Without the sunlight being blocked in the home, but the heat is kept out very well because of the heat-resistant material.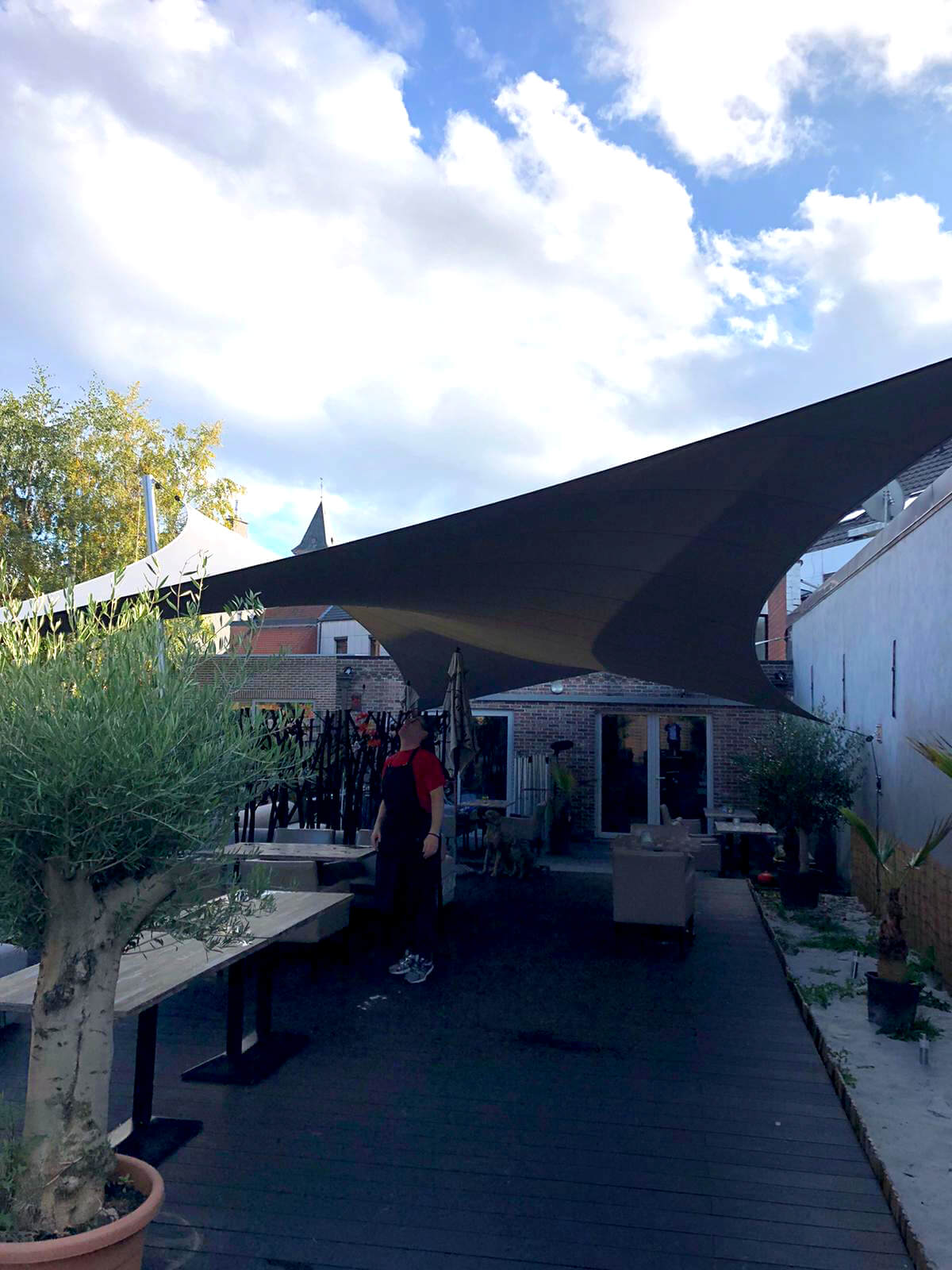 The tailor-made alternative
The water is channeled away through the double curvature in our membrane cloth. This means it fulfills the functions of a regular traditional patio cover. It is a tailor-made alternative. With sufficient photos of your patio and surroundings, we will provide a 3D custom design of your Texstyleroof patio roof completely free of charge.
We are happy to present the 3D study to you at your location. We don't just send it, why not? It is important that the covering provides the functionality as a patio covering for more than 10 years. It is therefore important to check where the fixtures for the Texstyleroofs canopies are placed. Validate the strength of possible wall mounts, tree, position of the masts, and the foundation of the bottom to ensure that masts will last for life! After the presentation, with you we will design the desired covering based on your desires, requirements and possibilities in your environment. If you agree, all parts are custom made at our own manufacturing facilities in the Netherlands. In consultation with you, all fixings are installed exactly to size and according to the agreed upon requirements. After this installation, the entire system is measured in 3D. After 3D measurement, at our manufacturing facility the membrane is force-balanced and pre-formed defined shape, which we call final engineering. This gives the membrane cover the aerodynamic effect (homogeneous stiffness). From there, the cutting plan is created and the membrane panels are laser cut to extreme high precision.
The textile membrane is hoisted together with you on site so that you will also understand how the lifting/lowering system works. This is typical a one person operation in less than 10 minutes. 
Ultimately, you will extend your outdoor lifestyle with a Texstyleroof system that provides the shading effect, offers a waterproof and comfortable covering, but retains the nature day light in your home and aesthetically matches all your desires, requirements and the architecture of your home and yard.