Multiple texstyleroofs patio shade design structures in South Pasadena
Looking for a patio cover that can withstand the harsh weather conditions at the beach?
Welcome to a world of innovation and elegance with Texstyleroofs, where we proudly introduce our latest project in South Pasadena, California. Nestled in the heart of this vibrant community, our team has successfully installed three breathtaking Texstyleroofs, showcasing the best in lightweight membrane structures and shade solutions. If you're in search of high-end, waterproof, stormproof, and unique pergola and patio roof designs, look no further. Texstyleroofs brings you an eye-catching, custom-designed solution that is both easy to set up and take down.
Texstyleroofs is a pioneering name in the field of shade structures, known for its innovation and expertise in crafting big span, durable, and visually stunning patio roof designs. We take pride in delivering the perfect blend of form and function, ensuring that your outdoor spaces in South Pasadena are transformed into comfortable, elegant retreats.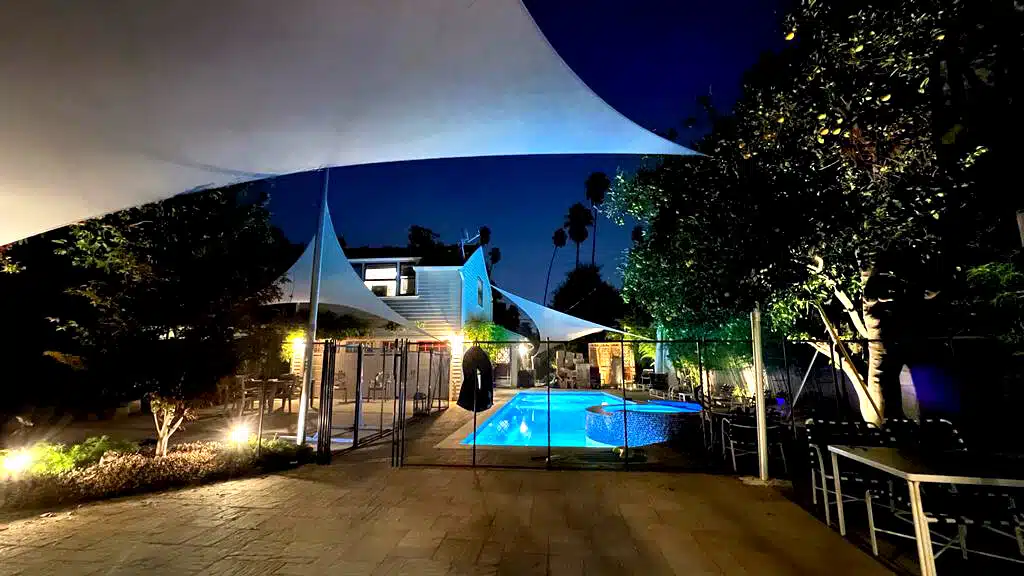 Our latest project in South Pasadena is a testament to our commitment to excellence. We've installed three Texstyleroofs that combine form and function, creating versatile spaces that offer protection from the elements while adding aesthetic appeal to your property. Each Texstyleroof is a testament to our dedication to providing our clients with unique, custom-designed solutions that not only look stunning but are also designed for practicality.

We create a customized 3D study for your canvas canopy without obligation
For more information and non-binding advice, request a 3D design for a Texstyleroofs lightweight membrane cover
Waterproof: Texstyleroofs are engineered with waterproof materials, ensuring that your outdoor area remains dry and comfortable even during the rainiest of days.

High-End: We believe in offering nothing but the best. Our Texstyleroofs are crafted using high-quality materials and the latest manufacturing techniques to ensure they stand the test of time.

Easy to Put Up and Take Down: Texstyleroofs are designed with ease of use in mind. Their user-friendly design allows for hassle-free assembly and disassembly, providing you with the flexibility to adapt to changing weather and needs.

Stormproof: Our Texstyleroofs are built to withstand the elements, making them a reliable choice for South Pasadena's ever-changing weather. You can enjoy peace of mind, knowing your Texstyleroof will remain intact, even during strong winds.

Eye-Catcher: These Texstyleroofs aren't just functional; they are also stunning architectural pieces that are sure to catch the eye of anyone visiting your home.
Why Texstyleroofs?
Custom Design: Our team of experts works closely with you to design Texstyleroofs that reflect your unique style and meet your specific needs.

Versatility: Texstyleroofs can be adapted to various outdoor spaces, whether it's a poolside area, garden pergola, or a cozy patio.

Durability: The Texstyleroof's lightweight membrane structures are built to last, making them an investment that adds value to your property.

Energy Efficiency: Texstyleroofs provide natural shade, reducing the need for air conditioning during hot South Pasadena summers.

Increased Property Value: These Texstyleroofs not only enhance your lifestyle but also increase the resale value of your property.
Transform your South Pasadena outdoor space into a breathtaking, functional oasis with Texstyleroofs. Our latest project showcases the best in patio roof design, combining style and substance. Experience the beauty, durability, and convenience of Texstyleroofs and elevate your outdoor living experience to a new level. Contact us today to discuss your unique Texstyleroof project and make your property an eye-catching masterpiece.
Expand your seating area and increase revenue while reducing energy consumption with a Texstyleroofs patio cover. Don't let the weather limit your business – choose Texstyleroofs for a stylish and practical addition to your outdoor space.
Recent commercial projects installed by Texstyleroofs