Stay Protected from Climate Change with Our Patio Roof Solutions
Climate change affects millions of people worldwide, with extreme weather events like heatwaves, storms, and heavy precipitation becoming more frequent. As these events continue, staying comfortable outdoors is increasingly important. At Texstyleroofs, we create the perfect outdoor oasis, so you can enjoy your patio for years to come.
Click Here
Welcome to Texstyleroofs.com, the market leader in innovative patio roof solutions. Our mission is to keep you comfortable and protect your outdoor space from the harsh effects of climate change, while providing valuable shade and all-weather protection with our premium Texstyleroofs patio roofs.
Your Ideal Partner in Combating Climate Change's Impact on Your Patio: Texstyleroofs
Climate change affects millions of people worldwide, with extreme weather events like heatwaves, storms, and heavy precipitation becoming more frequent. As these events continue, staying comfortable outdoors is increasingly important. At Texstyleroofs, we create the perfect outdoor oasis, so you can enjoy your patio for years to come.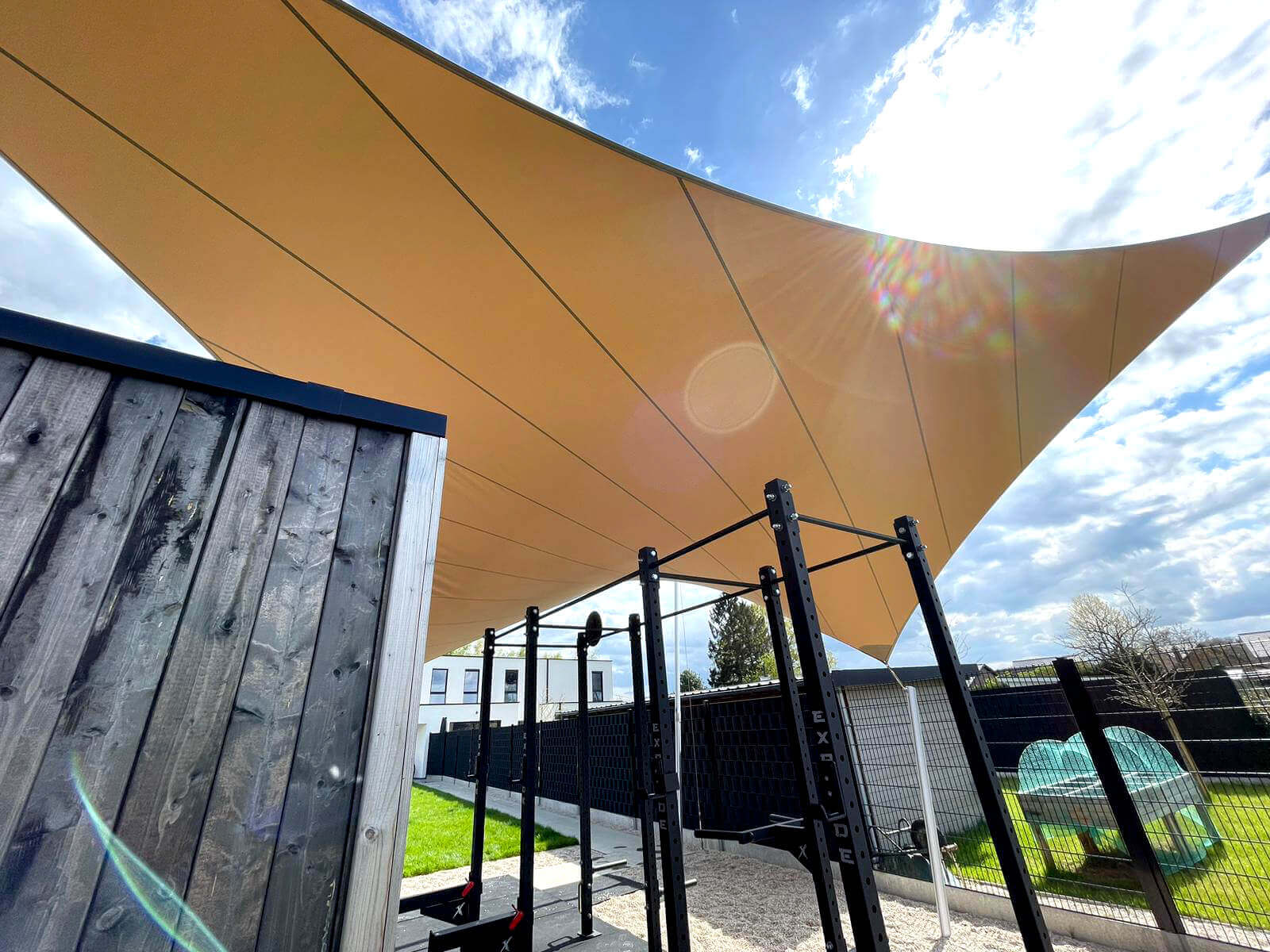 Climate Change and Its Impact on Outdoor Living Spaces
If we consider the impact of climate change on outdoor living spaces, one aspect that constantly emerges is temperature fluctuations and their influence on comfort. Hotter summers and more pronounced temperature swings can make it harder to maintain a comfortable space outdoors. Prepare for these changes with our Texstyleroofs patio roof, which provides ample shade and protection against weather conditions, ensuring consistent comfort in your outdoor living area.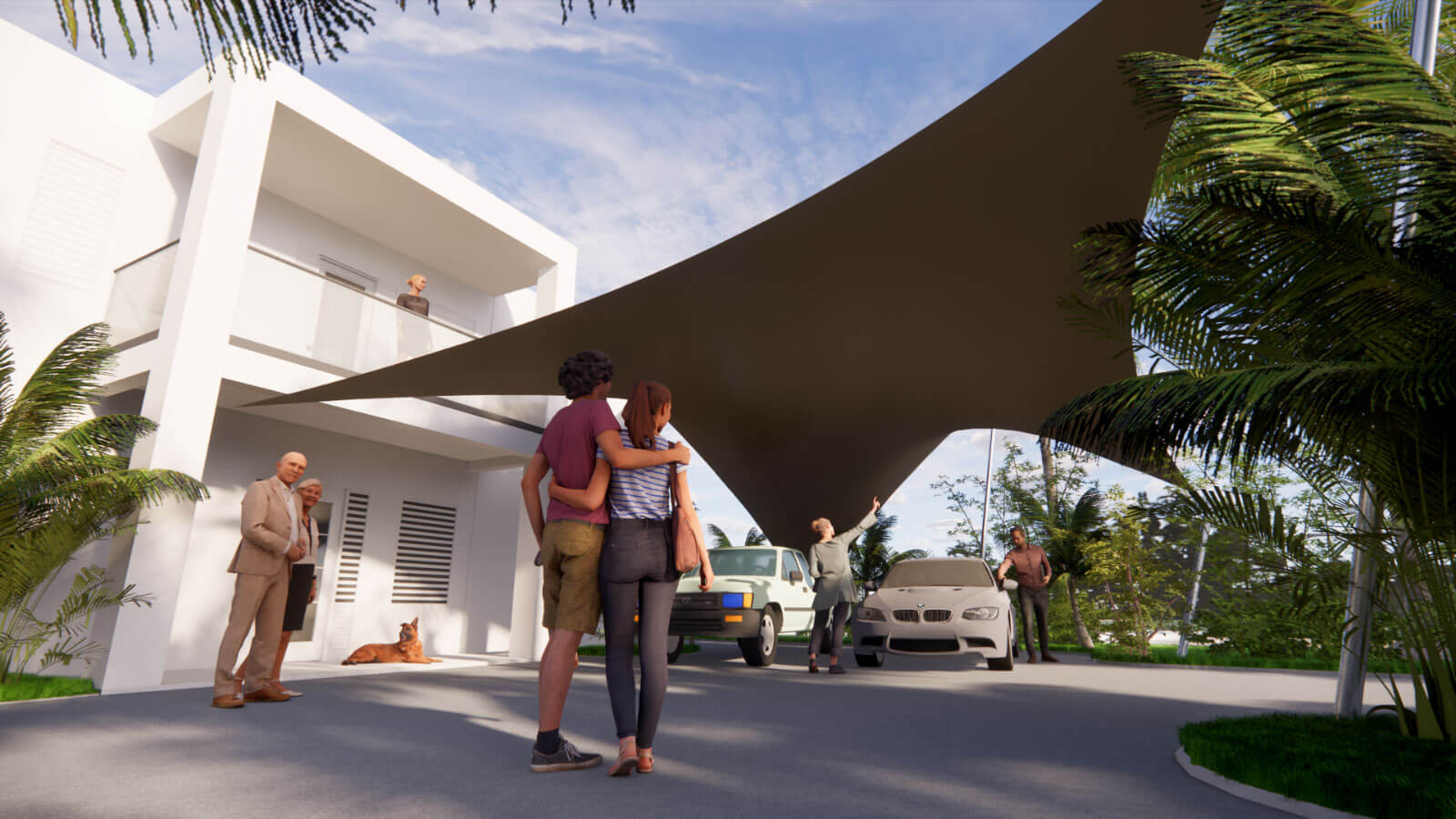 FREE 3D DESIGN
Request a free 3D design for a custom designed shade sail roof system at your location
High-Quality Shade Solutions for Reducing Climate Change Impacts
Our innovative shade solutions not only help reduce the impacts of climate change on your patio, but they also contribute to energy efficiency by limiting direct sunlight on your home. The result? Effective protection from intense sun exposure and significant savings on your annual cooling costs. Texstyleroofs patio roofs deliver high-quality shade options that give you freedom in designing and enjoying your outdoor space while reducing its environmental footprint.
All-Weather Protection for Your Patio Roof
Want to lounge on your patio without worrying about unexpected rain or hail? With our Texstyleroofs patio roof, you'll never have to worry about the weather again. We offer top-of-the-line materials and expert installation to provide unbeatable protection against various weather conditions.
Our patio roofs boast a high resistance to harmful UV rays, strong winds, and heavy downpours. They stand up well against elements like snow and hail, ensuring your patio remains safe even during harsh weather. The combination of premium materials and expert workmanship gives our patio roof solutions the utmost reliability and durability.
Eco-Friendly Solutions for a Sustainable Patio Experience
At Texstyleroofs, we understand the importance of being eco-friendly and align our practices to sustainable guidelines. Our patio roofs are designed with energy efficiency in mind, ensuring reduced cooling costs not only for financial savings but also to reduce your carbon footprint. Additionally, we use materials that comply with environmental standards and have a low impact on the environment. By choosing Texstyleroofs, you're not only investing in your comfort, but you're also investing in the planet and its future.
Design and Customization Options for Every Taste
Our patio roofs come in various designs, styles, and colors, allowing you to customize it to your taste and enhance the overall look of your outdoor space. Whether you prefer a contemporary, minimalist, or traditional aesthetic, you'll find the perfect Texstyleroofs patio roof to blend seamlessly with the architecture and style of your home.
Expert Installation for Seamless Integration
We understand the critical role that professional installation plays in the durability and performance of every outdoor roofing solution. That's why our team of certified installation experts go above and beyond to ensure your patio roof is installed correctly, on time, and within budget, while adhering to the highest industry standards.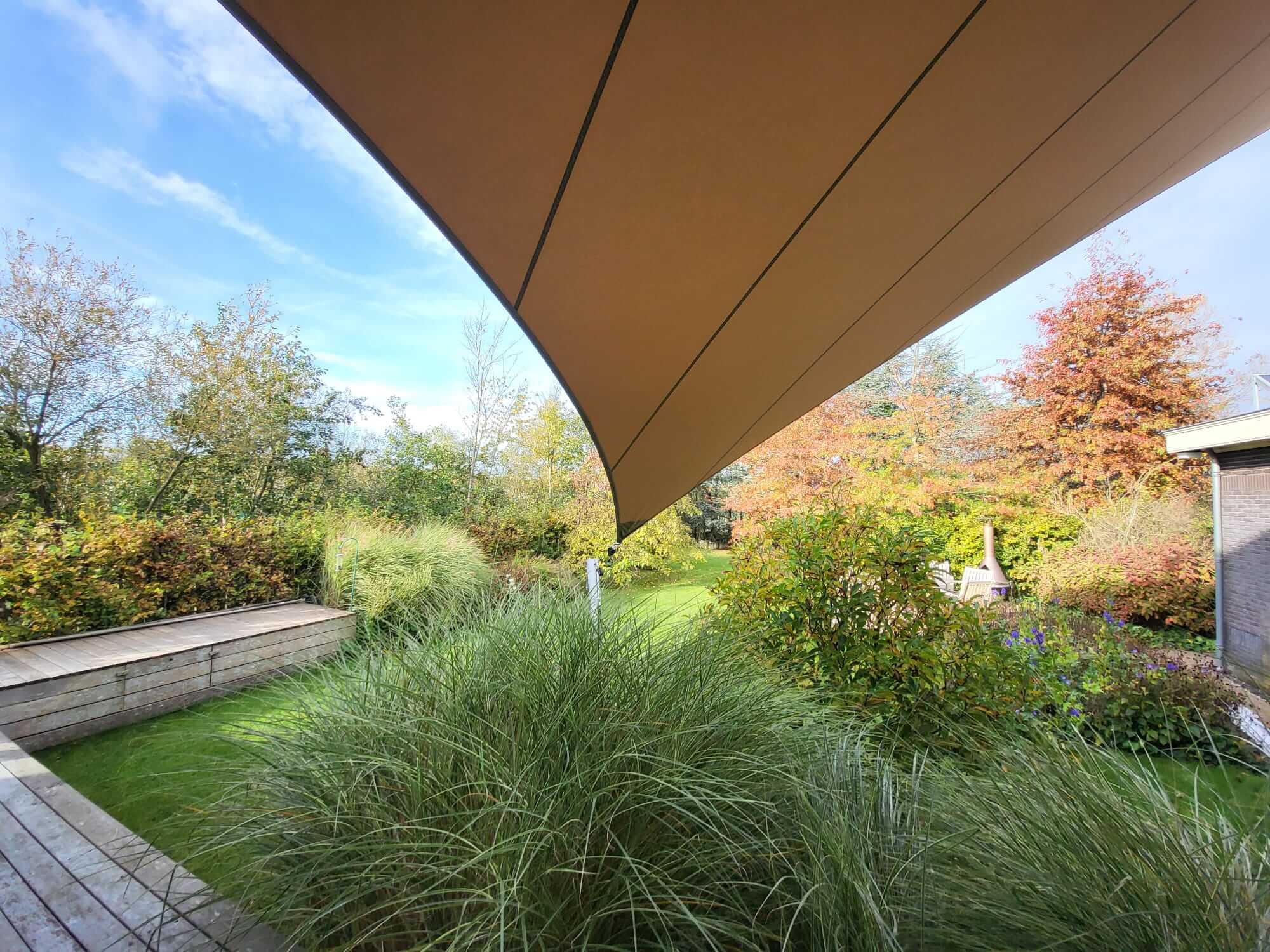 Take the Next Step Towards a Climate-Resilient Patio Roof
Don't let climate change ruin your outdoor living experience. With Texstyleroofs' innovative patio roof solutions, you'll be prepped and protected against the uncertainties of the weather. Enjoy the perfect blend of shade, all-weather protection, energy efficiency, stylish design, and eco-friendly materials with our state-of-the-art patio roofs.
Texstyleroofs uses the latest innovations in engineering and manufacturing techniques to deliver superior-quality patio roofs that defy the test of time. The combination of cutting-edge technology and timeless design principles ensures our patio roofs can adapt to the ever-changing conditions associated with climate change. As an industry leader in enduring design, our products last for generations, offering you unbeatable value for your investment.
Comprehensive Warranty for Complete Peace of Mind
We believe in the quality and durability of our patio roof solutions, and we stand behind our products with a comprehensive warranty. Your investment in a Texstyleroofs patio roof is protected against structural defects and deterioration from exposure to normal weather conditions. Our confidence in our products means you can enjoy your patio and its climate-resistant features with ease, knowing you're fully supported by our warranty program.
Versatile and Adaptable for Any Space
Our patio roofs are designed with versatility and adaptability in mind, ensuring they are suitable for a wide range of property types and spaces. Regardless of your property's size or design, we can create a Texstyleroofs patio roof that seamlessly integrates into your existing architecture. With our expert guidance, and wide range of customization options, you're guaranteed to find the perfect solution to match your specific needs and preferences.
Safe and Secure Against Extreme Weather Events
Considering the implications of climate change on increasingly frequent and intense weather occurrences, our patio roofs are built to deliver a high level of protection even under extreme conditions. Engineered to withstand substantial snow loads, heavy rain, and strong winds, a Texstyleroofs patio roof gives you the peace of mind that comes from knowing your outdoor space is adequately protected.
Unmatched Customer Service and Support
At Texstyleroofs, we pride ourselves on our commitment to providing exceptional customer service. Our team of experienced professionals is dedicated to ensuring a smooth and enjoyable experience from start to finish. From initial consultation and design to installation and after-sales support, you can count on Texstyleroofs to be there for you every step of the way.
Maintenance Tips for Your Patio Roof
To keep your patio roof in top shape and extend its lifespan, it's essential to follow some simple maintenance tips. Regular cleaning of the roof's surface is crucial, as it prevents the build-up of dirt, debris, and mildew. Keeping the gutter system free of obstructions will also promote optimal performance and prevent water damage.
Moreover, inspect your patio roof regularly to identify any potential issues like worn or damaged components. Replacing damaged parts as soon as possible will help maintain the structural integrity and performance of your patio roof, ultimately ensuring maximum protection against the effects of climate change.
The Texstyleroofs Difference
What sets Texstyleroofs apart from competitors? We offer a combination of outstanding quality, unparalleled customer service, and industry-leading innovation driven by a desire to create the best patio roof solutions possible. We are committed to masterfully blending outstanding functionality and aesthetic appeal to guarantee the perfect outdoor living experience for our clients. With our extensive experience and forward-thinking approach, Texstyleroofs is the preferred choice for those seeking unparalleled quality and climate resilience in their patio roofs.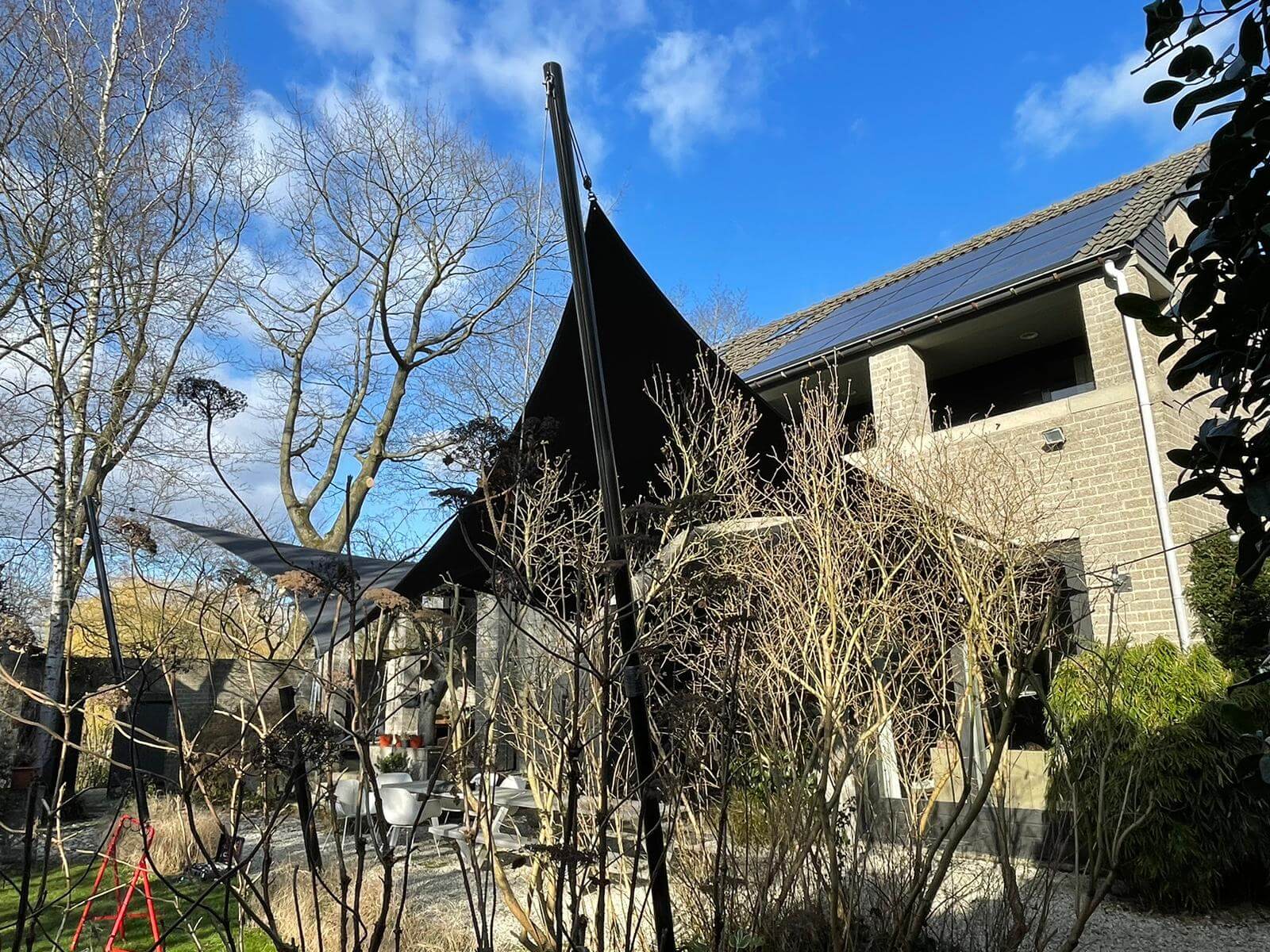 Embrace the Outdoors with Confidence, Courtesy of Texstyleroofs
Don't let climate change dictate how you experience your outdoor space. With Texstyleroofs' top-notch patio roof solutions, you'll have the ideal balance of shade, all-weather protection, and stylish design to enhance your patio and guard against the elements. And with energy-efficient, eco-friendly materials and construction, you'll make a positive impact on the environment while enjoying your outdoor living space for years to come.
Discover the exceptional quality and resilience of our patio roofs by visiting our website at texstyleroofs.com or contacting us at +1 386 224 6433. Our dedicated team is here to guide you through the process, helping you realize your dream patio. Trust Texstyleroofs as your partner in creating a climate-resilient, comfortable, stunning outdoor living experience.