Shade and shelter with a textile swimming pool cover in your garden
A textile covering can offer both shade and shelter for your swimming pool in the garden. With the increasing number of sunny and warm days due to climate change, more and more people are considering having a swimming pool in their backyard.
Unlike before, when a pool could only be enjoyed for a few weeks a year, this period now spans several months. A textile covering not only extends your swimming season but also protects your pool from debris and UV radiation, making maintenance easier and more cost-effective. With various colors, materials, and designs available, a textile covering can also enhance the aesthetic appeal of your garden and complement your existing outdoor furniture.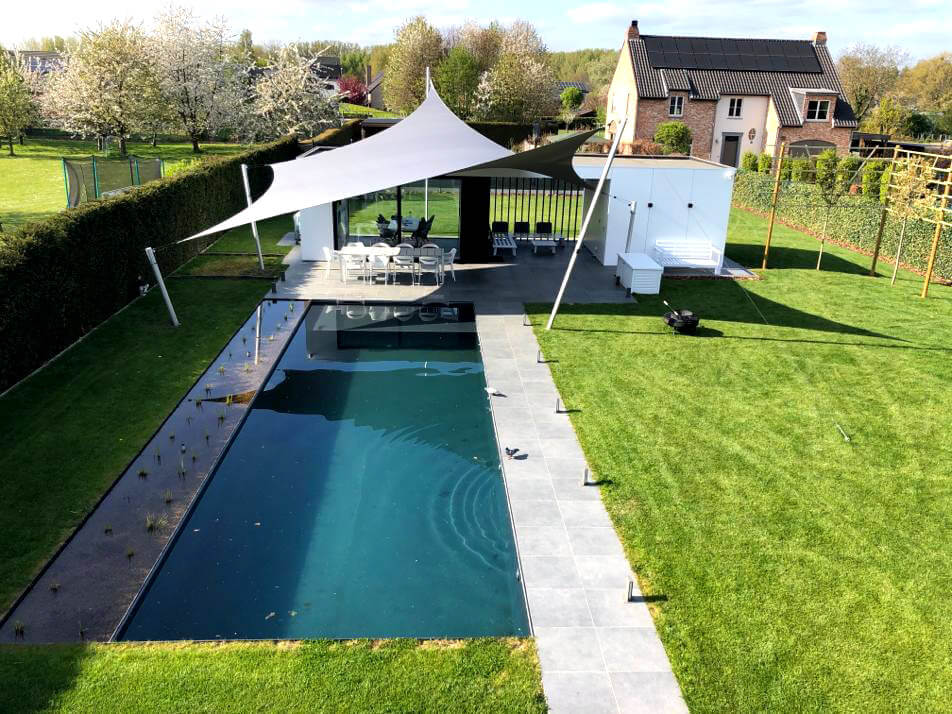 Having a swimming pool in your backyard is becoming increasingly popular, especially with the rise in sunny and warm summers due to climate change. A heated swimming pool allows for year-round use and is perfect for a refreshing dip or a morning workout. It can also enhance the aesthetics of your garden when properly integrated with its architecture. After a swim, relaxing on the terrace under the sun is a great way to unwind, but it's important to avoid prolonged exposure to avoid the risk of sunburn.
If you want to make the most out of your swimming pool, consider adding a cooling roof or elegant patio cover for shade. It not only provides relief from the sun's glare but also creates a cool and comfortable place for you to relax and enjoy the water. Additionally, covering your swimming pool can help reduce the amount of reflected sunlight, which can lead to faster sunburns.
By choosing the right swimming pool and patio cover, you can not only create a shaded and sheltered area but also protect yourself from excessive exposure to harmful sun rays.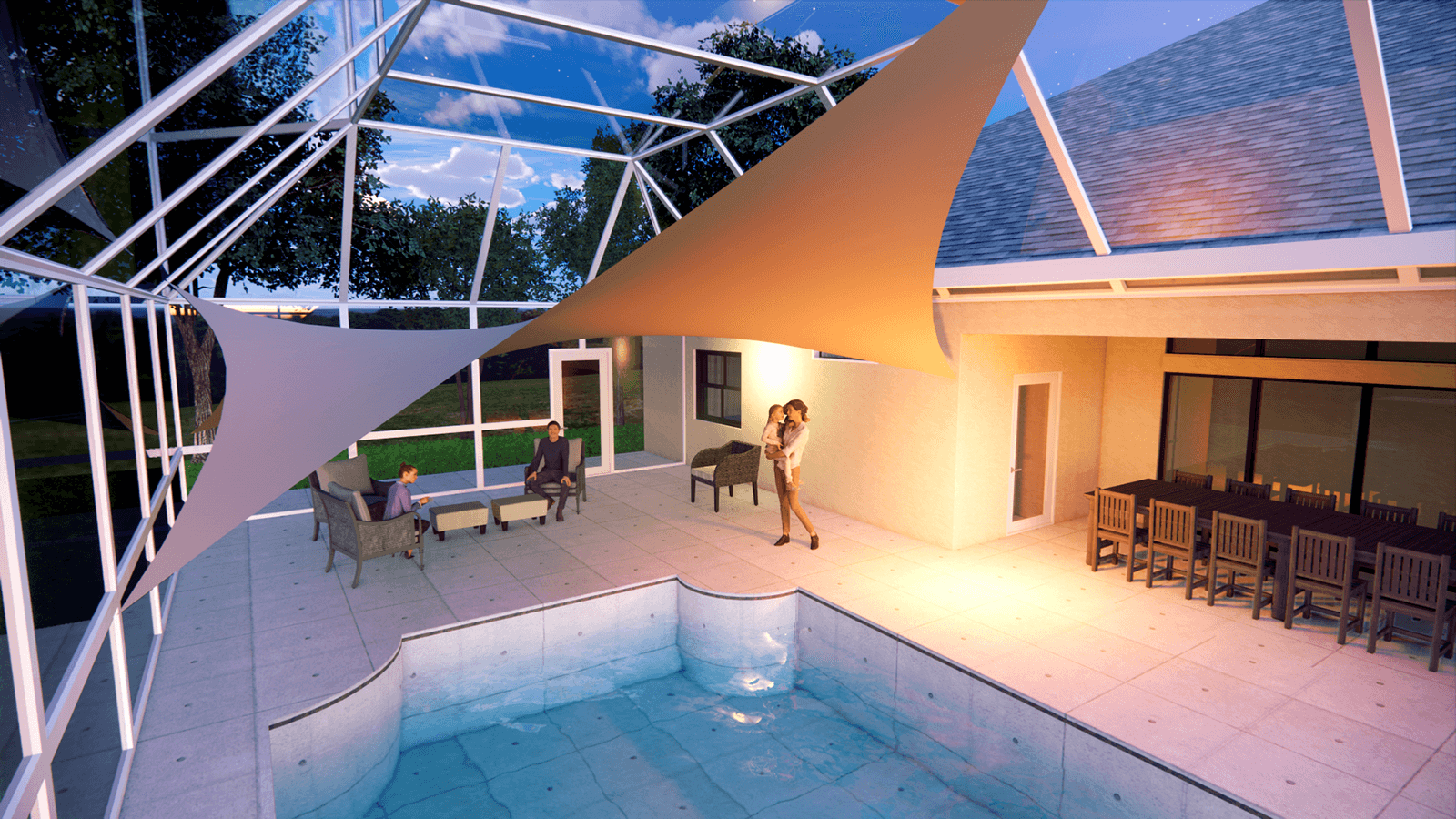 FREE 3D DESIGN
Request a free 3D design for a custom designed Texstyleroofs patio or swimming pool cover at your location
Stylish Pool Covers for Your Backyard

If you're looking to create a shaded area in your backyard, especially around your swimming pool, there are several options available.
Traditional fixed roofs made of wood or steel with a closed or slatted roof construction can be costly and require a building permit. For a more efficient solution, consider a flexible textile patio cover that provides shade and shelter. You can choose from a range of options, including a basic canvas available at garden centers or hardware stores or a custom-made tarpaulin design cover that is both elegant and durable. With a removable flexible textile patio cover, you can quickly and easily add a touch of sophistication to your backyard with all the advantages of a fixed roof.'
Lightweight Membrane Covers for your Pool and Patio
Texstyleroofs offers a flexible and high-quality membrane cover for your pool and patio. With our membrane cover, you can choose whether to leave it up or take it down during autumn or winter. Our fabric is not only UV-resistant, but also waterproof and storm-resistant, ensuring your pool and patio area remains protected from the elements. We recommend taking down the fabric during severe storms with wind force 10 or more, or when large amounts of snow are expected. Removal is a breeze and can be done by yourself using an ingenious pulley system that allows you to hoist and iron the cover with your own weight. No need to hire a third party for removal.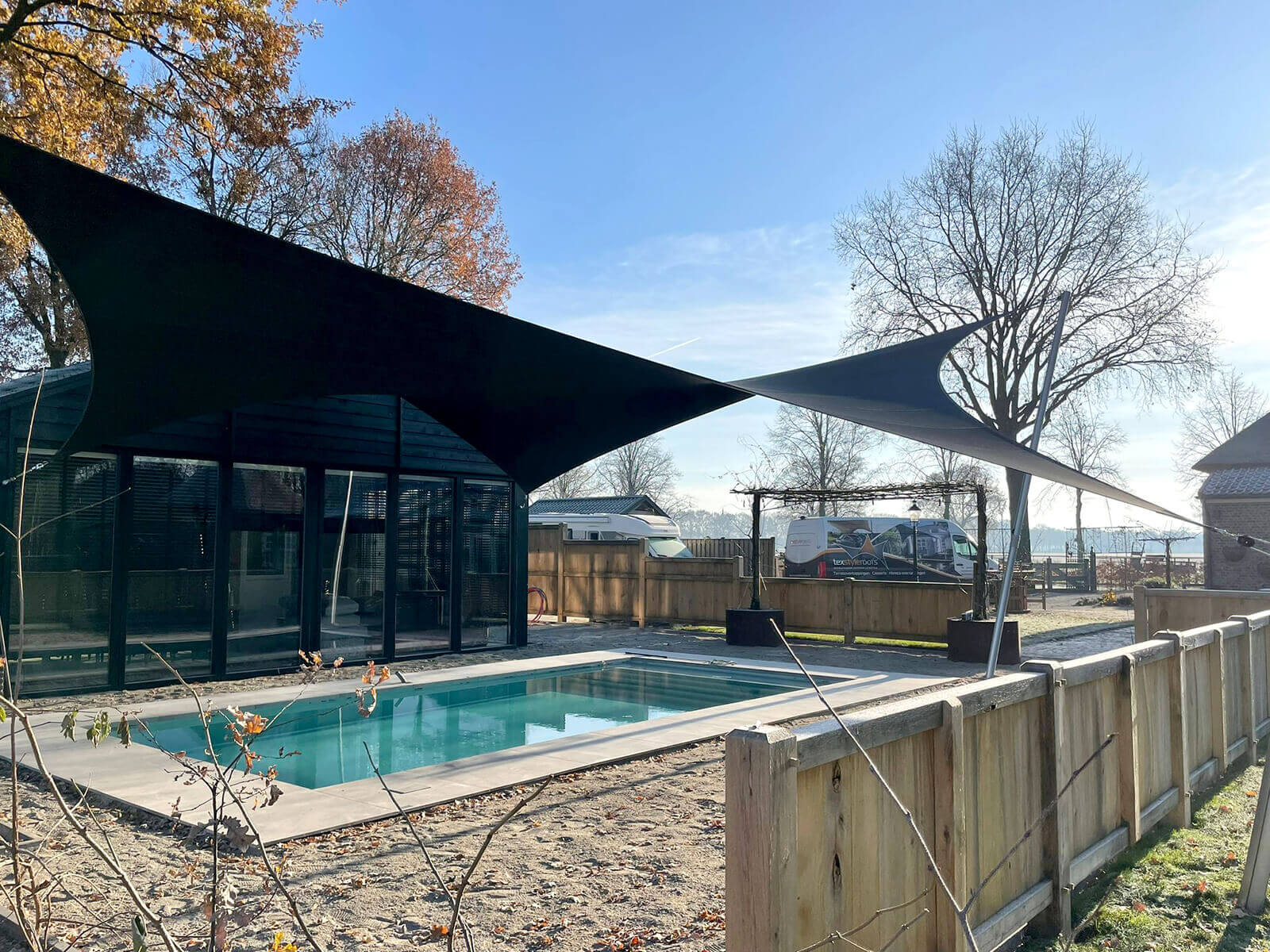 The Building Decree, a set of technical building regulations that apply to all buildings, also covers renovations. However, it's essential to determine whether a carport falls under this category.
We can help you determine whether you need a permit to build your Texstyleroofs carport or Shade sail roof. While national rules are outlined in the Building Decree, it's always best to check with your local municipality to confirm that they don't have any additional regulations. In some rare cases, individual municipalities may deviate from the Building Decree.
Textile patio and swimming pool covers tailored to your needs
Every garden and terrace is unique, and so are the preferences of those who enjoy them. Texstyleroofs offers custom-made textile patio covers that cater to your specific needs. Whether you want to enjoy morning or afternoon shade, or need a roof to shelter from the evening sun, our bespoke covers provide ultimate flexibility in placement and design.
Using a 3D program, we incorporate your location data, including trees, shrubs, and sun patterns, to create an exclusive and tailor-made design that suits your needs. Our high-quality textile covers are open and transparent, preserving your garden's open and airy character. Unlike traditional fixed structures, our covers are lightweight, durable, and elegant, adding an attractive and functional element to your outdoor living space.
Our covers are made from sturdy and flexible materials that can withstand various weather conditions. They are also designed to be easily installed without requiring building permits, ensuring a hassle-free process. With a Texstyleroofs cover, you can enjoy the benefits of shade and shelter without compromising on the beauty and openness of your garden.
Texstyleroofs textile patio and swimming pool covers: suitable for every garden and every swimming pool
Texstyleroofs textile patio and swimming pool covers are a perfect fit for any garden or swimming pool, as they are always tailored to your requirements and preferences.
Our covers are not only functional but also add to the overall atmosphere and aesthetic of your outdoor space. With a wide range of colors available, you can choose a shade that seamlessly blends in with the architecture of your garden and home or opt for a more eye-catching color to make a bold statement. The choice is entirely up to you, and we'll make sure to deliver a high-quality, customized cover that exceeds your expectations.
Imagine yourself lounging on a chair with a refreshing drink next to your swimming pool, or swimming under your one-of-a-kind Texstyleroofs cover. If this sounds appealing, don't hesitate to reach out to one of our advisors. Our experts are ready to provide you with more information and advice tailored to your needs. You can call us during business hours, or simply leave your contact information using the form on this page. We'll get back to you at a time that's convenient for you. Feel free to send us some photos of your location in advance so we can better understand your situation and the possibilities available to you.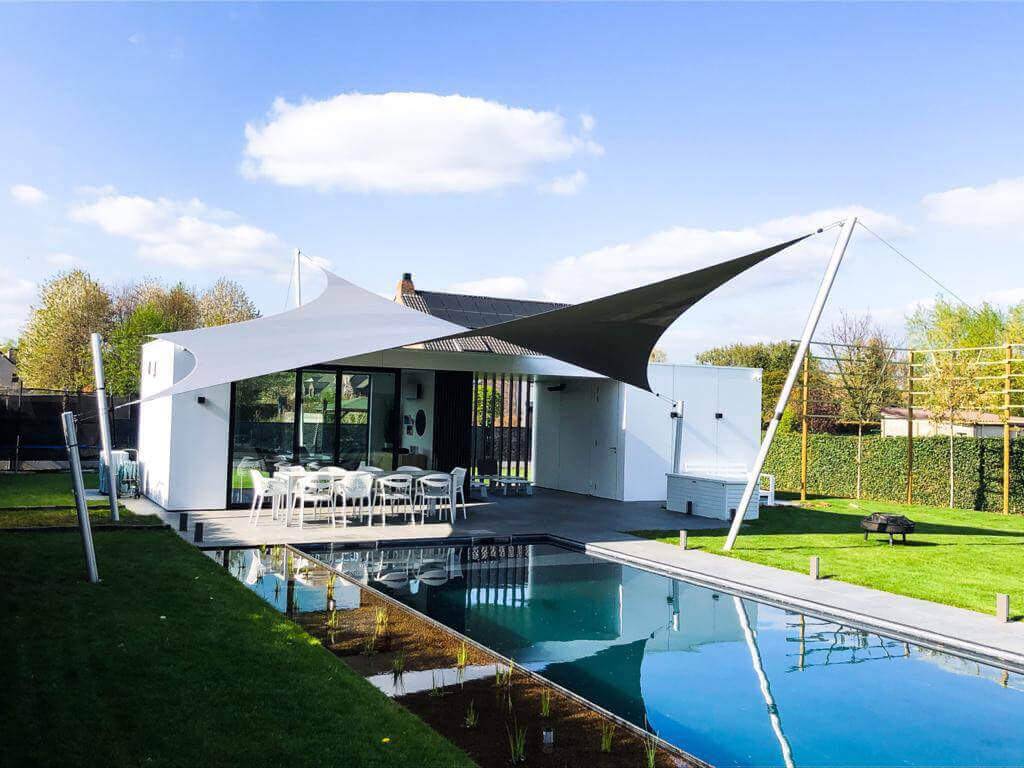 If you're looking to create a stunning covered area for your patio or pool, Texstyleroofs is here to help. Our website provides detailed information on our roofing solutions, and our team of experts is always available to answer your questions or schedule a consultation to discuss your options. Whether you're looking for a custom-made textile cover or a lightweight membrane, we have a variety of high-quality roofing solutions to fit your needs.
Contact us today at 386-224-6433 to get started on creating your dream outdoor space.