High-end shade sail are becoming more important
As climate change continues to impact our daily lives, the demand for practical and efficient shade solutions only grows stronger. More and more homeowners and commercial property owners are looking for ways to make their outdoor spaces cooler and more comfortable during the warmer months.
Click Here
High-end shade sails, like Texstyleroofs, not only provide protection from the scorching sun, but also enhance the aesthetic value of your outdoor spaces, creating an inviting atmosphere for relaxation, socializing, or dining. The combination of practicality and aesthetics makes them an increasingly popular investment for property owners aiming to maximize the potential of their outdoor spaces.
Comprehensive Material Options and UV Protection
One of the key factors that separate Texstyleroofs from other shade sail solutions in the market is our extensive range of fabric options. We understand that different clients have unique needs and preferences, and we strive to provide a wide variety of material choices to accommodate everyone.
Our material selection includes high-quality fabrics that provide maximum ultraviolet (UV) protection and block up to 98% of harmful UV rays, keeping you and your loved ones sheltered from the sun. Our shade sails use only top-quality materials that achieve the perfect balance between stylish aesthetics, optimum UV protection, and long-lasting durability.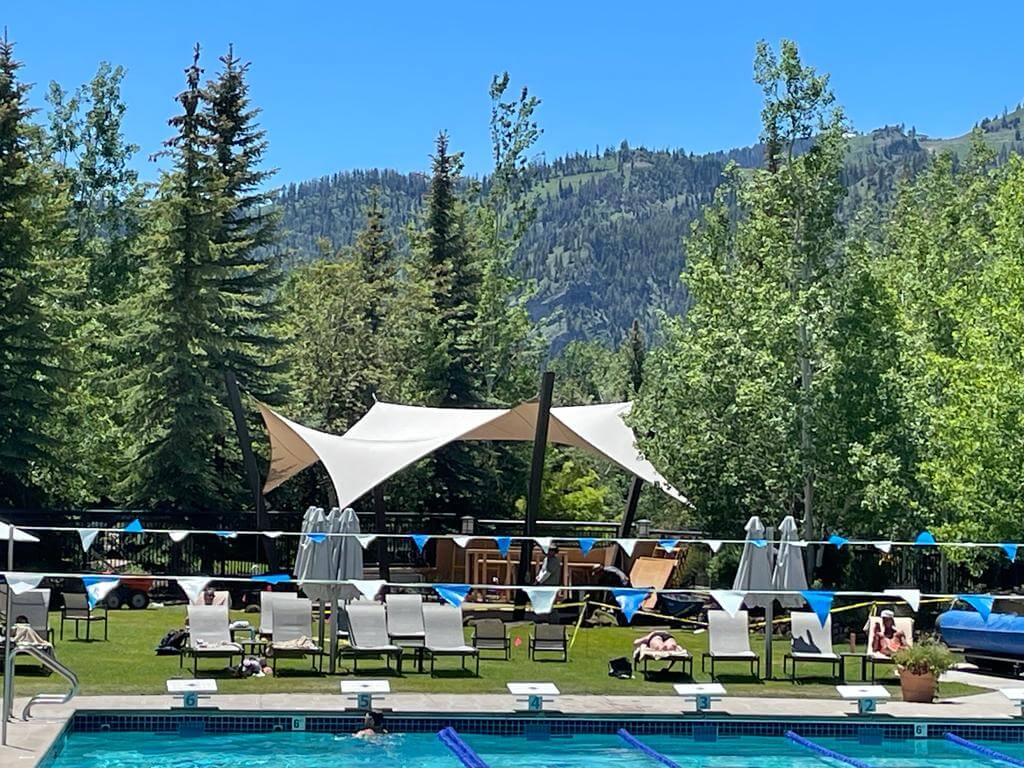 Ease of Installation and Flexibility
Unlike traditional shade structures, like pergolas or gazebos, shade sails offer unmatched flexibility in terms of installation and setup. High-end shade sails, like Texstyleroofs, can be installed in various configurations depending on the area of cover required and the desired visual impact.
Our professional installation team will collaborate with you to create the perfect shade sail solution tailored to your specific site requirements and preferences. You can trust our experience and expertise to help you create a stunning and functional outdoor space.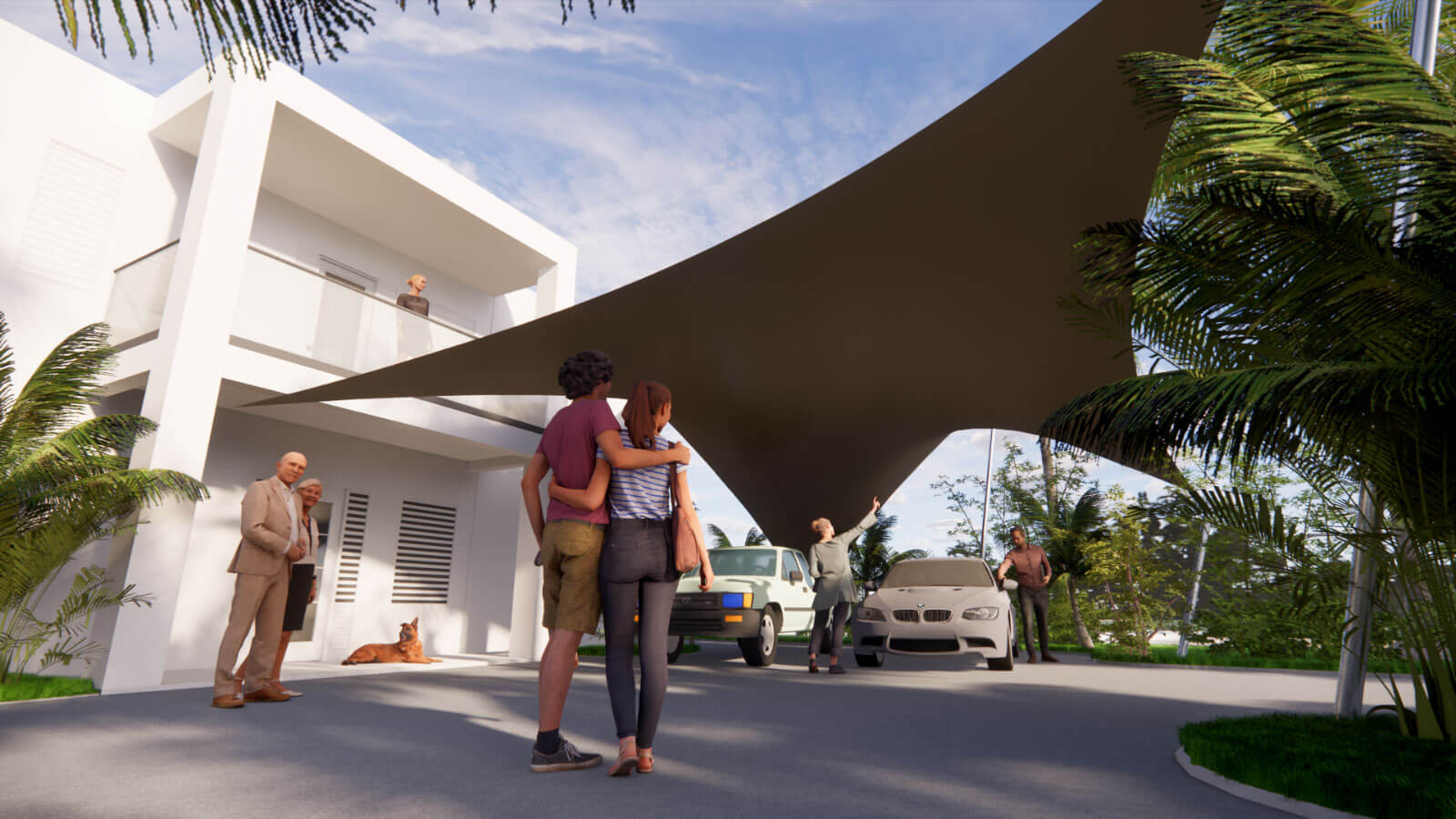 FREE 3D DESIGN
Request a free 3D design for a custom designed shade sail carport awning at your location
Eco-friendly and Energy-efficient

While protecting you from harmful UV rays and providing a comfortable shaded area, Texstyleroofs' high-end shade sail also promotes energy efficiency. By providing ample shade, our shade sails reduce the heat gain in the adjacent indoor areas. This, in turn, reduces the need for air conditioning, resulting in lower energy consumption and lower energy bills.
Additionally, by using eco-friendly materials and manufacturing processes, we strive to minimize our impact on the environment. By investing in a Texstyleroofs shade sail, you are not only enhancing your outdoor experience but also making a conscious effort to adopt sustainable practices.
Cost-Effectiveness

Despite the high-end quality and superior performance of our shade sails, Texstyleroofs continues to offer competitive prices, making our products accessible to a wider range of customers. Our shade sails are a cost-effective alternative to traditional shade solutions, providing superior protection and longevity at a fraction of the price.
Wind Rating and Unparalleled Stability

One of the most critical aspects of outdoor structures is wind resistance. The unique combination of double curvature and pre-tensioning techniques in Texstyleroofs' shade sails ensures maximum stability and resilience even in the face of strong winds.
Our shade sails are meticulously engineered to achieve an optimal wind rating, providing confidence and peace of mind. The aerodynamic design and careful attention to installation methods contribute to the superior wind resistance of our products.
Versatility in Applications

Texstyleroofs' high-end shade sail is not just limited to residential properties; they can also be used in various commercial applications. Many businesses, such as event venues, restaurants, hotels, parks, and recreational centers, have recognized the benefits of incorporating high-quality shade sails into their outdoor spaces.
Our shade sail solutions can transform any outdoor area into a comfortable and protected space for customers and clients to enjoy. The versatility of applications, combined with the striking visual impact and professional installation services provided by Texstyleroofs, ensures an excellent return on investment for businesses.
With numerous advantages over other shade structures, including superior design, aesthetics, performance, longevity, customization, eco-friendly materials, versatility, and cost-effectiveness, Texstyleroofs' high-end shade sail remains the leading choice for those looking to enhance their outdoor spaces. Their emphasis on double curvature and pre-tensioning techniques offers a solution that is miles ahead of the competition, establishing Texstyleroofs as the premier choice for shade sails. 

Invest in a high-end shade sail from Texstyleroofs today to experience the ultimate combination of style, comfort, and functionality. An unparalleled outdoor oasis awaits you, where you and your loved ones or clients can enjoy everything the great outdoors has to offer while being protected and comfortable.